7sDocs Can Quickly Search Documents Based On Text Content
7sDocs is fast desktop document search engine tool for searching Office documents(DOC, DOCX, XLS, etc), text documents (TXT), webpages (HTM, HTML,), Rich Text (RTF), etc based on their name and internal content. Unfortunately, it does not support PDF format but we have you covered, check out previously reviewed DocFetcher.
We all know that Windows 7 search is capable of searching text within the documents but it can take a long time. The reason for the slow performance is that the search index has to be updated with every search keywords. Also keep in mind that the default Windows search does not support many document formats. If you regularly need to search text from multiple document types, using a dedicated application for this sole purpose is worth giving a try.
The whole mechanism of providing super fast search results is based on building search index. Before you begin, head over to Configurations and add folders where your documents are residing. The options of filtering search results by file format and indexing-specific settings can be configured. Once folders are added, click Build Index.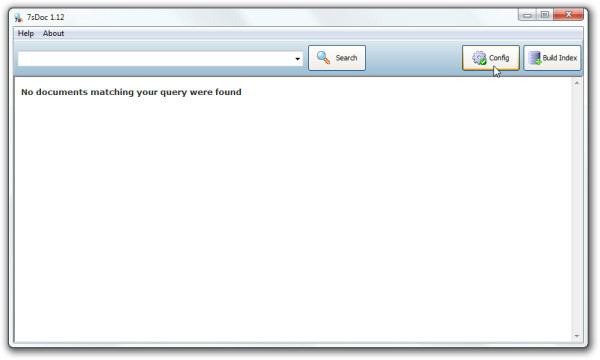 Now you're ready to go. Just enter the text to witness the super fast search results. Click the link (marked in blue) to open the document.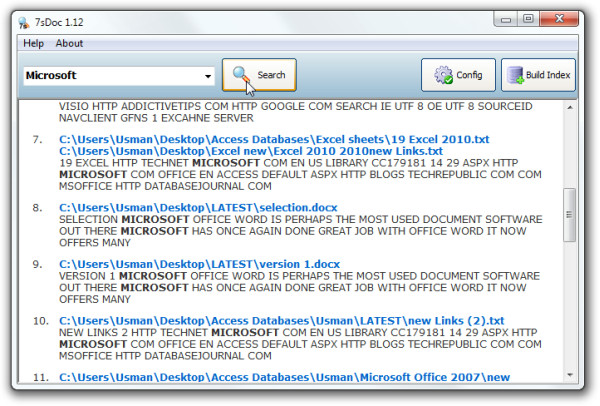 The application runs on all versions of Windows, testing was done on Windows 7 x86 system.