AC3Filter: A Powerful Audio Decoder And Processor For Media Players
Okay, you grabbed your favorite movie off the internet that you were waiting to watch for quite a long time, and now you think the audio quality is not as good as your ears deserve it. Maybe something messed up during the encoding process, or your audio equipment is not properly configured. If the issue belongs to the latter category, then try out AC3Filter. It's a powerful application to properly optimize your PC's audio output. This utility is an excellent DirectShow filter, designed for real time audio decoding and processing that can decode AC3/DTS/MPEG audio formats. The application supports a wide variety of available media players such as Media Player Classic, ZoomPlayer, PowerDVD, WinDVD etc. You can tinker number of different settings from the application's configuration console. Some of the key features include Multi-channel audio output from all sources on SPDIF, automatic gain control, clipping, Dynamic Range Compression, and Dolby Surround/Pro Logic/Pro Logic II.
After installation, you can access the application's configuration window from within your media player (as in MPC) or by launching it Start Menu. Before you bring it up, make sure that your player's default filters are disabled for AC3, DTS and LPCM decoders.
AC3Filter contains options to configure audio fidelity. The Properties window has Main, Mixer, Gains, Equalizer, SPDIF, System and About tabs. Each tab contains its own set of options. On the Main tab, you will find options like Output format to select audio channels such as mono, stereo, 5.1, 7.1 etc. You can also change audio rate and PCM settings. In case you're using an digital optical or SPDIF, enable Use SPDIF from the menu. You can always boost volume output in Gains if you find the audio to be somewhat low to your taste. If you access the settings during playback, CPU, Input level and Output levels will show progress bars such as CPU resources used in percentage.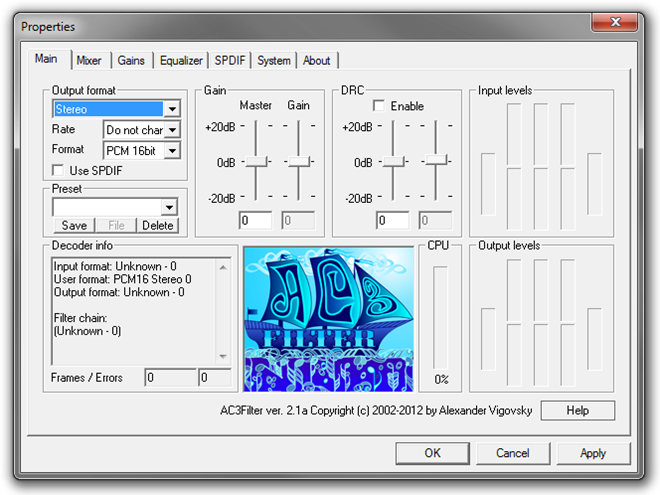 The Mixer tab lets you output format for AC3/EAC3 and Matrix preset, you need to hit Save after making your selection to save settings. The Voice and Surround sliders let you boost voice clarity and surround sound effect, respectively.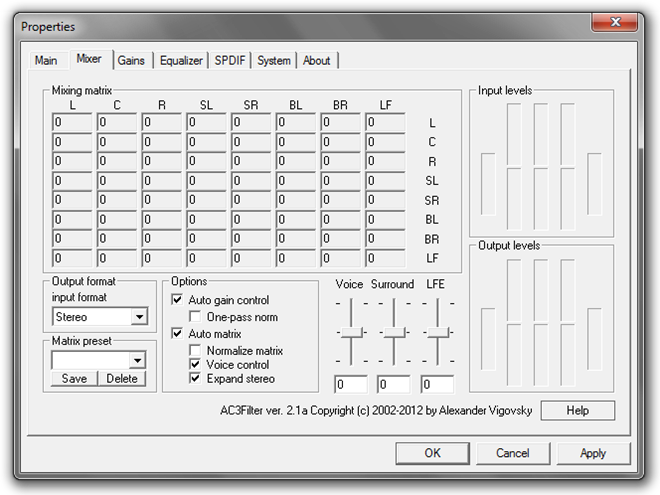 The Gain tab contain settings of enabling Bass redirection and setting Bass destination to either subwoofer or Front channel. There are input and output volume sliders to help you optimize your audio. You can select different equalizer settings in Equalizer tab, where you can save custom presets according to your needs. For people using audio equipment with optical output, SPDIF contains several different encoding options.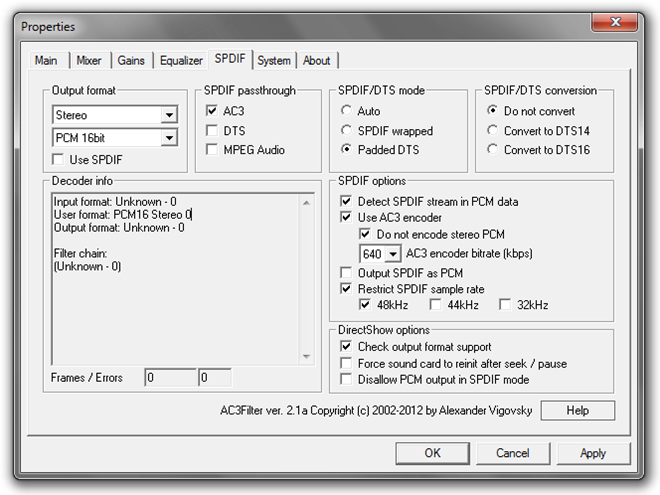 Clicking System will give you misc. filter options like enabling AC3Filter for audio formats such as Flac. Other settings include Filter merit, Default audio renderer, Audio/Video sync, Jitter correction, Localization etc.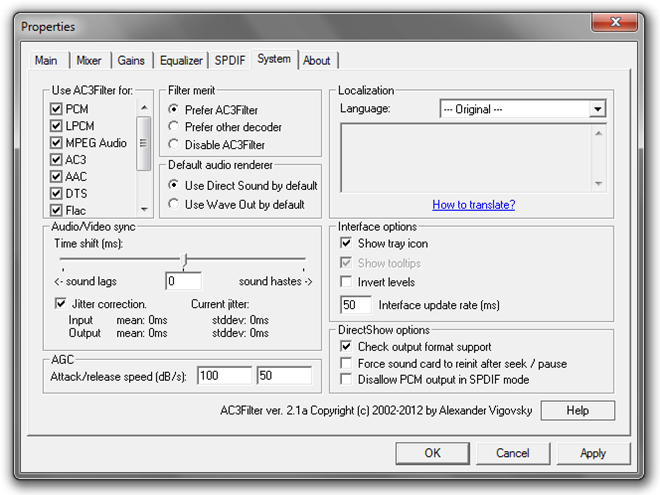 The application works with Windows XP, Windows Vista, Windows 7 and Windows 8.