Access Frequently Used Applications From Desktop Toolbar With Coolbarz
Desktop management applications are used to provide you with easy and quick access to your frequently accessed applications, while keeping the desktop clean. Many users want to avoid having a lot of icons on their desktop, as it can give a look of the desktop being cluttered. A few weeks back, we covered an application management tool, Stardock Tiles, that manages active application by installing a visual bar to the side of your computer screen. If you are looking for a similar autohide-bar to manage shortcuts for frequently accessed applications, check out Coolbarz. It allows you to add application shortcuts to desktop toolbars on all four edges of your screen. The toolbars are have autohide functionality, enabling you to perform your tasks without any interference. It also lets you change the behavior and style of toolbars such as Position, Color, Alignment, Fade In, Fade Out etc.
After installation, Coolbarz runs in the system tray. Right-click its system tray icon and select Settings to access the configuration menu. The application allows you to add up to 4 toolbars on your desktop – one on each side. The settings panel allows you to choose the positions of toolbars shortcut icons, alignment of icons within toolbars, color of toolbars and buttons (you can choose individual colors for each toolbar on your desktop), the show and hide delay, maximum width of buttons, buttons with and without text, and fading options, such as fade in/fade out opacity interval.
To add an item to the toolbar, just drag it with your mouse and drop it over the toolbar. Hover your mouse over the edges of your screen to access the toolbars.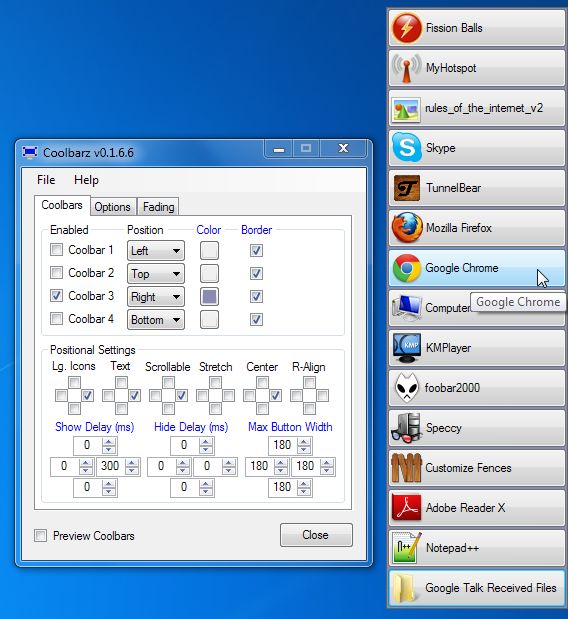 Even though, the application does provide you with an easy and efficient way to  manage your infrequently accessed applications, Coolbarz could definitely use an upgrade in terms of its interface. The toolbar that appears from the left and right side look rather bland as compared to other tools of this kind. The tabs for the shortcuts should at least have different background colors for better recognition. Coolbarz works on both 32-bit and 64- bit versions of Windows XP, Windows Vista and Windows 7.