ActivTrak: Remotely Monitor Employees' Computer Activities
There is nothing worse than having your employees not performing their assigned tasks. Not only does this hampers a company's overall productivity, but also puts its future at stake. If you have ever wondered what your employees are been doing on their systems, then there are several applications and services available out there that help you monitor their activities and internet usage, such as ExtraSpy Employee Monitor, Easytime etc. ActivTrak, is another employee monitoring software that can covertly keep an eye on how your company's computers are being used. It comes with an agent app, which basically installs a monitoring service to keep track of applications being used on the employees systems. The agent silently runs in the background, and keeps providing you with reports of recent activities regarding apps and websites being used and how much time being spent on such activities. It also comes packed with a stealth screen capture utility, which automatically takes screenshots of running application and upload them to your online account. Details to follow after the jump.
First off, you need to create an ActivTrak account. Once done, download and install the client app on workstations which you want to monitor. Now, log on to the ActivTrak' web interface to view the activity reports. The Dashboard contains information like Quick Stats to see time spent on websites, apps and activities, Date Range of the monitored activities, Top Categories, Recent Activities, Top Users, Top Sites, Top Apps and Recent Screenshots. Top Apps shows information in the form of pie chart diagram, containing name of each app used.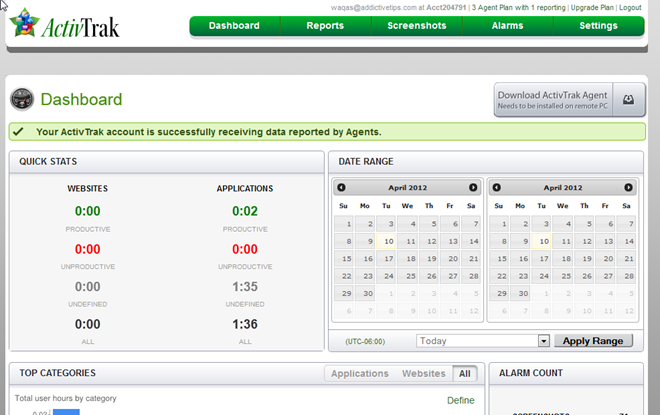 You can click Reports to get  comprehensive details regarding current sessions. Here, you can access information regarding Top Websites, Top Applications, Top Categories, Activity Log and Alarm Log. Additionally, it displays summary of activities performed on employees' systems, and number of ActivTrak agents installed on the PCs.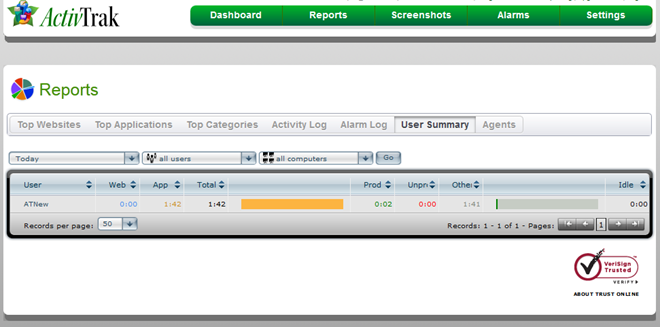 As mentioned earlier, you can keep a visual proof of your employees' malicious activities by using the application's screenshot capturing ability. Head over to Screenshots to see all the current saved desktop screens.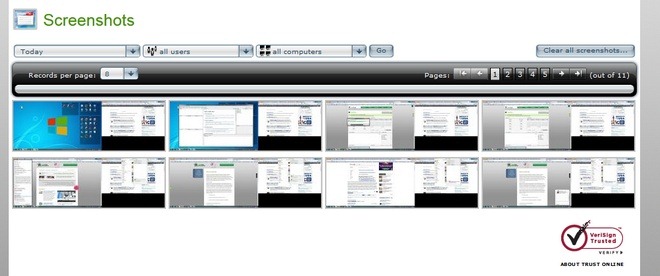 The Settings tab will help you customize a few options of the application. Here, you can make Categories of websites and apps as Productive and Unproductive, create Groups of workstations, add user accounts that can Access ActivTrak's monitored activities and set Time Zones. The Free version supports installing only 3 application agents; however, you can remove this limitation by purchasing the paid licenses. You can check the feature comparison between different paid plans here. The application works on Windows XP, Windows Vista, Windows 7 and Windows 8.