Add Free Spell Checker To Every Application That Lacks One
There are multitude of applications that lack spelling checker, most users copy the whole paragraph from Notepad and other applications to Word to check if all spellings are correct. This can be a tiresome process, what we need is an on-the-fly spell checker that works on all applications.
tinySpell does exactly that and comes in both free and paid version. It is constantly updated and works by sitting silently in the system tray monitoring for spelling mistakes. If it finds a misspelling, it will alert you with a small pop-up box near that word, hit the hotkey (default is Ctrl+;) to bring up a list of suggestions.
If you get alerted of a spelling mistake even though there isn't, then you can add the word to the dictionary. Once added, it won't alert you again and would even suggest you the next time you make a mistake in spelling.
You can also add the words to the Dictionary manually by opening it from the system tray context menu. Select a word and hit Remove to remove it from the list.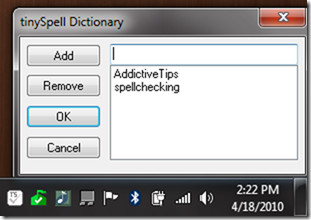 Apart from Dictionary, it also allows you to blacklist applications where you don't want tinySpell to work. Head over to Settings to increase the size of Spelling tip (default is small), duration (default is 5 sec), and text color. Users can also change the hotkeys, sound of alert, and choose to start the app at startup.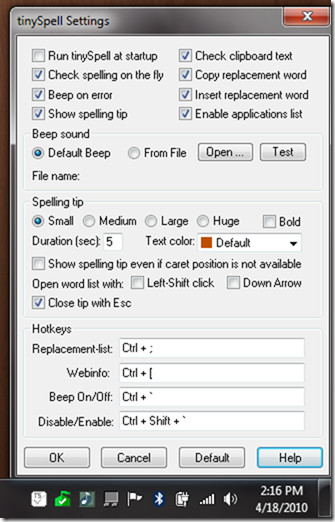 Not only does it monitor every active application for spell checking but also checks the clipboard text.
The free version will be enough for most users but paid version contains more features, such as, instant correction, translation, auto-replace words in dictionary, and much more.
The free version comes in both Installer and Portable. We tested the portable version on our Windows 7 32-bit system.