Add Or Embed YouTube Videos In PowerPoint 2010
There are some situations where we need to insert YouTube videos in PowerPoint presentations. If you are giving a presentation in a good environment with excellent WiFi connection, then embedding YouTube videos in your presentation makes sense. There are two ways to embed YouTube videos -  Using Video From Online Video Site option and Using 3rd party add-in called authorStream.
Method 1: Using 'Video From Online Video Site' Option
This is the quickest way of embedding YouTube videos in PowerPoint presentation. With this option you can easily add YouTube videos and give presentation as long as it is not uploaded online. In order words, the embedded YouTube video will be lost if you upload the PowerPoint online.
To embed videos using this method, go to Insert, click Video and select Video from online video site option.

This will open a new window where you have to add the embed code. After you have added the code, click Insert.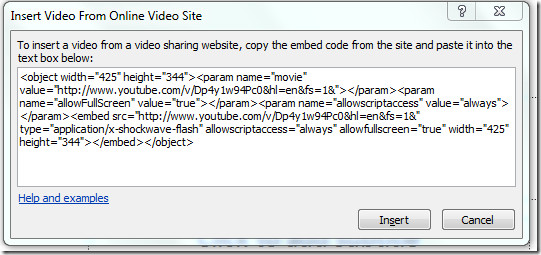 You can now resize the inserted video and customize it however you like. Remember that it will only load during the slideshow. To test the video, run the slideshow(hit F5) and then click Play when the video is loaded.
Method 2: Using authorStream Powerpoint Add-In
Like I mentioned before, if you upload the slideshow for online viewing using the above method, the embedded videos will be lost. So authorStream makes sure that the embeded videos are not lost.
Once you have installed it, it will add a new authorStream tab in PowerPoint. Select this tab and then click Insert by URL. Now add the YouTube video URL, hit Preview, and then click Insert In Slide.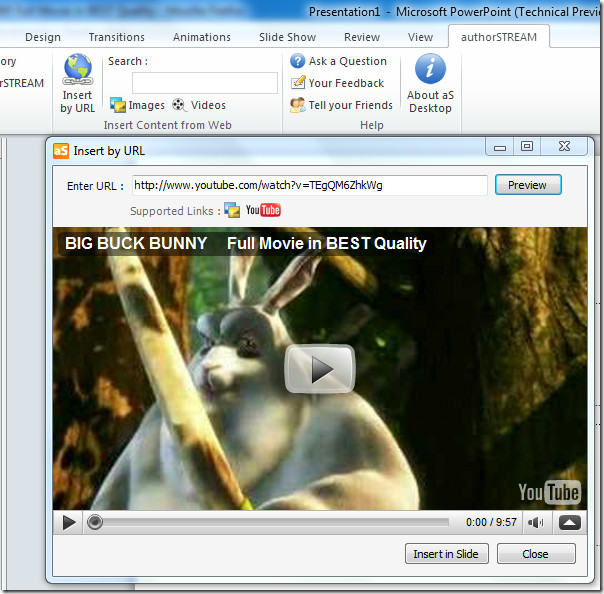 You can also search for YouTube videos using the search bar. Apart from inserting videos, it can also add Images from Bing. If you simply want to give a normal presentation and don't want to upload it for online viewing, then the first method is more suitable.
It works on PowerPoint 2007 according to the developers, but we tested it successfully on PowerPoint 2010 too. Enjoy!