Add Notes & Reminders To Application Windows With Stick A Note
Sometimes, random thoughts cross our mind during the most absurd moments. For instance, while working on a project, you will suddenly remember that you had to make a phone call. Note-taking applications like Sticker (a portable and light-weight application for taking notes on desktop) and Stickies (a clone of Mac's popular tool for note taking) allow you place sticky notes anywhere on your desktop, but what if for some reason you cannot afford to minimize the application? Stick A Note is portable application that enables you to stick notes to windows of active applications using hot keys. You can add relevant information particular to each application, such as project completion time, outline of an article you are writing, an important email address, etc. The application allows you to add the sticky notes in four different colors, and change the hot key to enable the sticky note.
While using the native Windows app for notes, you can put as many notes as you like, however, the more sticky notes you put down on your desktop, the more clutter will be created on the desktop. The good thing about Stick A Note is that it only comes up when you open the window. It means that you will not be bothered about cluttering up your desktop when you are putting up notes for different things. A sticky note can be added to any application by using the default hot key, Win + N. The note is added in the top-right corner of the application, and text can added to the note by clicking the Edit button. Added input is saved in a text file.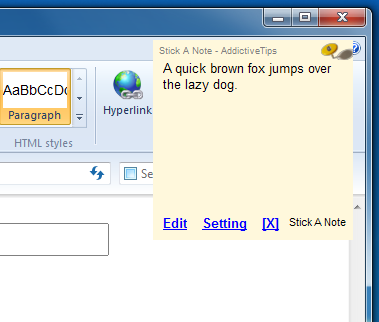 The Settings button lets you choose between four different colors for the sticky note, as well as toggle its border. You can choose to have, either the sticky note with a border, or without a border depending on your preference.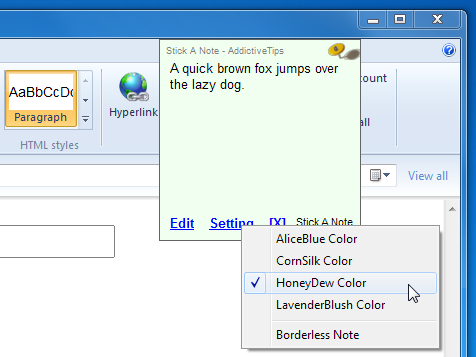 Right-click the application's system tray icon and select Settings to change hot key for activating the sticky note on the active window. The hotkey will be used to quickly add a sticky note to any Window.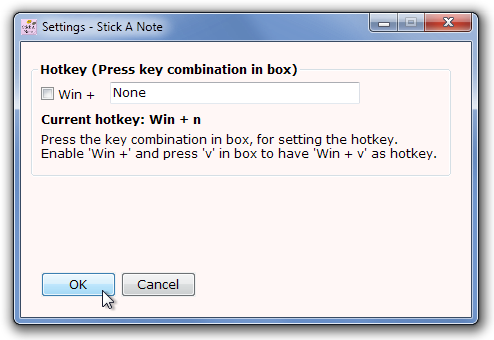 The application performs all the advertised functions perfectly, but an option to change the font of the text inside sticky notes will be great, since the default font looks rather boring. Stick A Note works on both 32-bit and 64-bit versions of Windows XP, Windows Vista and Windows 7.