Taskbar Texturizer – Add Texture To Windows 7 Taskbar
Today we came across a tool which allows you to texturize the Windows 7 taskbar. Taskbar Texturizer is a light-weight tool which offer 10+ textures but there is a small interesting story behind it.
An independent developer (named Brad) got frustrated because StartDock added the exact same feature in Windows Blinds 7 and was toting it as a "Major Feature". But Brad actually coded it in 2002, so he quickly recompiled it, added the tray support, and released it for the public.
Please note that this tool only texturizes the taskbar of your system, it does not texturize the start menu but according to the developer, he will soon include start menu texturization as well.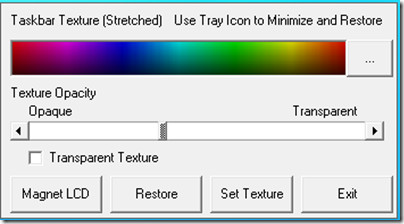 You can choose the texture by clicking the browse button, as mentioned above, it supports 10+ textures. Move the slider to adjust the level of texturization as per your requirement. You can also create your own custom texture since they are basically images in Bitmaps format.

It works on Windows XP, Windows Vista, and Windows 7. Both 32-bit and 64-bit OS are supported. For more, also check out TransTaskbar. Enjoy!