Adjust LCD Monitor Screen Brightness
Do you have a LCD/TFT Monitor who's brightness you want to adjust? Some monitors and laptops lack proper brightness controls, this is where Dimmer comes in.
It is a portable little utility that requires nothing to setup. Just run it and your brightness will be dimmed by 50%. If you want to adjust the brightness and remove the annoying information on the bottom-left corner you can do so from the Configuration window. It can be accessed by right-clicking the Dimmer system tray icon and selecting Configure.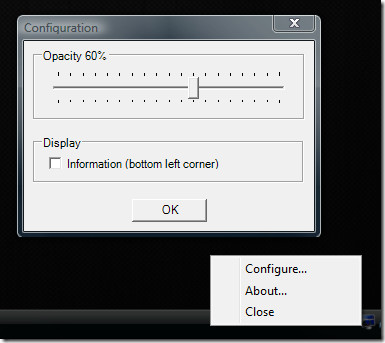 It does nothing except adjusting your screen brightness and is totally safe to use. If you want to bring your screen back to normal mode, simply exit the app from the system-tray menu.
It works on all versions of Windows including the latest Windows 7. Enjoy!