Adobe Acrobat Reader DC Not Responding – Try These Fixes
Adobe Acrobat Reader is Adobe's official PDF reader app for its proprietary PDF format. PDF files are incredibly common and Acrobat Reader is one of the most frequently recommended apps for viewing them.
PDF files can be fairly large, especially if they contain lots of images e.g., catalogs and brochures, or if they're presentations i.e., slides saved as images. With large PDF files, Adobe Acrobat Reader often struggles with opening them. The app may hang or go into a suspended state trying to open a large PDF file.
If you often find that Adobe Acrobat Reader is not responding when trying to open or scroll through a PDF file, you can try the fixes below.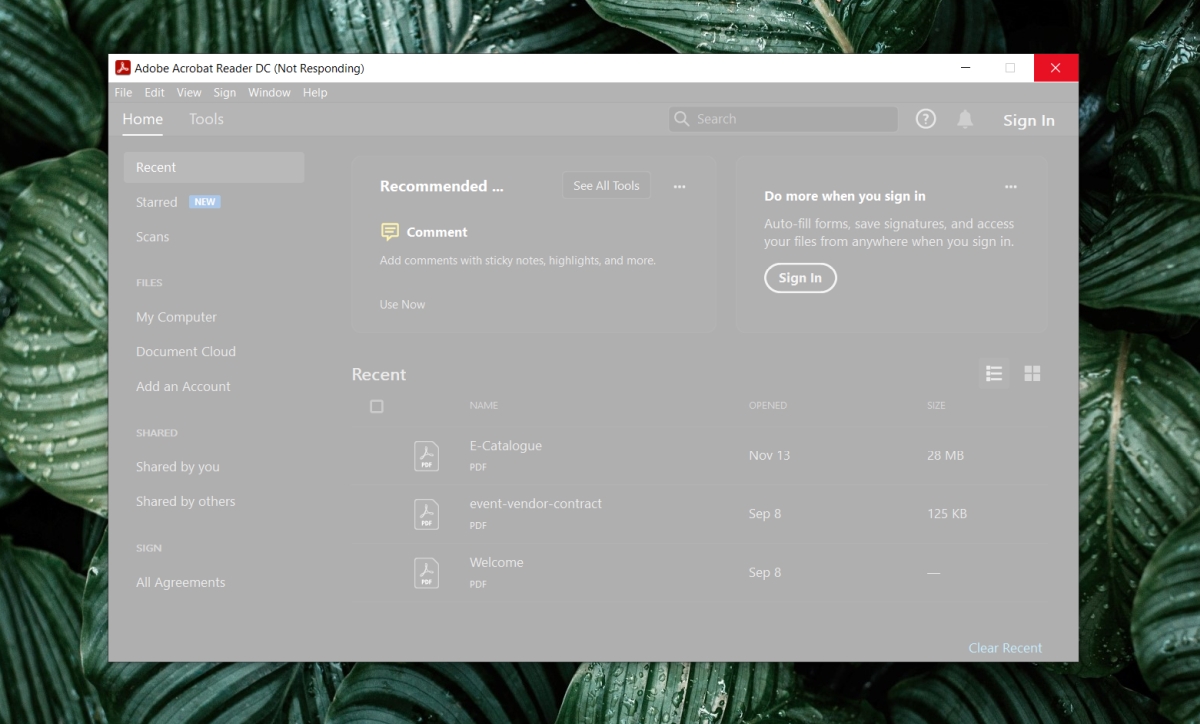 Adobe Acrobat Reader DC not responding
Acrobat Reader can stop responding at any point;
When you open a PDF file.
When the app is launched.
When you're scrolling through a PDF file.
When you try to jump to a page in a file.
If the app's performance is poor and it hangs often, try the following fixes.
1. Repair Acrobat Reader
Acrobat Reader, like many apps, can be corrupted. If the app suddenly stopped working after a system update or crash, try repairing.
Open Control Panel.
Go to Programs>Uninstall a program.
Look for and select Adobe Acrobat Reader.
Click the Change button at the top.
Select the Repair option.
Allow the app to repair and it should start working smoothly.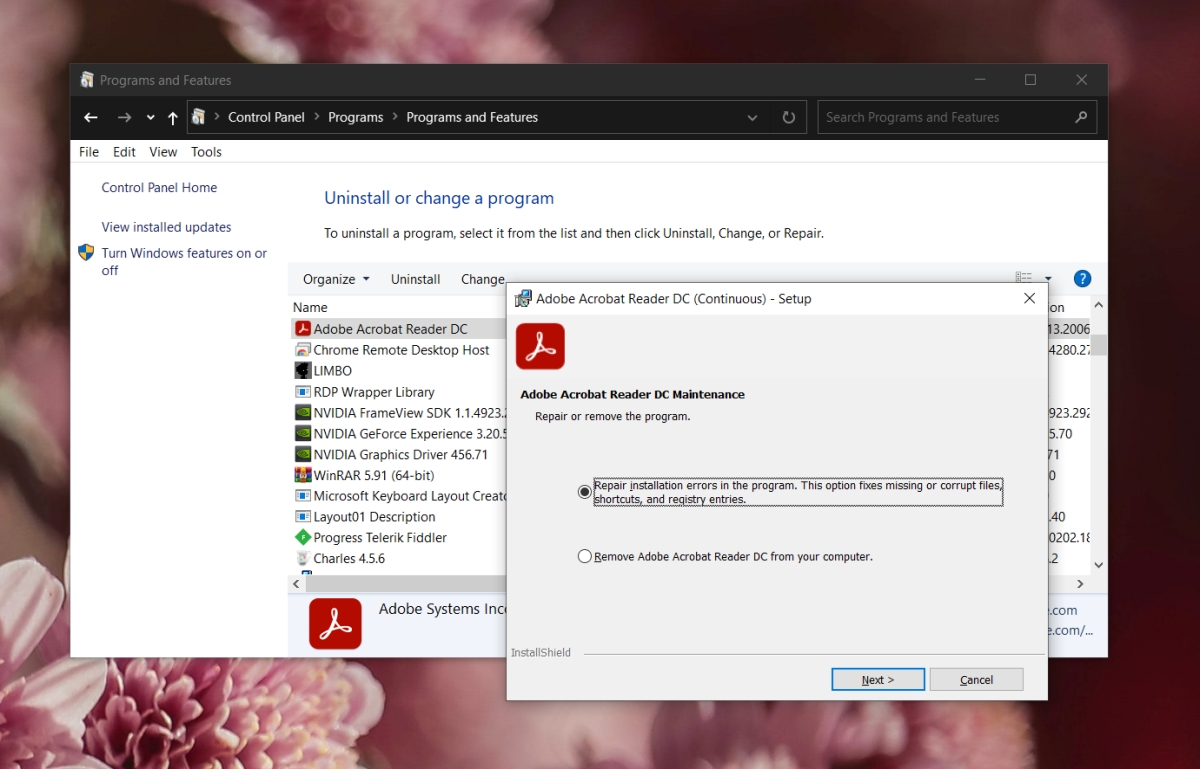 2. Fresh Acrobat Reader installation
Adobe now bundles a lot of extra apps with its installers. When you install Acrobat Reader, lots of these extra apps are installed alongside it causing problems with the app. Try uninstalling and reinstalling Acrobat Reader.
Download the Acrobat Cleaner tool.
Unzip the folder and run the executable file inside it.
Click Next, and confirm you want to remove the app.
Download and install Adobe Acrobat Reader.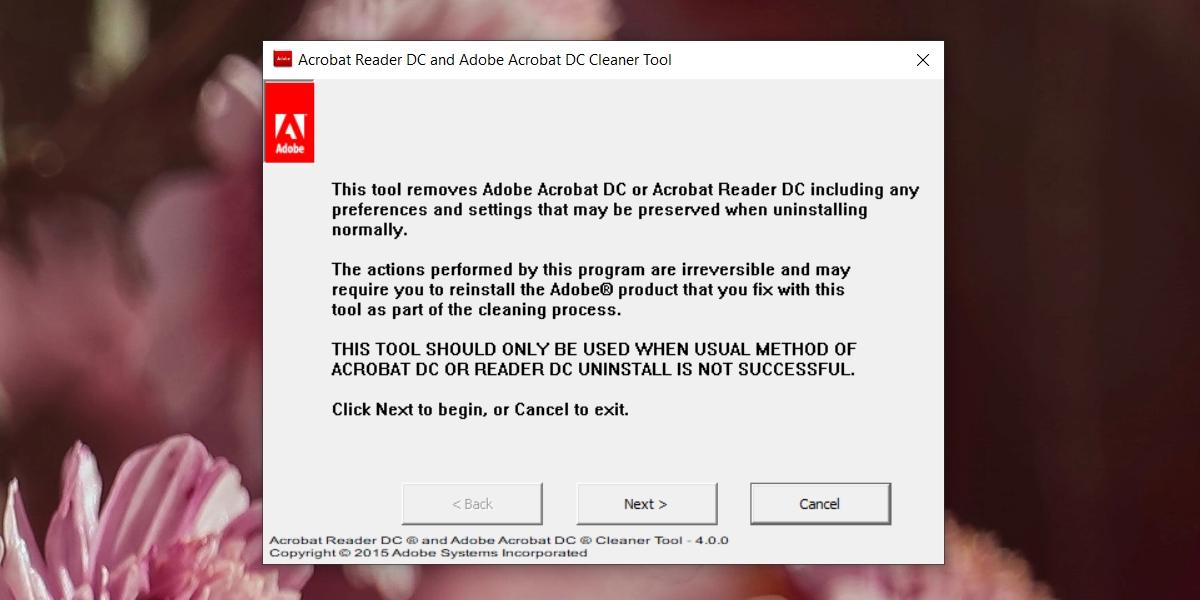 3. Run compatibility troubleshooter
Adobe's Acrobat Reader may be running in compatibility mode on your system and it may not work correctly if run otherwise. That said, the compatibility mode settings may not be correct for your system.
Open Adobe Acrobat Reader. Don't worry if it stops responding.
Right-click the taskbar and select Task Manager from the context menu.
Go to the Processes tab and click the title of the Name column to sort processes by name.
Look for Adobe Acrobat Reader at the top and right-click it. Select Properties from the context menu.
Go to the Compatibility tab.
Click the Run compatibility troubleshooter.
Click Try recommended settings.
Select Test the program when prompted.
The app will be fixed and no longer stop responding at random.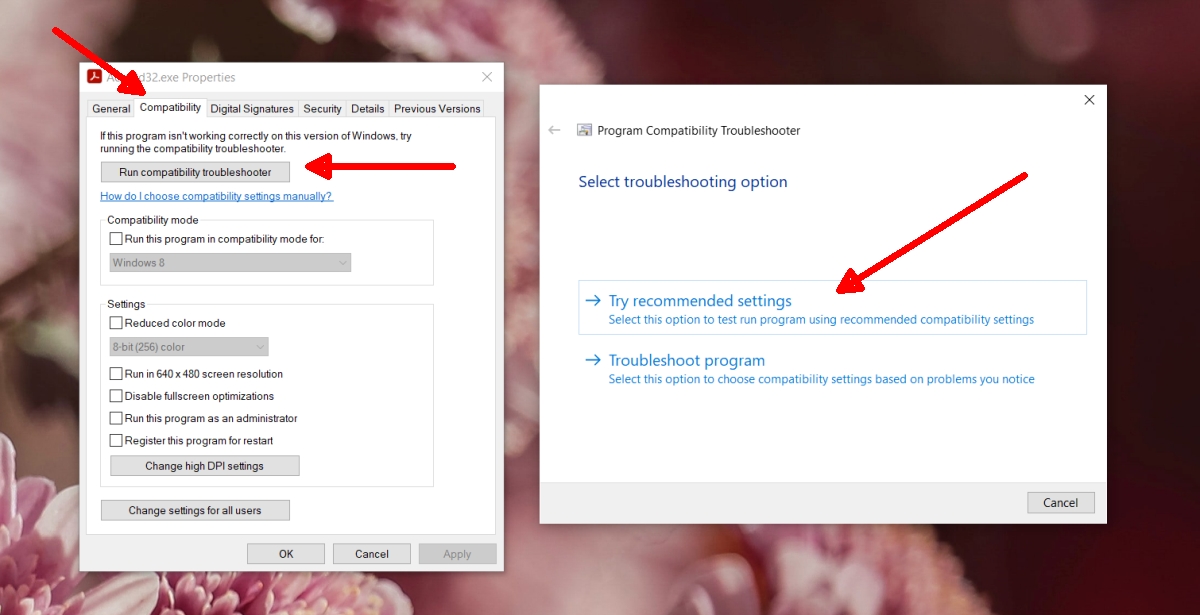 4. Set recent files to 1
Adobe Acrobat Reader has had this problem for a few years now and it seems to come and go with different versions of the app. One setting that consistently helps fix the problem is reducing the number of recent files to 1.
Open Adobe Acrobat Reader.
Go to Edit>Preferences.
Go to the Documents tab.
In the 'Documents in recently used list' box, set the value to 1.
Click OK and restart the app.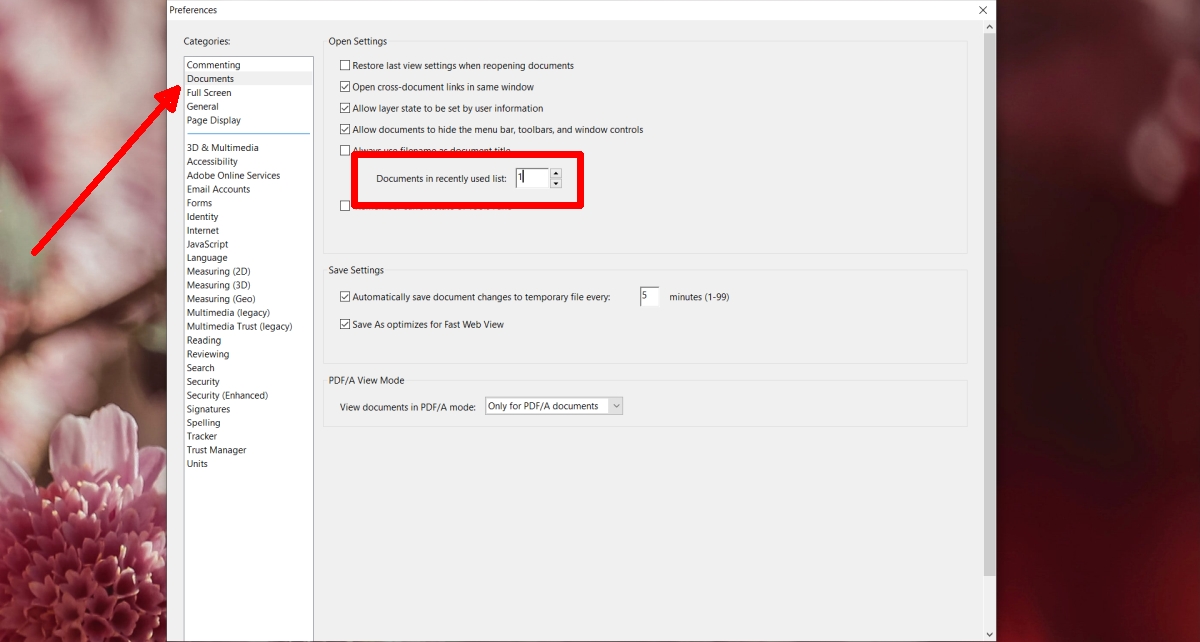 5. Disable protected mode
Adobe Acrobat Reader has a protected mode that is meant to keep you safe when you open files that have been downloaded or are not from a secure/trusted source. This mode can often cause the app to hang at random.
Open Adobe Acrobat Reader.
Go to File>Preferences.
Select the Security (Enhanced) tab.
Disable the 'Enable Protected Mode at startup'.
Click Ok and restart the app.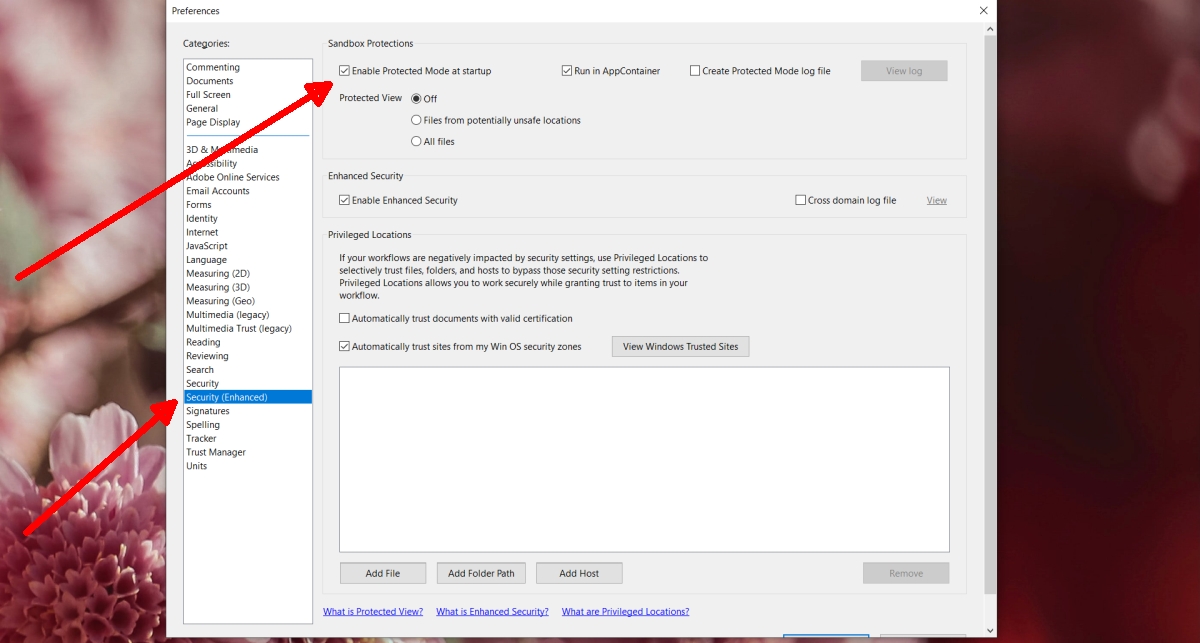 Conclusion
Adobe Acrobat Reader used to work well before Adobe bundled its cloud services with the app. For many users, the app stops responding when it loads files from Creative Cloud or tries to sign in to Adobe. It needs to be optimized to support these services better but that is something only Adobe can do.