Advanced SystemCare Ultimate: Antivirus, Registry Cleaner & System Optimizer All In One
Developed by IOBit, Advanced SystemCare Ultimate is a powerful anti-virus and system optimization tool that offers a one stop shop for almost all types of system performance, administration and management related issues. Apart from protecting your PC from malware, viruses and similar threats, it can also boost your PC's performance by applying various registry and shortcut fixes, removing junk files, scanning local disk volumes for system vulnerabilities, etc. Sporting a simple  interface, it's a comprehensive system care utility that acts as a first aid kit to diagnose a diverse range of computer problems including invalid registry keys, temp data, cloned system & user files, broken shortcuts and more. Read past the jump for details.
The application offers two different modes; Simplified Mode and Expert Mode. The Simplified mode is for those folks who don't want to fiddle around with complicated configurations and settings; it displays options for Antivirus scan and Smart Scan under Care section, whereas the Expert Mode is mainly targeted towards power users and provides access to advanced settings. It's worth mentioning here that the utility updates its virus database upon first launch, so it's highly advisable not to interrupt the download process.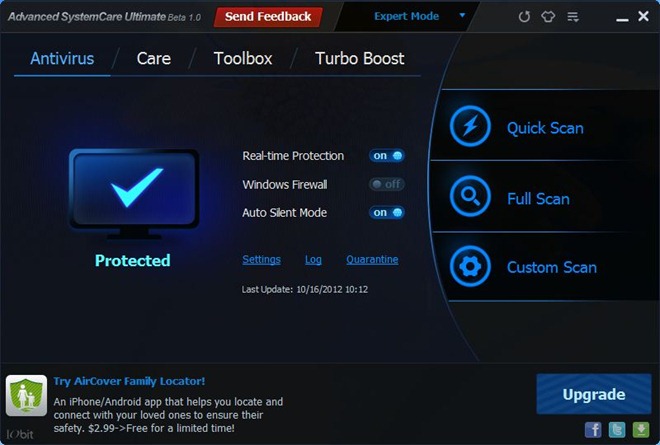 The application employs three methods to scan your system for viruses and other dreadful threats, which are named as Quick Scan, Full Scan and Custom Scan. It displays harmful threats in real-time during the process, and you may Pause or Stop the scanning process anytime.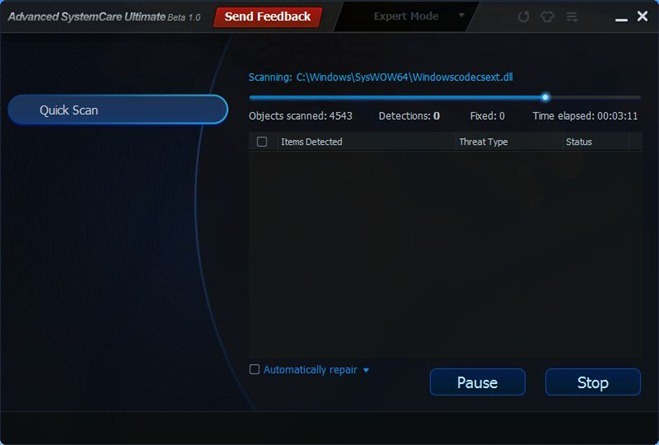 You may also execute the system optimization process from Care section, which allows you to manually select the tweaks and fixes you want to apply. For instance, Junk Files Clean is quite handy to get rid of temporary files and leftover data to save precious disk space. Likewise, Disk Defragment elevates hard drive performance by organizing data in contiguous sectors.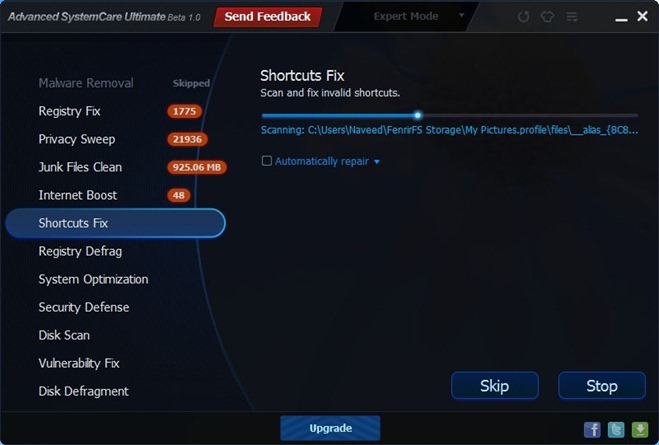 The Toolbox is rather useful to execute various tuning operations independently. For example,  IObit Uninstaller can be used to remove system and user applications, File Shredder lets you permanently erase files and folders. The Toolbox houses a wide array of such utilities, like Registry Cleaner, Disk Cleaner, System Explorer, Process Manager, Smart RAM, Internet Booster, Smart Defrag, Game Booster and so on. Some optimization tools come pre-installed, however those that aren't available can be downloaded by selecting them from within the interface.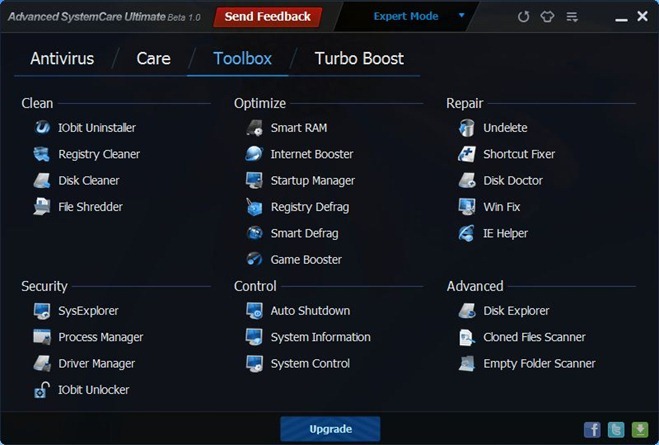 Lastly, there's a Turbo Boost section that speeds up the computer by shutting down a number of background processes and applications. Clicking Configure enables you to specify the type of Turbo mode you want to use, i.e. Game Mode or Work Mode, and you may manually select the process to be temporarily suspended when Turbo mode is running.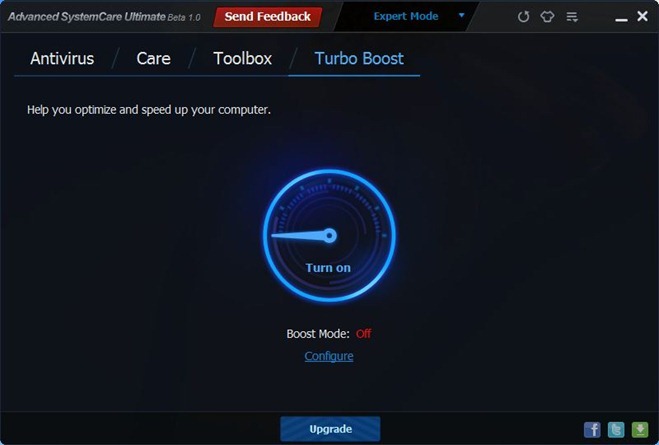 All-in-all, Advanced SystemCare Ultimate is a quite useful PC optimization suite. As of this writing, it's in Beta testing phase, so you may encounter some bugs during system scan process. It works on Windows XP, Windows Vista, Windows 7 and Windows 8.
Download Advanced SystemCare Ultimate