AeroJump Is Jump List Style Tabbed Application Launcher
AeroJump is a Jump List style application launcher to manage and launch application, file and folder shortcuts. You can add an item to AeroJump with simple drag & drop and create multiple tabs with upto 20 shortcuts each (within AeroJump). You create and name tabs which may help you easily locate and launch items. As an example, you can create a tab named Application Shortcuts and add up to twenty frequently used shortcuts to help speed up your workflow. AeroJump requires no installation as it is a portable application. A tabbed application launcher is quite an interesting concept as it enables housing several shortcuts in easy to sort categories and also provides the luxury of not having to allocate additional desktop space for viewing the extra shortcuts within the app launchers interface.
To add item shortcuts, launch AeroJump and click Drop Target. This will open a new window where you can drag & drop items to create their shortcuts.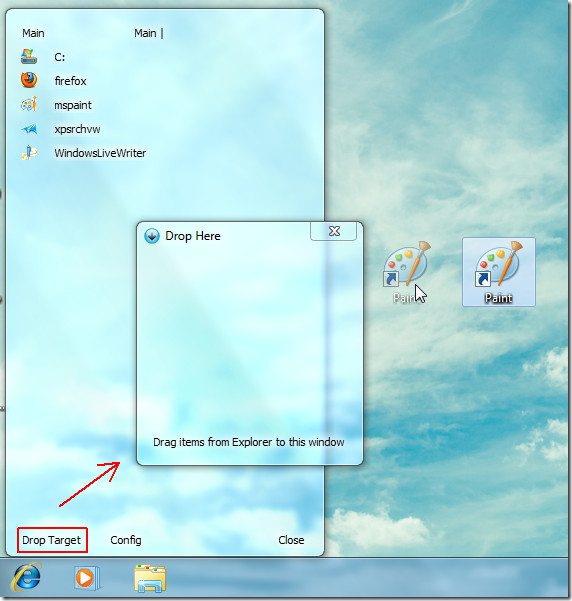 To create tabs for managing shortcuts, click Config option, enter a name for the tab, select a size (small or large) and click Update Tabs. This will create an additional tab on AeroJump interface where you can add up to 20 shortcuts. You can add a maximum of five tabs.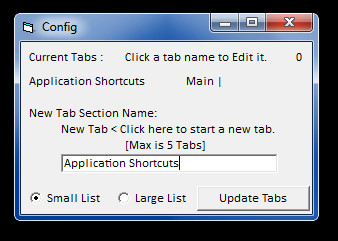 To delete an item from the list right-click on it and select delete. It must be kept in mind that Aerojump setup comes with two notepad files which are extracted with the zip file. Do not delete those files as AeroJump will not work without them. It is also worth mentioning here that according to the developer some items are not yet supported, such as the Games link from the start menu.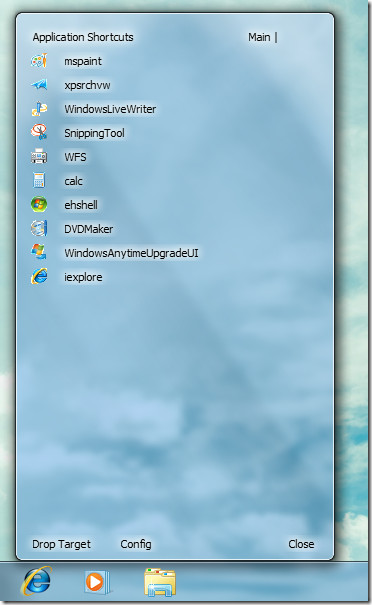 AeroJump works only on Windows 7.