AirServer: Comprehensive Mac & PC AirPlay Suite With Screen Mirroring
I've never tried to hide my preference for iOS over Android, and for multiple reasons. While both platforms have a healthy share of strengths and weaknesses, iOS offers certain features (natively) that tip the scale, at least for me, in its favor, one of them being AirPlay. The formerly-labeled-AirTunes protocol received a feature and nomenclature overhaul back in 2010, whence it included not just audio, but any kind of media to be streamed to any AirPlay compatible device. Then, with iOS 5, Apple pooled in AirPlay mirroring, allowing you to replicate your supportive iPhone, iPod touch or iPad's entire screen on the likes of compatible HDTVs, laptops, Macs etc. Speaking of Windows PCs and Macs in this regard, there's perhaps no shortage of AirPlay apps for both platforms, paid or free, that offer pretty reasonable functionality. That's why I was not too enthusiastic about AirServer, an AirPlay server application for Mac and Windows that claims to be way ahead of all its peers. Turns out, my skepticism was ill-warranted, as the app clearly blows away all the competition.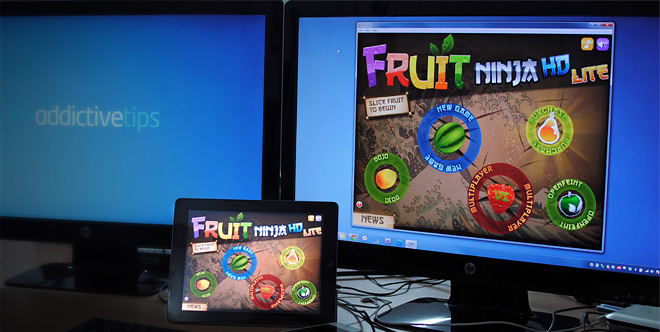 Sporting features like dual-mode AirPlay, optimized resolutions for the new iPad and iPhone 4S' retina displays, on-screen adjustment tools and a very decent frame rate, AirServer is, hands-down, the best AirPlay server application for both Mac and Windows.
Note: AirServer is a paid application worth $15 for a standard Mac license, while $8 for a standard Windows one. AddictiveTips is giving away 5 standard licenses for Mac and 5 for Windows to 10 lucky readers, details for which can be found at the end of this article.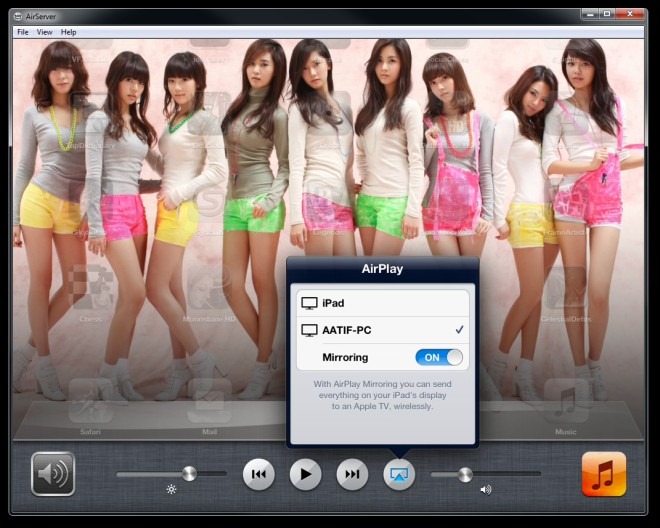 Depending on your OS, AirServer will sit either in the Menu Bar (Mac) or System Tray (Windows), and generally remains unobtrusive. It's better that we take this fact into account beforehand that there are quite a few subtle differences between Mac and Windows variants of this program, and while the developers claim they're working fast to bring the Windows version up to speed with its counterpart, it remains for now that Mac gets a more solid package. Hence, we begin with that.
The first launch of the program will prompt for access to your network. Allow that to proceed. While obvious, you must ensure that your IOS device and Mac are both on the same network.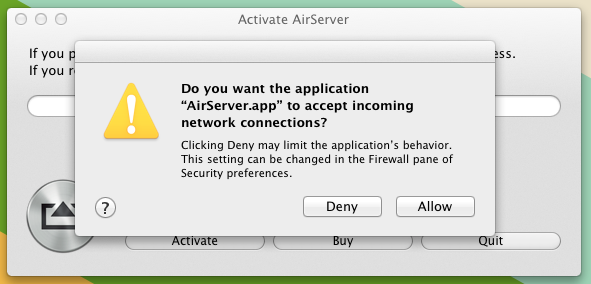 Next up, go through the configuration panel to customize any parameters to your liking (accessible through the app's Menu Bar icon). On Mac, the four man tabs include General, Audio, Display and Mirroring. The General tab shows version information and allows you to manage your Mac's broadcasted name, (optional) password, icon visibility in Menu Bar, Startup launch, and, most importantly, Dual-mode AirPlay, among other features.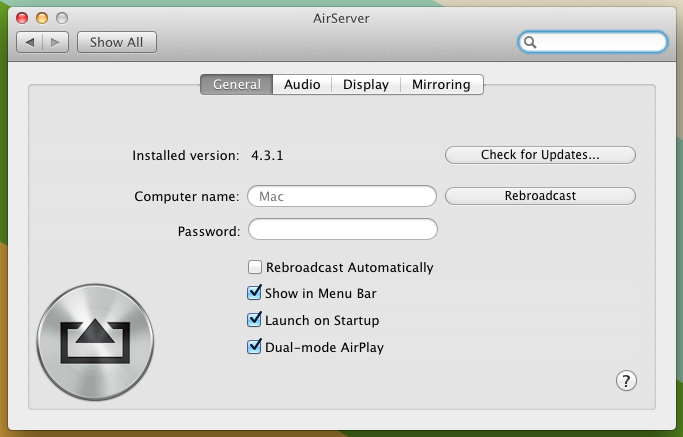 The Audio and Display tabs allow configuring which devices to use for those components, and are generally utilized if you have more than one of either attached to your computer. The Mirroring tab allows optimization of the screen for a particular device, which is rather useful when connecting the new iPad or iPhone 4S, since they both feature a retina display. A Slow Network switch is also available, but frankly, I didn't get to play with that.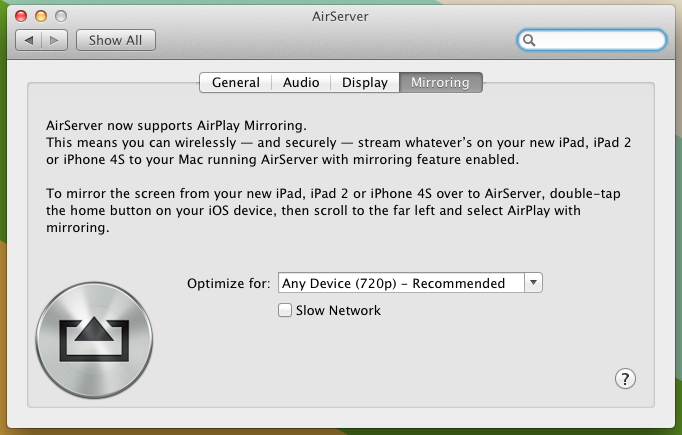 With the configuration panel out of the way, you may now connect any AirPlay enabled iPhone, iPod touch and iPad to your Mac. On an iPhone/iPod touch, double-tap the Home button to bring up the App Switcher tray. Swipe left twice to reach the volume slider. Assuming that AirServer is running on your Mac, and both the computer and iDevice are on the same network, an AirPlay button should show up. Tap that, and select your Mac from the list of available devices. Toggle mirroring 'on' alongside, and hit Done in top-right corner. The process remains the same on iPad as well, although you may need one swipe less to reach the AirPlay button in App Switcher.
There isn't much to it after enabling mirroring, since you'll be getting your device's entire screen replicated on your Mac right in front of you. And that's where the fun begins, because you can put it to any use that you like. Forget a simple slideshow show-off of your Camera Roll – you can record complete screencasts, give app demos, presentations and whatnot with this baby! Every action that you perform on your iPhone, iPod touch or iPad, gets reflected almost instantly on your computer. This part, by the way, applies to both Windows and Mac versions of AirServer.
The developers of AirServer advertise it as "the game console for Mac," and rightly so, thanks to the Dual-mode AirPlay option. This mode allows you to connect two iDevices at once through the AirPlay protocol, while the program automatically readjusts their screen sizes for best fit, depending on connected display(s). Taking from the developers' example, this allows you to turn Temple Run into "Temple Race," with you and your friend playing side by side on your own devices, competing for the longest run. The screenshot below exhibits my iPad running Flipboard while Temple Run is shown on my 4S next to it.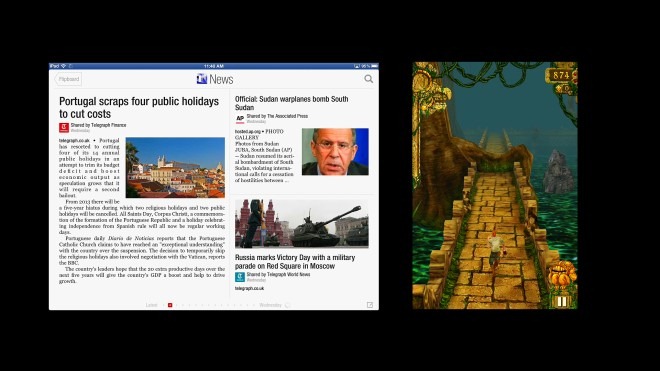 Oh, and I forgot to mention, as soon as you connect a second device, AirServer automatically shifts to theatre mode, giving not only aesthetic, but also a usability uplift, as it blacks out the rest of the screen.
On Mac, when you click the image of any connected device, you get some post-transmission parameters that you can tweak, including sharpness, brightness, contrast, saturation and hue, among others. These are missing in the Windows variant, for now.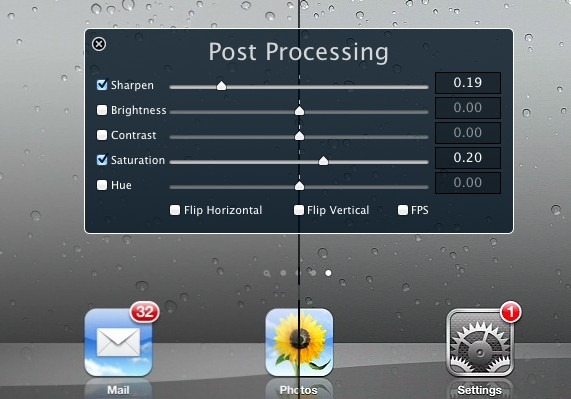 Coming to the Windows flavor of AirServer, it's lacking in quite a few areas, but getting up to the Mac version pretty fast. For now, there's no Dual-mode AirPlay, for starters, plus no post-processing either. It, too, will require access through Windows Firewall. The biggest missing feature is lack of Audio transmission through AirPlay, which means that while you can play videos from your iPhone or iPad just fine, there would be no sound to go along with. We do understand the lack of Dual-mode support, but no audio seriously hampers the usefulness of this app.
The Windows version of the app is windowed (pun intended), and supports theatre mode just like the Mac one. The settings panel, accessible through system-tray icon, differs considerably from the Mac one, in that it lacks Audio and Video tabs altogether, and adds a new Updates one instead. Available options differ, too. For instance, Dual-mode AirPlay is there, but is greyed out, hence unavailable for now.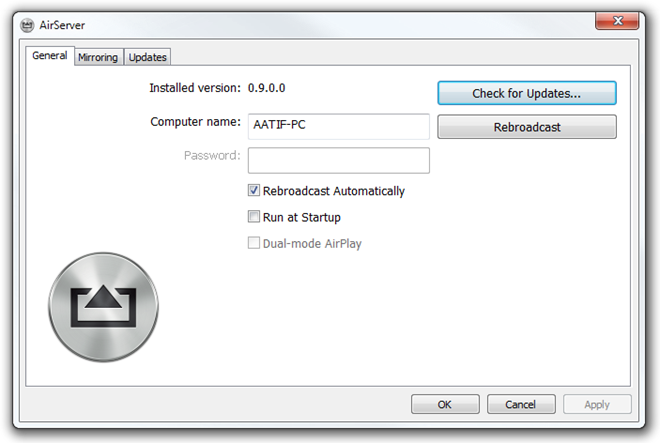 Since AirServer goes bragging about it's game-console duplication, we put the app through a test using Chair's famous title, Infinity Blade. The frame rate was excellent, and the graphics looked crisp. Oddly enough, it fared better on Windows than on Mac, where the playback was rather laggy and choppy at places. Still, for less-intensive ones, you shouldn't experience any hiccups. A screenshot is nevertheless provided for your pleasure.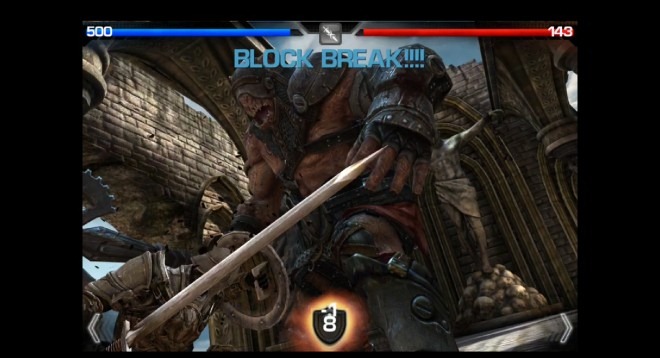 AirServer, on the whole, is a brilliant app with a wonderful new implementation for AirPlay mode of iOS. While it performs better than any of its competitors even in its current form, it can still use a lot of improvement, particularly for the Windows client (and I am talking outside of the missing features). My recommendation: never enable autostart with system – it will kill your processor. My core i5 with 6GB of DDR3 RAM was brought to a crawl when AirServer was running in the background unnecessarily, so only run the application when you need it to. The developers may want to look into that.
Finally, we come to the pricing model. For both Windows and Mac, you get a 7-day trial for free, which is fully functional. Standard license costs $7.99 and $14.99 for both, respectively, while student licenses are available at $11.99 for Mac and $5.99 for Windows. A 25 license bundle will set your wallet lighter by $59.99 on the Mac flavor, while the same will cost you $29.99 for Microsoft's operating system. One final annoyance (and a rather big one, at that) is that when you attempt to download AirServer, it asks you to sign in with Facebook and allow access, afterwards publishing an advertising message on your wall that you downloaded the application. My advice to the developers? DO NOT do this. It can turn off people enough to ditch your application altogether.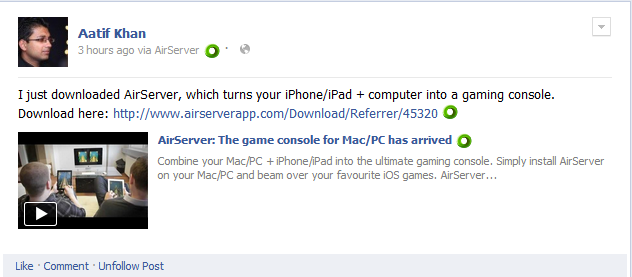 AirServer works on Mac OS X Tiger and above, and Windows Vista and above. Compatible iOS devices include iPad, iPhone 3GS or later and iPod touch second generation and above, all running latest version of iOS. It is also compatible with Android devices running doubleTwist+AirTwist combo. Mirroring is available only on iPad 2, new iPad and iPhone 4S.
Giveaway: We're giving away five Mac and five Windows licenses for this app. The giveaway will last for 48 hours. Participation is simple. Follow @addtips on Twitter, tweet/retweet the giveaway and in the comments below, provide a link to your tweet. Alternatively, you may comment on our Facebook or Google+ page, where the comment should preferably be under the shared post and not on the page itself. Either way, you must mention your operating system (Windows or Mac). Our editors will pick the ten winners randomly. Good luck!
Update: Great news! The developers have listened to us! Facebook login for download restriction has been removed, to the great relief of a lot of privacy-conscious users. Good luck with the giveaway to everyone who's participated.
Update 2: Giveaway has been closed. Winners will be contacted shortly.
Update 3: Licenses have been sent to the winners. If you entered for the giveaway, please check your Twitter Direct Messages, Facebook Messages or Google+ feed.