All You Need To Know About Windows Home Server 2011 (Vail)
Windows Home Server 2011 (aka Vail), is a home server operating system designed for families and small businesses (optionally) to securely organize and share photos, music, video, documents, etc. However, The Windows Small Business Server 2011 is more suited for businesses (small businesses) rather than the Home version. With Windows Home Server, Users can access and share content (including digital content) and stream media to other devices such as gaming consoles like Xbox 360. It automatically backup all computers connected to it, hence providing a centralized backup mechanism. A number of software and hardware add-ins can also be added in order to enhance the capability of the home server. In this post we will provide a comprehensive overview of "Vail" and its capabilities that you can benefit from.
System Requirements
Before one can start considering the use of Windows Home Server 2011, it is worth checking out its system requirements which in my opinion are quite slim and provide the utility of upgrading an old PC to work as a home server (particularly for families). (Windows Home Server 2011 is a 64-bit only operating system).
Processor: 1.4 GHz x64
RAM: 2 GB RAM (minimum)
Hard Disk: Atleast160 GB (or larger) hard drive
Supported File System: NTFS is the only supported file system
Supported Networking Configuration:
Server computer must be connected to a router
The router works best with a UPnP ™ certified device
The router works best in the 192.168.x.x subnet
Supported Operating Systems
Following is a list of operating systems that it supports:
The Windows 7 Operating System
Windows 7 Home Basic (x86 and x64)
Windows 7 Home Premium (x86 and x64)
Windows 7 Professional (x86 and x64)
Windows 7 Ultimate (x86 and x64)
Windows 7 Enterprise (x86 and x64)
Windows 7 Starter (x86)
The Windows Vista Operating System
Windows Vista Home Basic with Service Pack 2 (SP2) (x86 and x64)
Windows Vista Home Premium with SP2 (x86 and x64)
Windows Vista Business with SP2 (x86 and x64)
Windows Vista Ultimate with SP2 (x86 and x64)
Windows Vista Enterprise with SP2 (x86 and x64)
Windows Vista Starter with SP2 (x86)
The Windows XP Operating System
Windows XP Home with Service Pack 3 (SP3)
Windows XP Professional with SP3
Windows XP Media Center Edition 2005 with SP3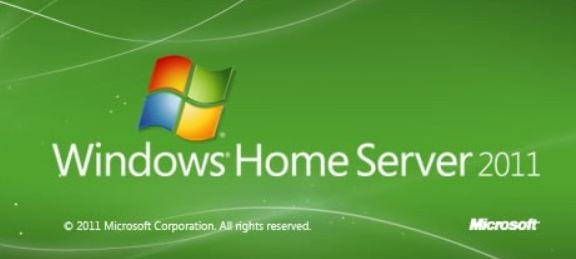 Windows Home Server 2011 Dashboard
The dashboard undoubtedly is the most important part of the Windows Home Server. It is an application that is used for configuring it. All access permission and other important tasks are managed form the dashboard. The Windows Home Server 2011 Dashboard provides the following options:
Checking Backup Status of your Home Computers
The Computers and Backup tab allows to view and configure backups for all computers (that have the Windows Home Server Connector software installed).
Configuring User Accounts
The User Accounts tab can be used to add up to 10 users. It provides complete user account configuration options.
Configuring Shared Folders and Hard Drives
The Shared Folders tab allows to add /remove shared folders and set their properties. Whereas, Server Storage option allows you to view attached hard drives.
Checking Health Alert Status of the Home Network
The Network Health indicator provides system health notifications for the server and associated computers.
Add-ins tab allows viewing, installing and remove add-ins.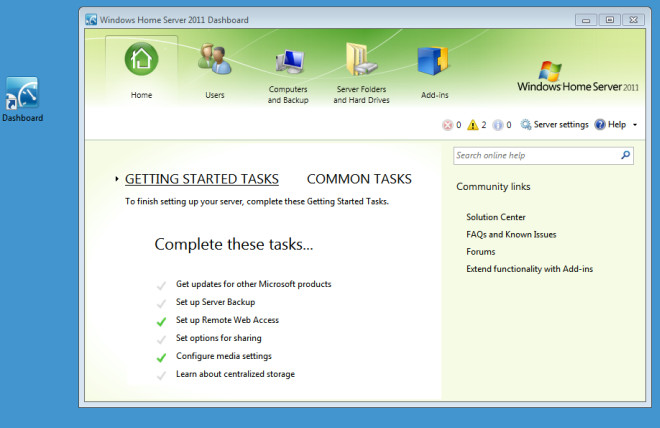 Home Server Backup, Restore And Shared Folders
Windows Home Server 2011 can backup shared folders to external drive(s). This provides a robust backup option to avoid data loss and allow restoring old data (when required).  This includes backing up client operating systems in a centralized location i.e. in the home server. Automatic backups are created for all connected systems and the new Drive Extender Enhancement Feature provides the ability to add external and internal drives to increase storage capacity. Saved backups can be restored with immense convenience via the simple backup options within Windows Home Server 2011.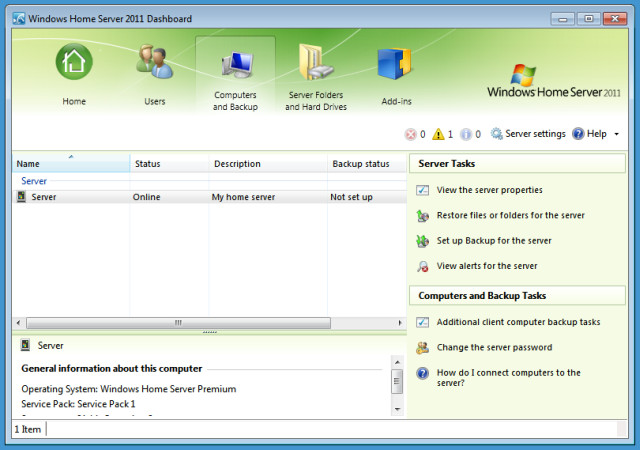 The home server is pre-configured with some shared folders with defined names such as  Pictures, Music, Videos, Documents, Recorded TV and Users. Additional folders can be created and folder settings can be managed from the Dashboard.
From the Dashboard new uninitialized hard drives can be formatted via a simple wizard. As more formatted drives are added, the shared folders can be allocated to specific storage devices via the "Move The Folder Wizard". Microsoft recommends using external hard drives for backup purposes only and saving important data on internal drives.
Media Streaming
The pre-configured shared folders of the home server are already enabled to stream videos, pictures, music and recorded TV. Streaming can be enabled for newly created  folders by adding them in the media library using the  Dashboard. You can include any shared folder in the media library,to make your music, pictures and videos accessible from an Xbox 360 entertainment system or some other supported digital media receiver. The media streaming settings can be configured from Dashboard –> Home –> Configure Media Settings.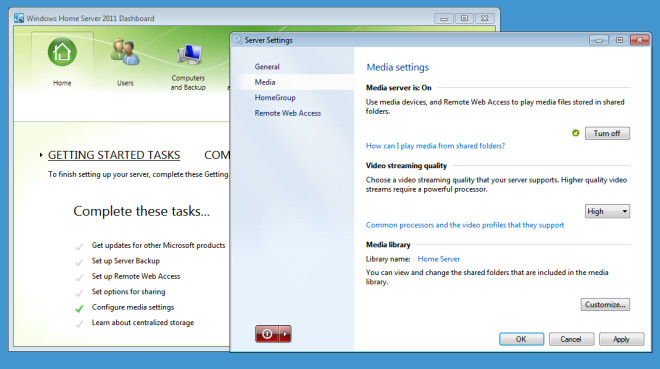 Remote Access
Windows Home Server 2011 comes with rich Remote Access features. Users can connect to shared files/folders, home computers and the server Dashboard for accessing, uploading and downloading even when they are not at home. To connect to one of your home computers, on the Computers tab, click the Connect button next to the home computer. You can only connect to a computer that is Available for connection and that is running one of the following operating systems:
Windows XP Professional with Service Pack 3 (SP3)
Windows Vista Ultimate, Windows Vista Business, or Windows Vista Enterprise with Service Pack 2 (SP2)
Windows 7 Ultimate, Windows 7 Enterprise, Windows 7 Professional
Play videos, music and pictures.
Remote Access to Home Computers
Users can connect to a home computer and run an application as if they were sitting in front of their computer.
Personalized Internet Address
Users can register for a personalized Internet address so that they can remotely access the home server securely using a personalized Internet address (e.g. https://example.HomeServer.com/me).
Remote access permissions set for each user
Remote Access can be allowed for 10 users with easy configuration options for enabling or disabling access permissions.
You can download/upload and stream your content for your Windows Phone 7. Remote Access can be configured from the Dashboard via Dashboard –> Home –> Setup Remote Web Access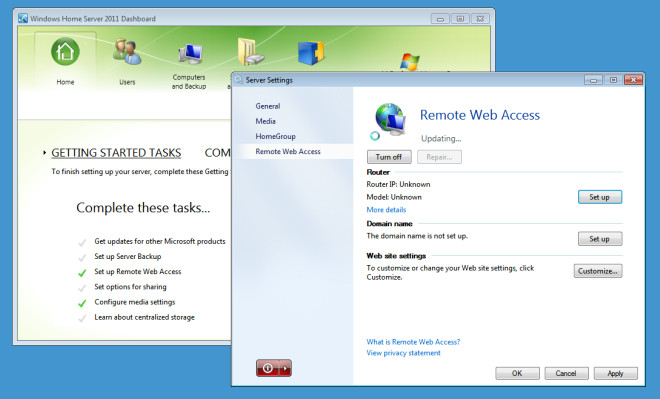 You can get a copy of the Windows Home Server 2011 RC from the Microsoft website here. You will require a Windows Live Account to sign in and download it. Don't forget to take your free product key for the RC (Release candidate) version after you sign in.