Allocate NTFS Permissions Easily With NTFS Permissions Tool
NTFS is a successor of FAT 32 and comes with a number of enhanced security features. While these features add extra security to data, they can be  quite complex to work with, specially for people who may be new to the concept of managing NTFS rights. I still remember having a headache when I studied the NTFS security permissions for the first time. Having said that, once you know your way around the available options, it becomes quite easy to allot user rights. Remembering the assigned rights, however, is another story.
NTFS Permissions Tool is a portable application which allows easily assigning file and folder permissions to restrict access to novice or troublesome users from accessing your data (e.g. on a shared computer). It is often wise to make multiple user accounts on a single PC and to restrict rights of local users to ensure that they do not make unwanted changes to the system. However, such users at home or office can end up accessing your files and folders if their NTFS user rights are not allocated properly. The usual process of doing this is a bit lengthy, specially when there are a number of files and folders to allot rights to. NTFS permissions Tool resolves this problem and allows allocating rights to multiple files and folders within an easy to use interface.
Just drag and drop files to the main interface of the app to begin allocating user rights.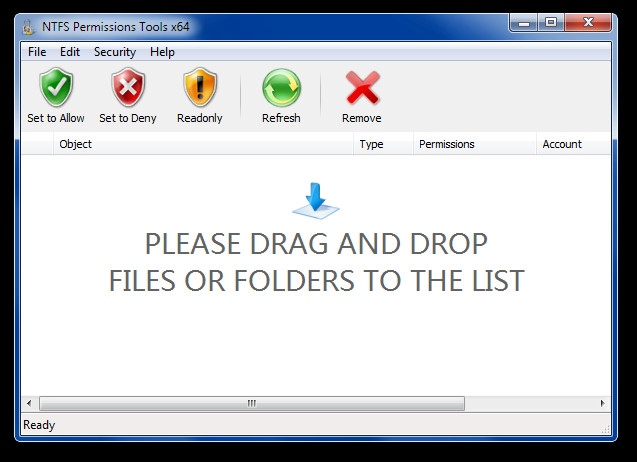 Once the files and folders are added, you can allot rights (Read Only, Deny and  Allow) for all the users of the system. If you are new to NTFS permissions, make sure that you do not choose "Allow" for "Everyone", unless you wish to make a file or folder available to all local users which access the system.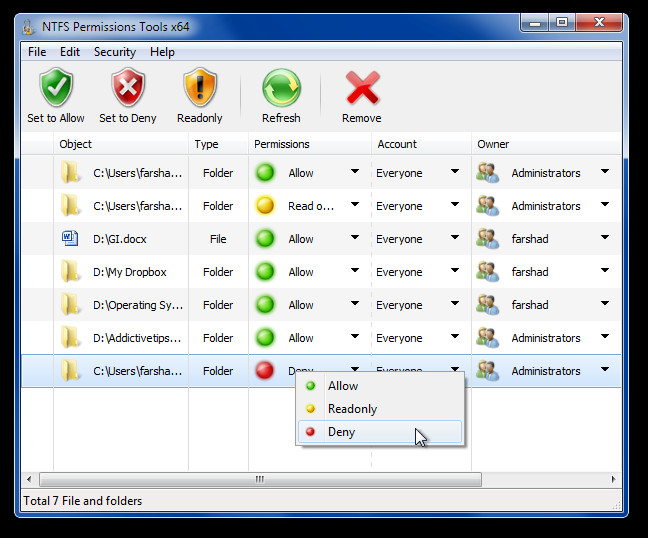 Since NTFS permissions entail quite advanced user rights management procedures, therefore, you can access the in depth options by double clicking on any document added to this app. The advanced options include allocating rights according to default and user created groups on the NTFS drive. You can assign objects to specific groups (e.g. Everyone or HomeUsers group) to provide or deny permissions to a specific user according to a defined user group policy. To make sure that the inheritable permissions are also applied during group allocation, check the Inheritance check box.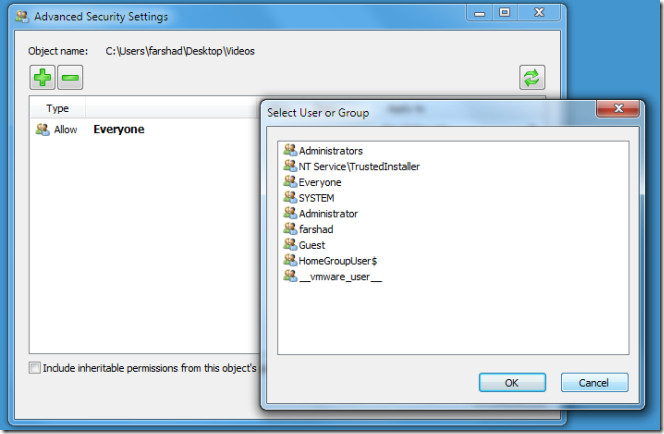 Once a group is selected, you can further refine settings by managing user rights to the sub-folder level, as well as add access control entries and create empty DACL (Discretionary Access Control).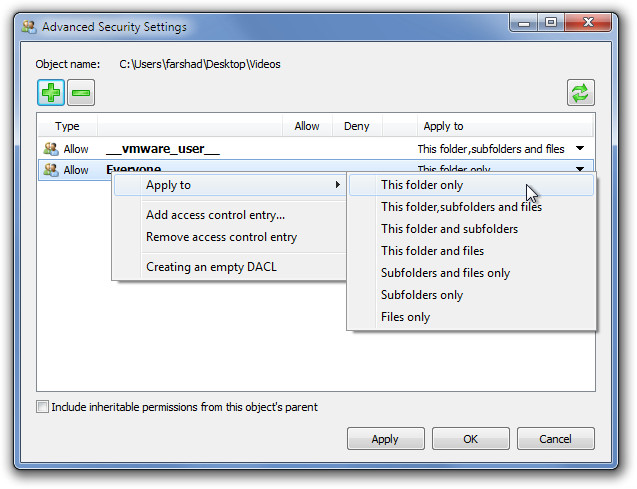 NTFS Permissions Tool works on Windows XP, Windows Vista and Windows 7.
Download NTFS Permissions Tool