Alternative Flash Player Auto-Updater Silently Installs Flash Player
Since Adobe Flash Player is essential for streaming flash content over the web, everyone needs to have it installed with latest updates. The problem arises when Adobe rolls out a new version of Flash Player, compelling users to install the updated version immediately through pop-up messages which are at times a bit annoying. Since Adobe Flash Player is widely used, hackers can always exploit its installation with malwares and other potential threats. To be on the safe side, you can try Alternative Flash Player Auto-Updater which claims to be the only remedy for the problem. It checks all the possible security risks that may involve in Adobe Flash installation. Furthermore, you wont need to install Adobe Download Manager, it can directly download and install secured Adobe Flash player for you.
After installation, you can see it residing in system tray. For the first time, it checks for latest Adobe Flash Player version and prompts for installing updates (if any). The application can automatically verify installed Flash player version in Firefox, Safari, Opera and IE.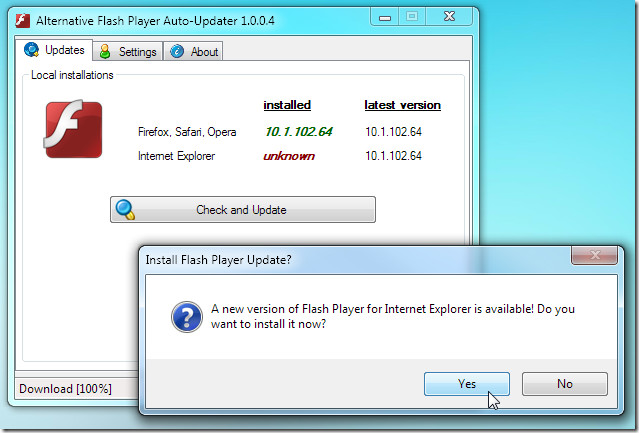 From Settings, you can change application-related and Flash Player update settings. It has an ability to download and install without requiring any input from user's end, you can also exclude Flash Player update from any browser.
It will notify you each time when updates are available, however, you can enable the silent mode to let it download and install updates without any disrupting your focus. It runs on Windows XP/Vista/7 (both 32-bit and 64-bit systems are supported). Testing was done on Windows 7 x64 system.
Download Alternative Flash Payer Auto-Updater