Apply And Adjust Audio Effects With Moo0 AudioEffecter
Moo0 AudioEffecter is an application for adding and adjusting effects of audio files, including detailed adjustment of volume, bass, pitch etc. For example, you can enhance vocal and instrument sound for amplifying the audio track playback sound. Moo0 AudioEffecter has been developed by the same developers who previously brought us Moo0 ConnectionWatcher, Moo0 File Shredder, Moo0 DiskCleaner and Moo0 MultiDesktop.
To get started, select a conversion option from the drop down menu to increase/decrease volume or pitch, boost or suppress bass etc. Once done, drag and drop an audio file (MP3 or WAV) onto the main interface.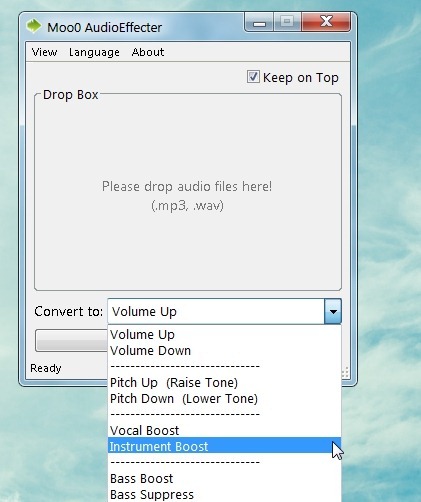 This will convert the audio and save a separate copy of the converted file in the same directory as the source file. For example, if you convert file "A" from a directory named "Audio Files", then a renamed file with the applied effect will be saved in the same directory.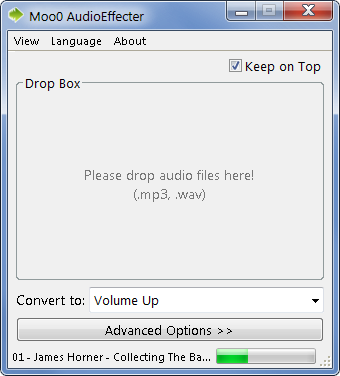 When applying an effect, you can click Advanced Options to further refine the conversion options. For instance, when you increase the volume of the audio file, you can select the boost level for the volume.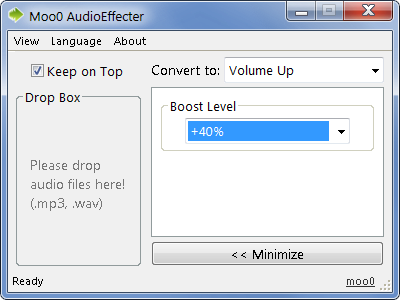 It is worth mentioning here that Moo0 AudioEffecter is ad-supported, as it displays ads during installation. However, no ads are displayed after installation. It works on Windows XP, Windows Vista, Windows 7 and Windows Server 2003.