Apply Styles, Effects, And Upload Photos To Facebook With Picture Dude Image Uploader
We have covered some tools and plug-ins (of famous applications) which offer on the fly image uploading to Facebook, to name a few, Bloom, Picasa Uploader (Picasa plug in), LiveUpload to Facebook (Windows Live Gallery Plug-in), Rightload, and Easy Facebook Photo Uploader. The latter two offer the fastest way, allowing users to upload selected photos to Facebook photo album via Windows right-click context menu. Picture Dude Image Uploader is not just an application for uploading albums/images, it comes with in-built image editing and re-touching features to make your photos look more the way you want. Effects like, Colors shades, Art effects, Edge enhancements, Blur and sharpen, etc., are also included in the package.
The application interface is nicely designed, flaunting all the options right underneath the imported image, Sadly drag &drop behavior is not supported, so you need to select either files or folder from application's File menu.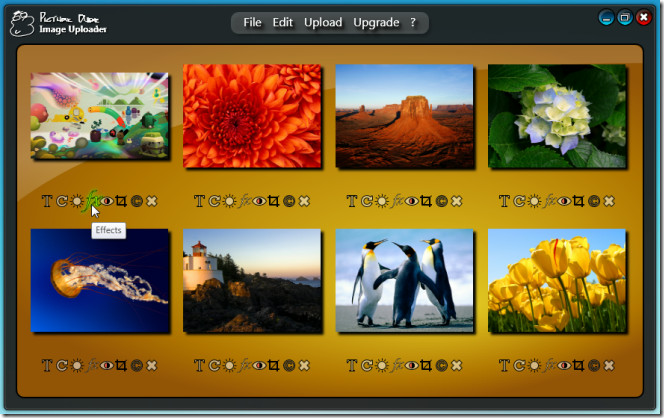 In Effects window, you will find all the image effects categorized in left sidebar. Each category further carries a list relevant effects and styles which can be applied over an image from the pull-down menu. Lastly in Special Effects, you have more out-of-box effects which can revamp your photo through different styles.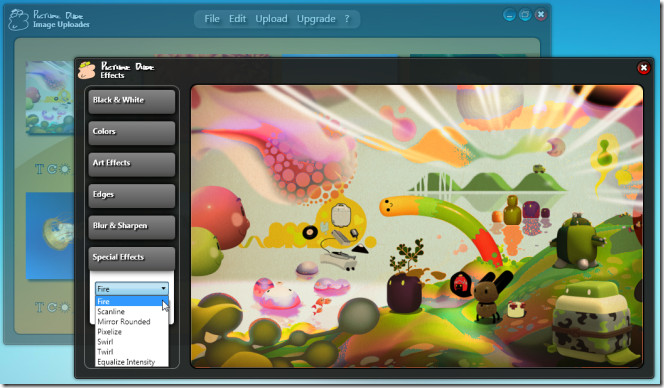 Alongside Effects, you will find options to Edit Brightness, Contrast, Saturation, and Gamma of selected image whilst tools for image watermarking, cropping, and red-eye reduction are also available.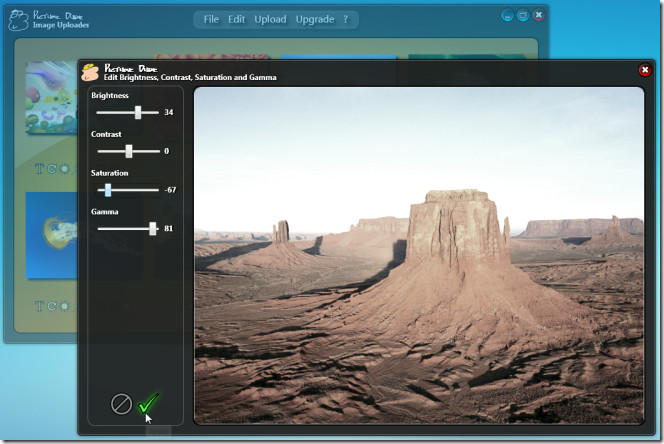 Once your photo set has been edited, click Upload menu followed by Upload to Facebook. Now enter your Facebook login information and choose the album in which you wish to upload the pictures.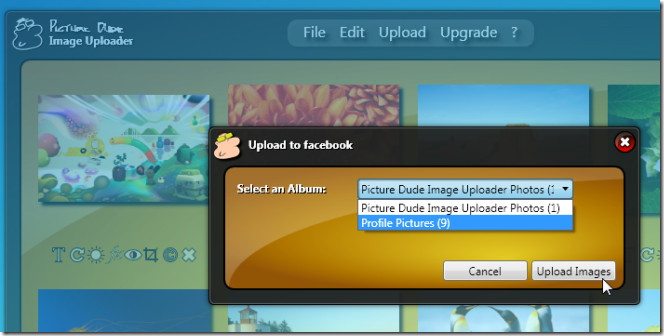 In comparison with aforementioned tools, it doesn't offer quick uploading to Facebook albums. However, considering the image editing tools set it brings, it is worth giving a shot. It runs on Windows XP/Vista/7, provided you have .Net Framework 4.0 installed. Testing was done on Windows 7 x64 system.
Download Picture Dude Image Uploader