Assign Hotkeys To Clipboard Text Items With CopyTexty
Clipboard managers are responsible for holding text, image, links,etc., for only a limited amount of time. If you're planning to perform copy-paste operations extensively, you might want to save clipboard items for, perhaps, a couple of days in order to quickly use them later. Well, this can be achieved by pasting the text in a plain text editor in order to copy the text again to any window but CopyTexty offers a better solution. It's an application written to reduce the time and effort involved in such scenarios. It lets you save the clipboard item in its database with a facility to register a hotkey with it, so you can paste the inserted clipboard item in any window by using the defined hotkey combination.
It presents a simple interface to quickly get you started. Copy the text and click Add button to paste the copied text in Texty Editor. Now assign a hotkey for the copied text and hit Save button. You can paste as many text items in its editor with defined hotkey as you want.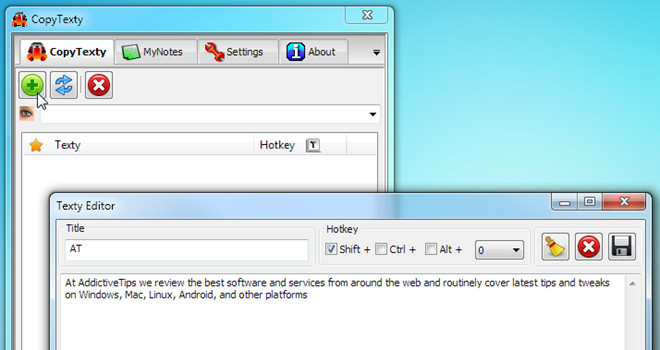 After you've done pasting the clipboard items, you will see all the items listed on the main interface. Now close the main interface to minimize it to system tray. When you want to copy the saved text, just use the defined hotkey combination to paste the text.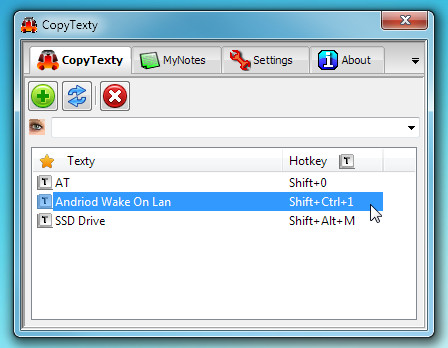 CopyTexty also offers an interesting feature of changing its main UI opacity from its system tray menu, so users can keep it at any corner of the screen to look at specified hotkeys while working in the underlying workspace.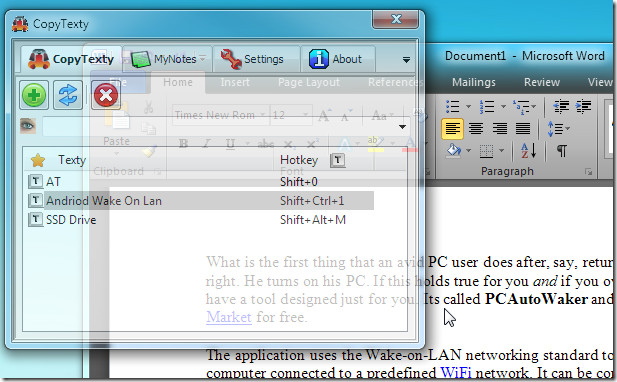 Along with handling clipboard items, it comes with a tiny note taking environment to keep rough drafts saved alongside copied text items.