Athtek Skype Recorder: Automatically Record Audio From All Skype Calls
Skype offers one of the best video call, audio call and chat services in the current communication client market. You can also use Skype for screen sharing and sending files to your contacts (personally, I hate Skype file transfer). Apart from these built-in features, plugins and third party applications extend the usefulness of Skype to another level by providing you with more tools that integrate with Skype. Do check out some of the awesome features and tools to supercharge your Skype experience. Due to these extended capabilities, Skype has a utility not only in homes and personal interaction, but also in educational and professional environment. Athtek Skype Recorder is one such third party application that allows users to automatically record audio from every incoming and outgoing Skype call. Read on to find out more about Athtek Skype Recorder.
Once the application is installed, it will ask permission to access and use Skype, when started for the first time. Click Allow Access to allow the tool to communicate with Skype in order to record the outgoing and incoming calls.

The application itself has a very simple interface. It provides you with just 3 buttons named Record, Play and View Record History. By default, when you receive or make a Skype call, the application automatically starts recording the call and saves the audio file in a user specified folder. You can change the program settings to record the call manually, instead of starting automatically.

Minimizing the application sends it to the system tray. Right-click its icon to view options to toggle Automatic Record Skype Call, Record My Own Voice, Record Call Partners Voice and Save Voices in Separate Audio Channels. Other options include stay on top, change color and change language.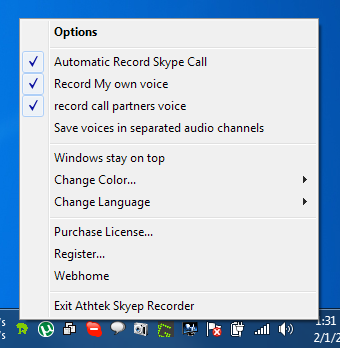 Select Options to configure General options such as automatic application start with windows, run Skype with Windows etc, and Recording options, including compression of audio files, deletion of temp files, own voice recording options, recording mode and folder to save files.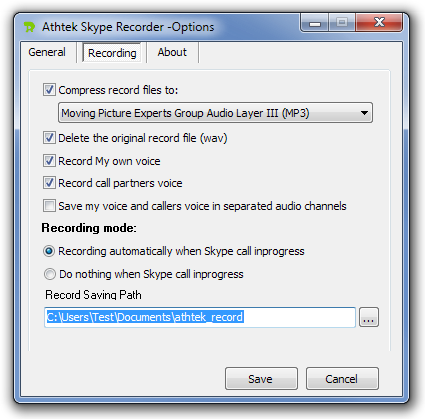 Athtek Skype Recorder is available in both Pro and Lite versions. Lite version lacks changing skins, only has simple functions to meet private use, etc. Full comparison can be found on the product page. Athtek Skype Recorder works on both 32-bit and 64-bit versions of Windows XP, Windows Vista and Windows 7.
Download Athtek Skype Recorder