TCP / UDP Port Listener – Monitor Windows 7 Incoming Connection
System Security is essential and it may be ensured by actively monitoring your system to find the particular ports through which external entities are trying to access your computer. Attacker is a TCP/UDP port listener which supports both Windows 7, allowing you to listen to the incoming traffic on your system and when a connection request arrives at the port(s), it notifies you with an alarm.
This tool stays in the system tray and generates an alert as soon as it detects  an attempt on any UDP or TCP port. Clearly Attacker proves very useful in assisting you to keep your system safe from unwanted external access via the TCP/UDP ports.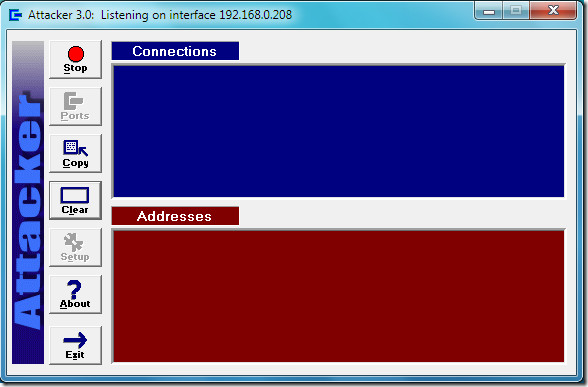 It displays the information of established connections in the Connections section, and the Addresses section shows the respective IP's from which each attempt is made, the Start/Stop button lets you start or stop the capture process, the Copy button lets you copy the contents of the Connections and Addresses boxes, the Clear button lets you clear the contents of both the Connections and Addresses text areas.
In order to test this tool, I installed it on my Windows 7 system and tried accessing the Windows 7 machine from my Windows XP system via telnet and it generated an alert. Here is how its system tray icon changes when it notifies you regarding a port access attempt.

In the below screenshot you may view the Information that was captured against the telnet access attempt.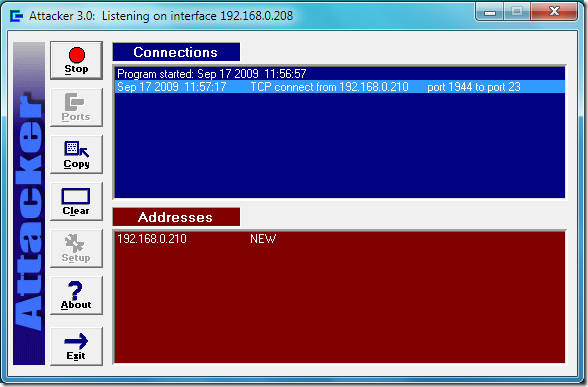 It is developed for Windows 2000/2003 Server, XP and Vista. We tested it successfully on both Windows 7. Enjoy!