Auto Change Windows Desktop Background
Those looking for a nifty little user-friendly desktop background changer should give DesktopSlides a try. What makes it stand out from the rest of similar tools is that it is free of any bloatware, takes minimum system resources, and allows user to filter wallpapers by screen ratio or screen resolution.
You can choose the duration in which you want to change the desktop background, from 1 minute to 3 days and also choose the wallpaper position – Center, Stretch, or Tile. For extra fun, there is an option to Shuffle Wallpapers as well.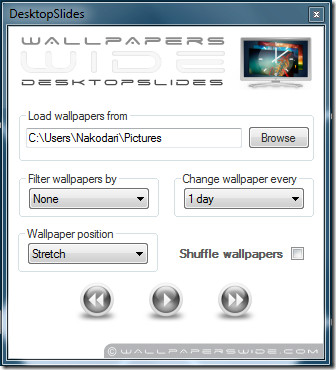 It is a small tool that works on both 32-bit and 64-bit versions of Windows XP, Windows Vista, and Windows 7.