Auto Dial Phone Numbers Or Contacts In Skype With Robo Skype
Robo Skype is a complementary application for Skype, which can be used to set a date and time to automatically dial Skype contacts by number or nickname. It works from your Skype account and all pricing and fees is only in accordance with your subscription. In other words, you do not incur any additional charges for using Robo Skype. Automating the Skype dialing process can be helpful, if you require making a lot of calls on a daily basis and might wish to schedule them according to a set time frame, such as to contact clients according to a schedule.
After launching Robo Skype, enter a phone number or Skype nickname, and specify a date and time to call the contact.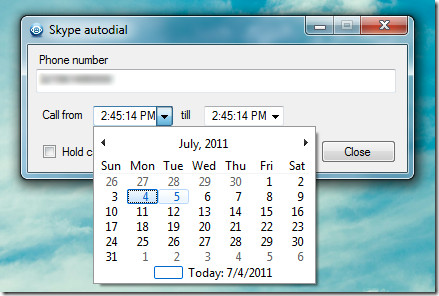 Once done, you will be able to use an automated dialing system by using a preferred phone number or Skype nickname. You can also set the time interval to start and stop the execution of the procedure by using the Start/Stop button.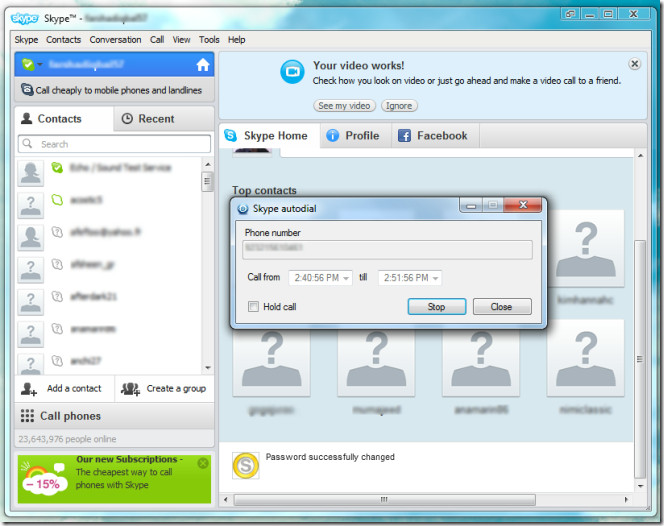 If Robo Skype does not work for you, it can be because either Skype Extras are disabled, you are forbidden to launch third-party applications to Skype, you have insufficient funds in the account for calls to phone numbers, or your telephone number is not in international format. As Robo Skype uses .NET Framework, therefore it works on Windows version of Skype only, such as Windows XP, Windows Vista and Windows 7.