SocialFolders: Auto Download & Sync Social Accounts Data With Local Folders
With the amount of data being stored using cloud based services, including social networking platforms and personal storage websites, it is becoming hard to track and download data individually from numerous online accounts. We formerly reviewed Dropico web service, which allowed sharing your pictures across multiple social networking platforms. However, the problem with such services is their limited functionality. Today, we stumbled across a service that enables you to efficiently manage multiple online services' accounts from within the Windows Explorer – SocialFolders is a robust service for managing your online accounts (including uploading and downloading tasks) from your computer. Details after the break.
SocialFolders creates a single folder on your hard drive, where it downloads files from configured online accounts in order to let you manage the collection from a single window. The supported services are Facebook, Google Docs, Flickr, Picasa, YouTube, Instagram, Box.net and Photobucket.
To get started, download and launch the SocialFolders application for Windows or Mac OS X, and sign in/up for an account.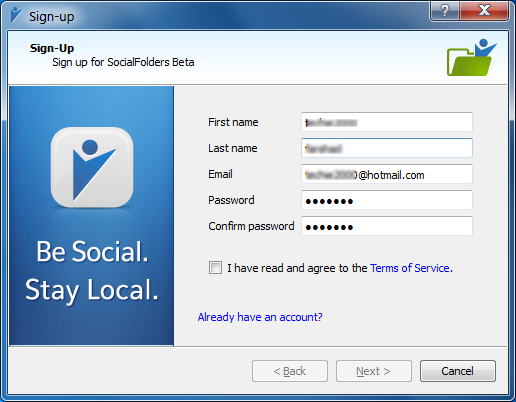 Once done, you will be redirected to the SocialFolders website, where you can connect any of the supported service by allowing access to your account.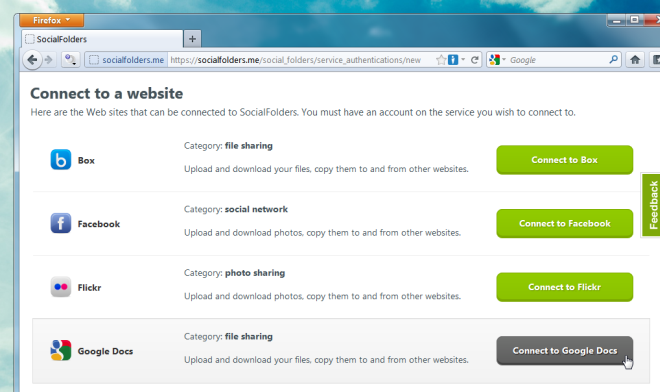 Once an account is connected, you will be presented with the option to download content such as your albums, documents and other relevant data. Select the data to download and click I'm Done.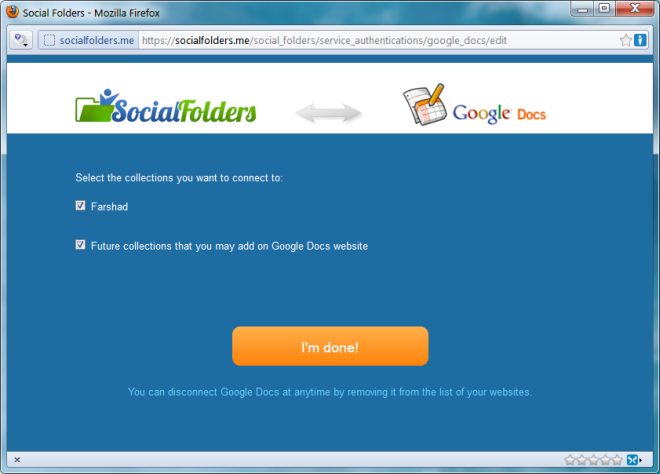 This will create a folder on your local drive and sync data with all connected accounts as you make changes to them. You can change your preferences for downloading and synchronizing content, and connect more accounts by logging into your SocialFolders account (via the SocialFolders website). This is because SocialFolders application has no interface of its own, and just provides a system tray menu and local folder with your data.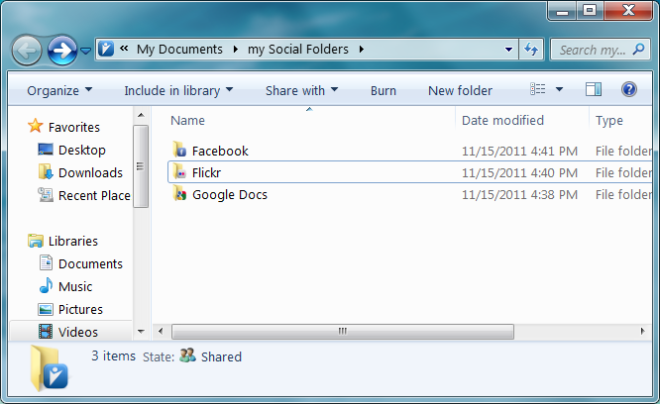 You can also instantly sync your account by selecting Refresh all my SocialFolders from the system tray menu. Furthermore, you can also visit your local folder (located at:C:\Users\Administrator\Documents\my Social Folders in Windows), auto start SocialFolders at system startup, configure proxy settings and manage login credentials (from preferences).
For more information regarding the use of SocialFolders, check out the below video:
SocialFolders has applications for Windows and Mac OS X.