Auto Hide Desktop Icons And Taskbar In Windows, Alternative To Fences
Many users use Fences to organize their desktop and to temporarily hide their icons for taking screenshots or simply enjoying more of their desktop wallpaper. Auto Hide Desktop Icons is a portable application which hides both desktop icons and taskbar. This is done by settings a timer which hides the taskbar and desktop icons according to your configured time frame. You can normalize your desktop by clicking anywhere on the desktop from your left, middle or right click mouse button (as configured).
After launching Auto Hide Desktop, select the mouse button to restore your desktop to complete view. The options listed on the left side can be used to hide taskbar (when hiding icons), starting it at system startup and to disabling the icon hiding function. You can hide desktop icons by selecting a time frame from the slider (e.g. 5 sec, 15, sec, etc). The maximum time available for setting the timer is 100 seconds. The next time you double click on the system tray icon it will start the timer and hide the desktop icons and taskbar (if the taskbar option is selected). You can bring back your desktop to full bloom by hitting any of the configured mouse clicks (e.g. left click)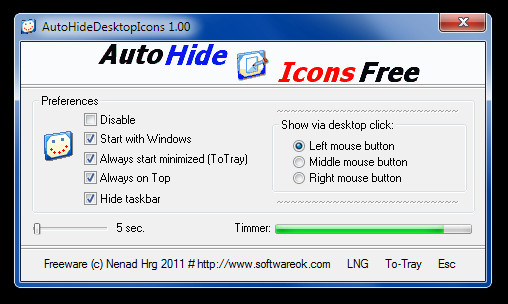 To pause this app you can check the disable check box. Unfortunately the system tray only displays a single icon which launches the app and starts the timer. There is no context menu, which means that you cannot exit the application. All that can be done is to either kill the process manually or to log off the system to remove Auto Hide Desktop Icons from the system tray (provided it is not configured to be enabled at system startup).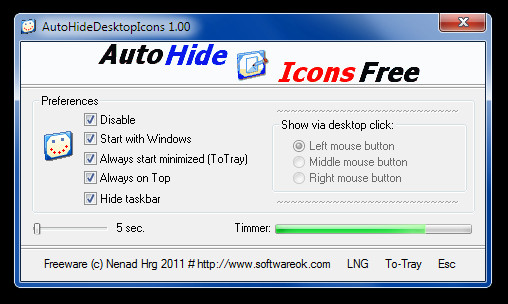 When comparing Auto hide Desktop icons with Fences (a popular tool from Stardock), I would say that Fences is far more useful. There is no option to organize the desktop in Auto Hide Desktop icons, since its main purpose is to hide desktop icons and optionally the taskbar. Moreover, the timer resets continuously if the mouse is in proximity of the opened interface, which can be quite annoying. For example, if you have set the timer to 3 seconds, you may see the timer continuously resetting and not hiding icons if your mouse is over or near the main interface of Auto Hide. Although some people might find this useful, but I personally found this feature to be quite distasteful, considering that the Disable option is already present to pause the app. The unavailability of a system tray context menu and an exit option also is quite annoying as there is no easy way of exiting this app.

The concept of Auto Hide Desktop icons might not be bad, but it needs a lot of work before it can match Fences. The timer needs to have better time management features than just a 3-100 second limit. There should be an option to organize the desktop icons and an exit button to release the application. While its portability can prove to be beneficial as compared to fences , nonetheless the unavailability of an exit option diminishes that utility. Thankfully, it does not rearrange the desktop icons which is quite beneficial, if there are a few good features chipped into the next version, perhaps Auto Hide desktop Icons can become more usable. You can try it out if you like and check out the options, perhaps you will find it more convenient to use.
Auto Hide Desktop icons works on Windows XP, Windows Vista and Windows 7.
Download Auto Hide Desktop Icons