Document Monitor: Auto-Update All Opened Notepad++ Documents To View Changes
Log file analyzers come with a built-in auto-update feature to let users view latest changes made to log files and most recent events reported by deployed solution. If you want to bring the auto-update feature to Notepad++, add Document Monitor to Notepad++ plugin list. This plugin comes useful in instances where you need to check shared documents for changes, and also to analyze long log files. Since Notepad++ requires you to re-open the document to view the changes and latest modifications, Document Monitor saves you not only the time, but also the effort, involved in finding the file and scrolling down the document to view the latest changes.
Document Monitor doesn't only work for active document; it monitors all opened documents and updates them after every 3 seconds. You can install the plugin from Plugin Manager or download the DLL file (link given at the bottom of the post), and copy it to Notepad++/Plugins folder to install the plugin. When installed, you can enable and disable document monitoring from Document Monitor menu.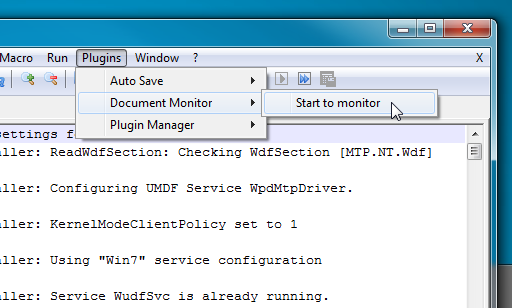 Once the monitoring process starts, open all those documents that are to be consistently checked for changes and updates. As mentioned earlier, it updates the document after every 3 seconds. Sadly, it doesn't allow you to customize the document monitoring time intervals. Hopefully, developer will design a configuration console to tweak the default time interval and select documents that users want to monitor.