Auto-Set Skype Status To Do Not Disturb When Using A Specific App
Talk about VoIP, and Skype would probably the first thing to pop up in your mind. It's apparently become an indispensable mode of communication for many people who like to stay connected with their friends, relatives and coworkers remotely over the internet, although services like Tango, Viber and Whatsapp are on their way to change this trend on mobile devices. Various plugins and apps have also been created by third party developers designed to either improve Skype's functionality or provide added features in one way or the other. Seaside, for instance, is a very useful app for running multiple Skype sessions on the same Windows computer, while Multi Skype Launcher does the same on Mac. Likewise, SkyRemote is a minuscule plugin for remotely sharing your desktop screen with Skype contacts. Skype Status Changer is yet another great plugin that, as the name implies, automatically changes your Skype online status.
Skype Status Changer automatically switches your status from 'Online' to 'Do not Disturb' when you switch to another active process of your choice. This can prove useful during online gaming sessions or while watching a movie when you do not want to get distracted by continuous IM or call notifications. User can specify any program or service they like, though it only allows you to select one process at a time.
The application is pretty small and doesn't require any sort of installation to your system. It automatically opens Skype (if it's not running) when you launch it, and quietly resides in the system tray without disrupting your workflow. When launch for the first time, just make sure you give it the required access to use Skype by clicking the 'Allow Access' button. During our testing of the app, we didn't face any problem whatsoever to integrate it with Skype, and everything went smooth as it should.

The next step is to specify the type of process that you want to use. Skype Status Changer automatically detects all the running processes and services, and lets you select any one of them from the available options. Almost any kind of program can be selected, whether it's a web browser, a game or a media player. After specifying your desired program from the list, just click Save.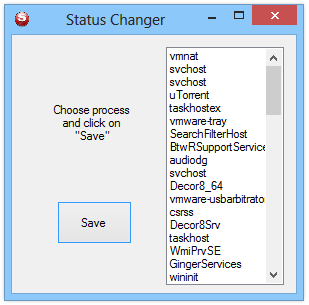 You will notice that upon switching to the specified active process, your Skype status will automatically switch to Do not Disturb, as demonstrated in the screenshot below. It also changes back to Online when you return to Skype.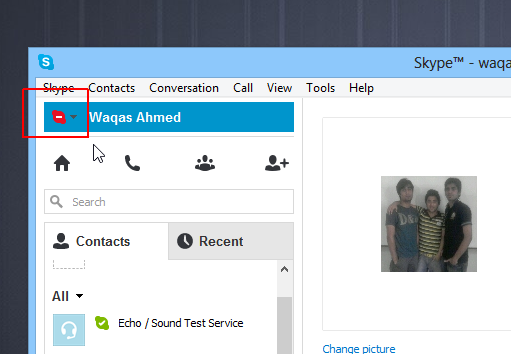 All in all, it's a useful plugin with very limited functionality that can prove to be indispensable to those who need it. Skype Status Changer is an open-source application that works on Windows XP, Vista, 7 and 8.