Auto Shutdown – Schedule Windows Shutdown, Reboot, Log Off
Several individuals need to shutdown/restart windows as per some schedule. We have already reviewed Morteins ShutDown, Shutdown Agent, and TimeComX which performs this function. Let me introduce yet another simple tool called Auto Shutdown which performs the scheduled system shutdown, reboot, and log off.
Simply run it, set the time, and choose the action to take place on that particular time then hit the Start button. Could it be more easier than this?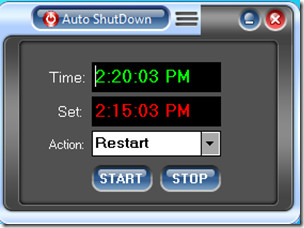 The key feature of this tool is simplicity, it does not involve any complex screens and  just has a single screen interface, simply choose the time and action and you are set to go. It is best suitable for novice users. Advanced users might want to try out any one of the above mentioned tools.
Download Auto Shutdown (It is part of NCSoft package which contains small useful utilities)
It works on Windows XP, Windows Vista and Windows 7. Enjoy!