Auto Torrent – Schedule Torrent Downloads
Auto Torrent is a new opensource tool that allows users to schedule a download. This has lots of usage, if you are looking to download the latest version of any series, you don't need to check it manually anymore. This tool takes care of all downloads.
You can also use this tool if you want to stay up-to-date with latest versions of any software. Just click the Schedule tab, give the download a name, choose when to run it(you can also select the time), enter the keyword for the search, and choose the date when you want it to start. Once all is done, hit Add and it will be added to the list. It has the ability to schedule multiple downloads.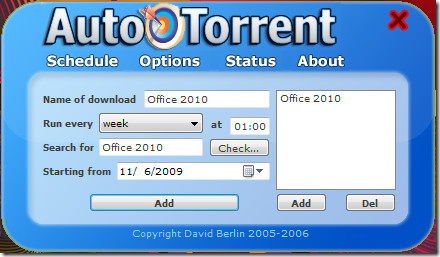 You can select further settings from Options tab. Is there any specific program with which you want to open the torrent once the download is complete? Select that app from here, also select the download location for the torrents. Additional options such as Start on Windows Startup and Play Sound when download complete are also given.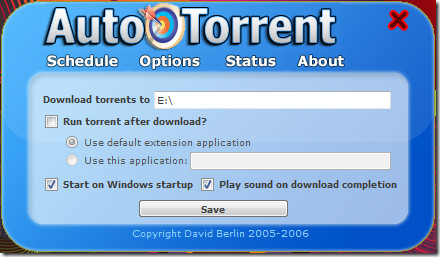 Once the torrents are scheduled they are can be monitored from the Status tab. It runs the countdown to the next scheduled torrent. Once you close the app it minimizes to the system tray and runs from there.
This is the first release by the developer so don't expect it to work flawlessly. It works on Windows XP, Windows Vista, and Windows 7. Enjoy!