A Look At The New Features In Avast 8
Avast is known for creating some of the best security tools in the industry. The company has been producing robust, reliable and efficient antivirus and security applications for the past several years, winning many accolades and certifications from critics and computer security experts. Avast! 8 is the latest incarnation of their long running antivirus suite and we've got to say it does pack a serious punch of features. The security juggernaut has debuted the program in four flavors: Avast Free Antivirus 8 (the one reviewed here), Avast Pro Antivirus 8, Avast Internet Security 8 and the top of the line Avast Premier 8. Let's see take a closer look at the new features added in Avast 8.
Make sure you opt for custom installation process to ensure that you deselect installation for Google Drive in case you don't want it. In addition, custom installation allows to select only the relevant components that you wish to install, including Real-time shields, Language and other features.
An All-new Interface
The eye-candy provided by the new antivirus suite is nothing short of commendable, and it looks like folks behind the doors at Avast are serious in supporting the new UI philosophy of Windows 8. Avast 8's GUI is fully touch-optimized, and the tile-like design of many elements sits quite nicely with the Windows 8 Modern UI. Although it runs in desktop mode, so it's not really the full metro overhaul. Menus and buttons look bold, intuitive to navigate and still remain friendly with the old ways of mouse navigation. There's a Home tab that shows a smiley face if your computer appears to be safe from any threats and the program itself is up-to-date. Then there are tabs for Security, Maintenance, Market, Recommend and Support.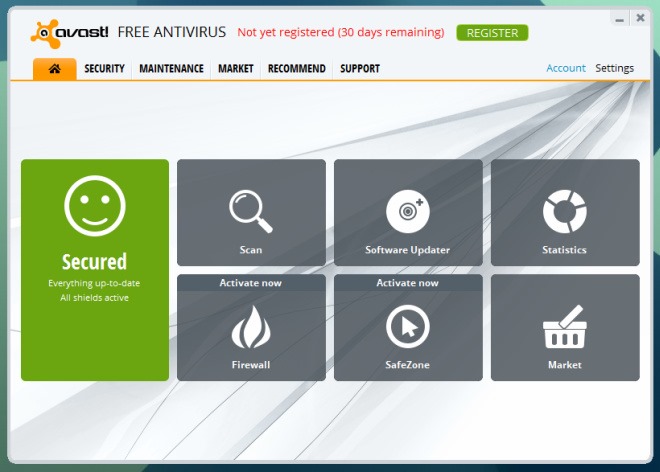 Software Updater
We've reviewed a bunch of software updaters that keep an eye on latest updates of the installed applications. Avast now includes an integrated one that may make other solutions unneeded. The software updater scans your installed applications and notifies you if an update for any of them is found. You can always run the manual scan any time by clicking Rescan, or halt the process entirely using the Stop button. The update status is represented by a percentage, which gives you an idea of the current state applications that haven't had their latest updates installed. Wanna increase that percentage? Click the 'Fix now' button beside each result found and let Avast download the latest version for you.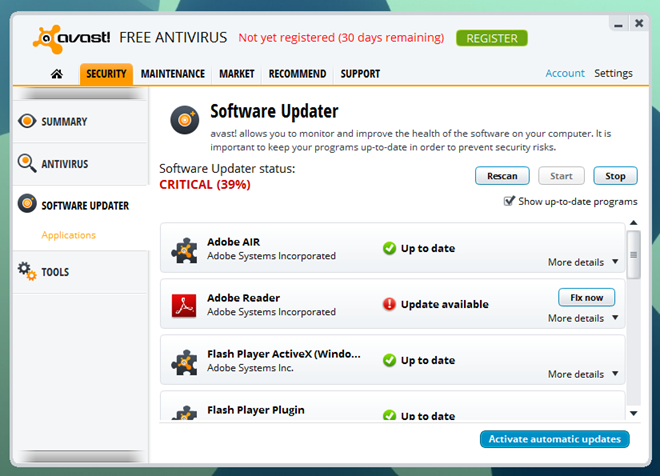 Another fascinating thing about software update is that it displays popup notifications if a new update is released for an installed app, with an 'Install now' button that you can click to get the new version.
Browser Cleanup
Remember the Avast Browser Cleanup tool we reviewed just a few days ago? That's exactly what this feature does. In case you skipped our review, Browser Cleanup allows to get rid of unwanted toolbars from Internet Explorer, Mozilla Firefox and Google Chrome. It's quite handy to instantly uninstall those pesky Babylon, Conduit, Ask.com and other obnoxious toolbars that make their way into your computer bundled with freeware apps. In addition, you can disable browser extensions or add-ons that you temporarily don't require. Browser Cleanup works as a standalone program, requiring you to download it first by clicking Download. It's fairly simple to use and doesn't require any installation though.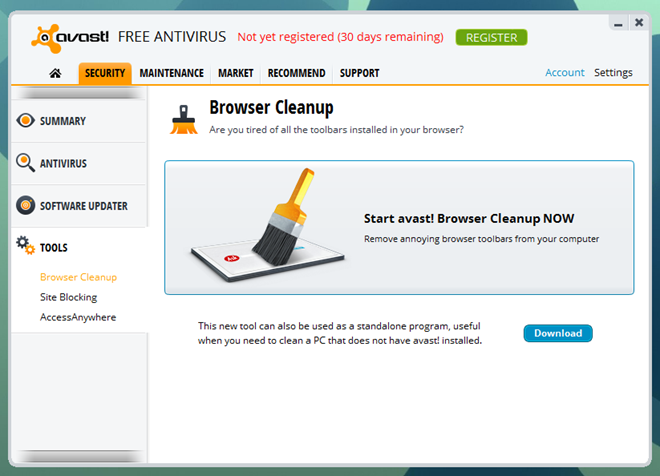 Data Shredder & Access Anywhere (Premier Version Only)
Users who buy the Premier version will enjoy more features than the software's freeware and cheaper variants. This includes Data Shredder and Access Anywhere. Data Shredder enables removing files and folders for good, making them irrecoverable even when employing the most advanced file recovery techniques. The feature gives three choices to the users for removing the items: Random Overwrite (overwrite files according to user-specified numbers), Department of Defense (an even more efficient method), and the most secure one, the Gutmann method.
The second Premier-only weapon in Avast 8's arsenal is AccessAnywhere. This feature allows to remotely access your PC from another computer that's running any edition of the antivirus suite. You can use the PC remotely, and transfer files to and from the connected machines.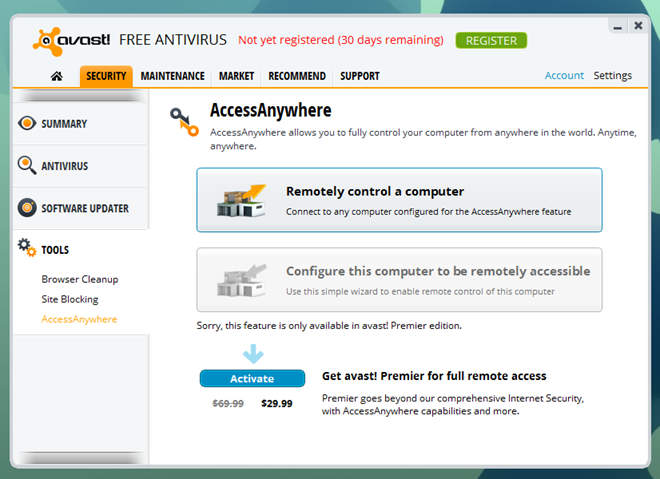 Other changes here and there include an improved Behavior Shield to detect threats and viruses, better scanning engine, firewall, antispam, and a few other bits to fight off malicious threats even more efficiently. As far as pricing goes, Avast Pro costs $39.99 per year for a single license, or $54.99 per year for three computers. Avast Internet Security will set you back $10 or $15 more for single or three computers, respectively. Lastly, Avast Premier comes with a hefty price tag of $69.99 per year for one license and $89.99 per year for three. You can also download the free version if its suffices for your computer's security needs, or try the 30-days trial before shelling out your money for a paid version.