Avast Browser Cleanup Helps You Remove Unwanted Toolbars & Add-ons
So you installed your favorite application and realized it also injected a truckload of extra programs such as toolbars to suck on your system resources, and you can't completely remove all that bloatware from your computer now. Even though majority of such freeware apps ask you before installing any toolbars, many of them can be a bit tricky to opt out of. We have covered applications like Toolbar Cleaner that help to get rid of toolbars in a few quick steps. Avast recently integrated a browser cleanup option in their latest antivirus suite for exact same purpose, and now has released a standalone version of the feature itself in form of Avast Browser Cleanup. The application allows to remove toolbars and disable unwanted add-ons from Internet Explorer, Mozilla Firefox and Google Chrome.
Avast Browser Cleanup is a portable tool, which means you won't need to go through any installation hassles, and can use it on the go from a USB flash drive. Upon launch, it starts to analyze your system and presents a list of all the installed toolbars and potentially unwanted browser add-ons.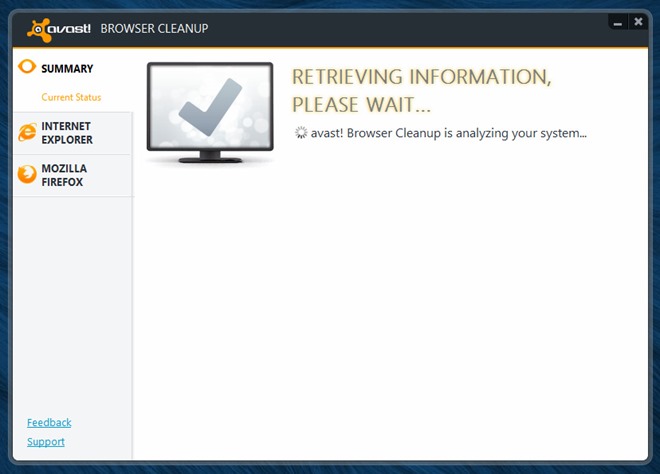 The tool's scan engine is both quick and efficient and even though we didn't realize we had any unwanted toolbars or add-ons installed on our browsers, it found a utorrent toolbar during our testing that we were unaware of. The 'Remove' button next to the listed toolbar gets rid of it. There's also a 'Remove all add-ons listed below and cleanup browser' button that can comes handy if you want to uninstall multiple toolbars or add-ons from the scan results at once. Clicking 'More details' shows you any relevant information pertaining to the toolbar or add-on.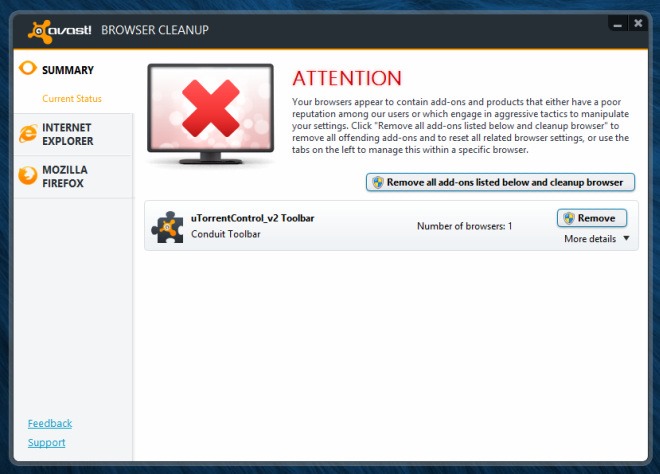 The tool also asks for confirmation before removing the selected toolbar, which can be useful should you accidently hit the remove button for something you want to keep. Clicking Yes in the warning dialog begins the removal process.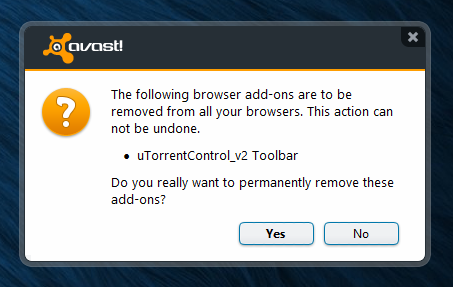 Apart from removing toolbars and unwanted add-ons from supported browsers, the application also lets you disable any browser add-ons that you don't require to be active all the time, but still want to keep installed. You can do this by going to the section for the appropriate browser using the navigation controls at the left side. Selecting the browser displays a list of its installed add-ons. By default, the application doesn't display any add-ons that boast a good user rating, but you can uncheck 'Exclude add-ons with a good rating' to show all add-ons installed on your browser. Avast Browser Cleanup also features an option to reset your current browser settings to the default values.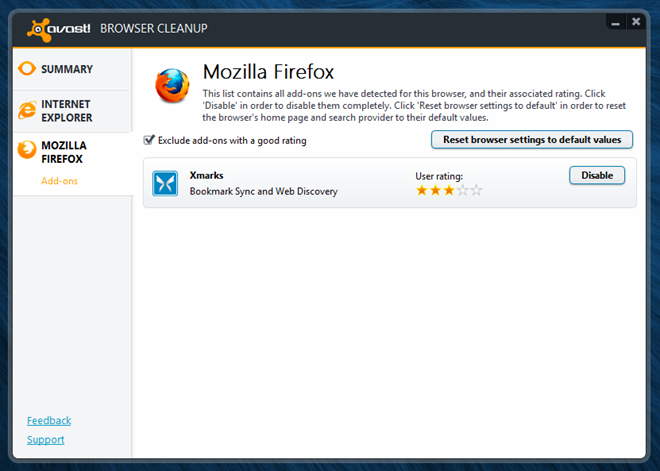 Overall, Avast Browser Cleaner isn't a very feature-rich tool, but it does the job it's designed for perfectly well. It works on Windows XP, Windows Vista, Windows 7 and Windows 8. Testing was carried out on Windows 8 Pro, 64-bit OS edition.
Download Avast Browser Cleanup