Azure Blob Uploader Can Upload Large File In Blocks
Azure Blob Uploader has been developed to upload rather huge files, such as files that run up to a few gigabytes. It allows uploading of one large file at a time, the procedure is to break down the large files into smaller blocks and then upload them slowly.
The biggest problem with huge file arises when your internet gets disconnected in the middle of uploading process. Azure Blob Storage will resume the upload where it left off, thus making it easier for your file to be uploaded successfully.
The interface itself is easy to understand, enter the account name, account key, URL, container name, the file to upload, select the block size, and finally hit Upload.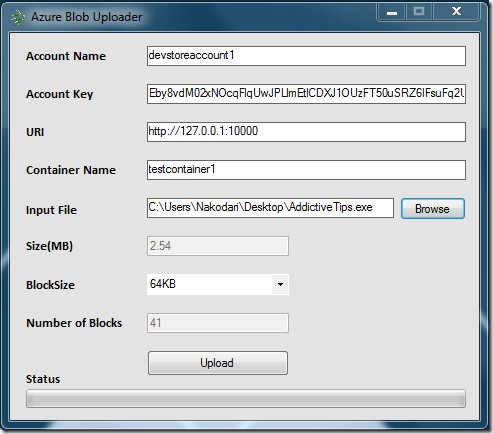 The number of blocks will be displayed depending on your file size and the block size. Since it is the first release at the moment of writing, it contains few errors which will be fixed in the next release. For more information on the tool and upload process visit the developer page.
It works on Windows XP, Windows Vista, Windows 2003/2008 Server, and Windows 7.