Backup Drives In XML Format, Restore, And Browse Backed Up Content With DriveImage XML
In past, we have covered numerous drive backup applications such as, Driver Dumper, Back4Sure and EASEUS Todo Backup. Compared with Windows native Backup function, these applications are enriched with features like compression, error logging, etc to give users highly-customizable backup solution. DriveImage XML also belongs to the same category, allowing users to not only backup data but also restore them with options like, extract only specified files, browse through backup images, and so on.
Using Windows native VSS (Volume Shadow Copy) technology, it offers on the fly distraction free drive-to-drive data copy. As its name suggests, the backup images are created in XML format, so you can process XML-based image with any third-party tool.
The options to backup, restore, copy drive-to-drive and browse backup image backup are provided at the left sidebar. In main interface, you have all the local and external connected drives listed down with generic physical and logical drives information. To begin, click Backup to select the drive which is to be backed-up.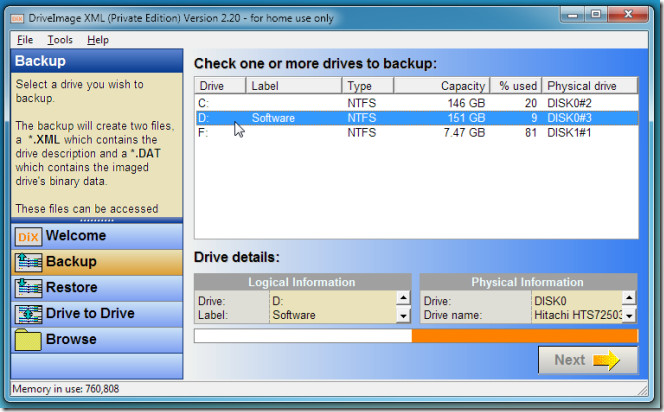 The application has a step-by-step wizard to take input from users regarding different backup parameters, including, output path, compression, etc.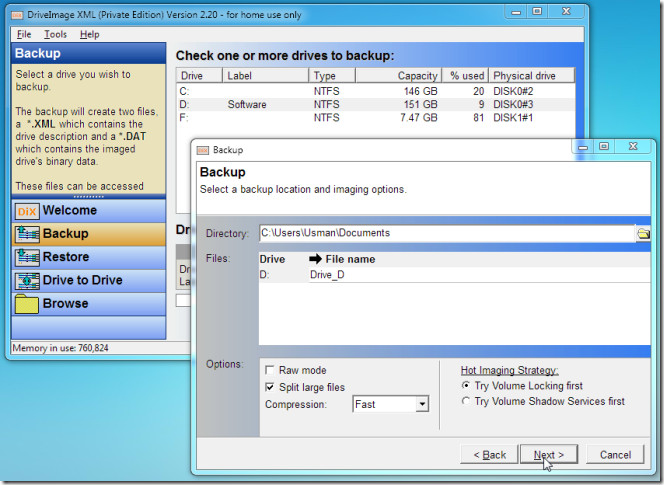 The time to backup a drive depends directly upon the size of selected drive. Once backup is created, you can easily restore it on any other drive by clicking Restore. It requires you to specify the XML backup image file created before.
Similarly, performing a drive-to-drive copy operation is easy, click Drive to Drive, and select the drive which is to be cloned followed by target drive.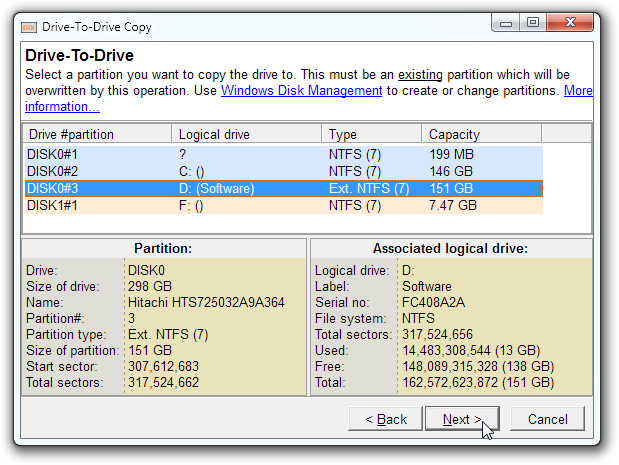 Since drive-copy and backup are created in XML format, you can either use other application of your choice to process the backup or its native browser to browse through backup content.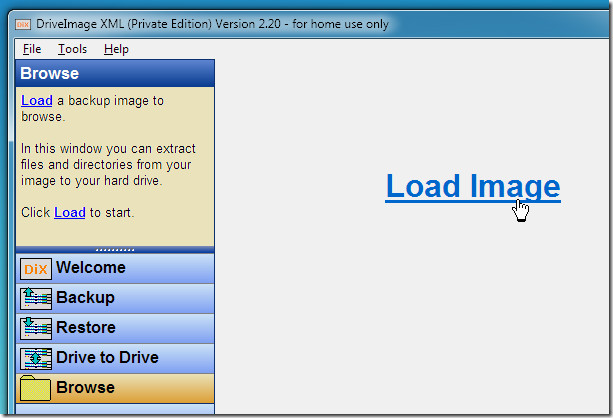 By default error logging is disabled, however, if you want to review the backup problems, don't forget to enable logging from Tools –> Options. The application works on Windows XP/Vista/7. Testing was done on Windows 7 x64 system.