Backup & Restore Emails From One Gmail Account To Another With Gmvault
When it comes to backing up Gmail email archive, most users opt-in for desktop email clients like Mozilla Thunderbird, Microsoft Outlook etc., to quickly backup not only emails, but also Google calendar and contacts. In order to backup emails from Google Mail account, one just needs to correctly configure email client for required account to save all the emails for offline viewing. Nevertheless, email clients do not support restoring backed up emails from one account to another, and often fail to retrieve the emails in original format. Gmvault is a freshly baked console-based application for Windows, Mac OS X and Linux OS that has been developed to change the way you backup and restore emails from multiple Gmail accounts. Even though it doesn't offer you a GUI (Graphical User Interface) to perform the backup operation, the console application comes with a simple sync and restore commands support to quickly save emails on your hard drive and restore them to specified Gmail account. Details to follow after the jump.
The application includes a slew of features to customize email backup and restore functions. While it supports different switches to tailor the sync and restore modes, it saves all the emails from specified email account in a separate folder that can be moved to other systems for syncing and restoring emails. Apart from the full backup mode, it offers a quick sync mode that performs incremental backup operation to save only most recent mail items from your account. Additionally, Gmvault comes packed with quite a few customization options. You can even choose a set of emails that are to be backed up from a specific Gmail account. Using the custom sync mode, you can specify the date range to backup only required emails from your account.
Perhaps, the most useful feature of this utility is the ability to restore email to a different Gmail account. Once you've backed up your emails from one account, you can simply use the restore command to recreate the saved gmail mailboxes in any Gmail account. While restoring email to the other account, it preserves  all attributes like email labels to recreate them with each mail item.
The utility offers a straightforward usage. Once installed, double-click its desktop shell icon to run the application in console. Before you start the backup operation, it's recommended to view the help manual to understand the usage of each command it's to offer. Just enter gmvault –help command to view help topics. You can view help section associated with sync and restore functions by typing in gmvault sync –h and gmvault restore –help commands, respectively.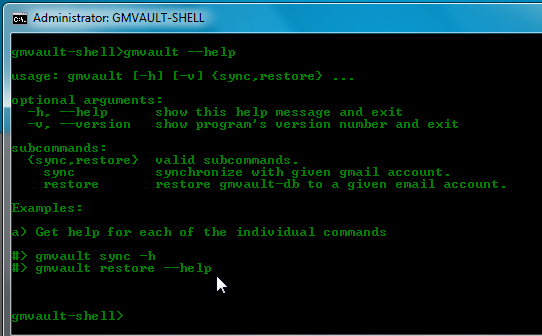 The full sync (backup) operation can be performed using the following command.
gmvault sync <email address>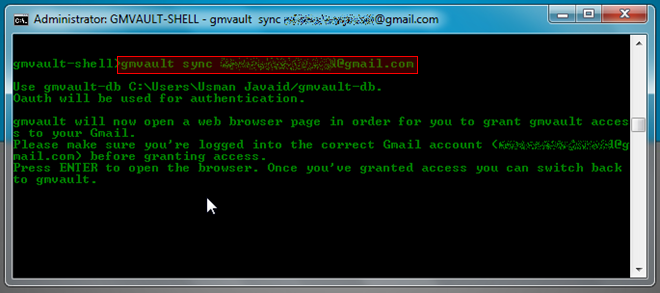 Once entered, it will ask you to log into required email account in order to grant access to your Gmail account. Just press Enter and it will open Gmail app access authorization page in your default browser. Once you grant the access, move to console and press Enter again to begin the backup process.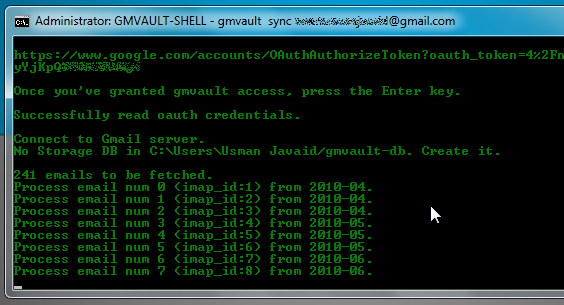 By default, it saves all the email items from a specified account in C:\Users\<user name>\gmvault-db folder. However, you can change the backup folder by using –d DB_DIR switch with sync command. The quick sync mode lets you quickly scan and backup emails from last 2 months at default/specified location. You can use the following command to perform quick backup operation.
gmvault sync –type quick <email address>
Restoring backed up email to Gmail account is easy. All you need is to enter the following command to restore backed up email archive to specified Gmail account.
gmvault restore <email address>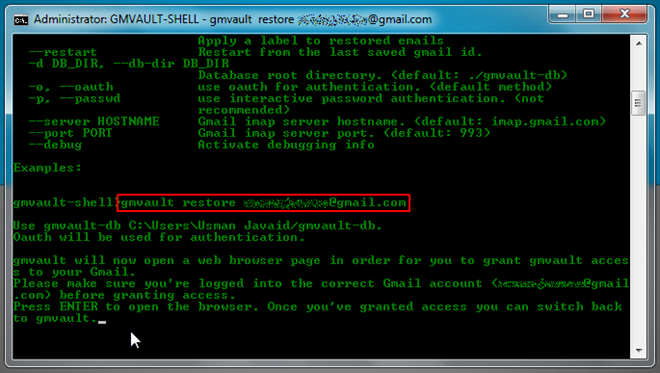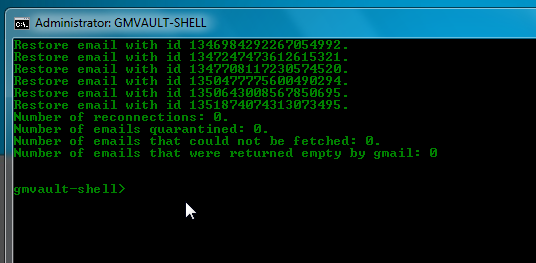 This will scan the default backup location and then start restoring the backed up email archive to specified Gmail account. However, If you've backed up the email items at different location, then you need to specify the location with restore command to restore the email archive. The restore command also lets you specify custom label with email items and restart the restore process from last processed/saved email id via –label and –restart switches, respectively. In addition, you can choose to encrypt the emails saved in your email database (gmvault-db folder) to prevent unauthorized access.
Gmvault certainly provides an easy way to backup and restore email archive to multiple Gmail accounts. Using the restore command, you can easily copy backed up email items to any Gmail account. Furthermore, the application has the ability to automatically resolve IMAP-related issues while creating email item database. You can check out different usage scenarios and supported sync and restore commands' switches here. As of this writing, the application is in beta testing phase and works on Windows, Mac OS X and Linux OS.