Backup & Restore Your Data With Backup Folder Sync
Backup Folder Sync is a backup & restore application that mirrors your selected folders. You can save the backups to a local folder, external drive, USB stick, network share or mapped drive, and restore them to the any folder, including the original one. The application allows you to save your backup selections as jobs, so you don't have to select the folders each time you are making a backup of some particular folders. A detailed report listing each file and folder being affected is also created during a backup for your later review.
When you re-do your backups, only those files are copied that have been added or modified. If any folders are deleted in the source, these items will also be deleted from the backup destination folder so you don't have any old items when restoring your backup.
Backup Folder Sync has two panes. The folders appear in the left pane while the backup and restore process is shown in the right pane. At the top, there are buttons for Open Job, Save Job, Refresh, Clear, Destination, Backup, Restore etc.
To begin, click Destination to choose a local or a remote location for saving your backups. Selecting folders is just a matter of right-clicking the directories you want to include, and Ctrl+right-click to exclude.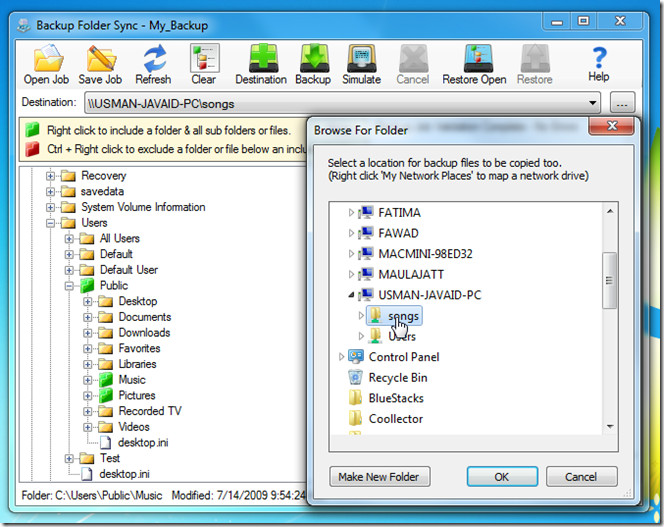 With your selections in place, click Backup. You'll need to enter a name for the backup job. As stated earlier, saving backup jobs is advantageous in that the next time you need to make a backup of the same folders, you can just open the job and all your folders will be pre-selected. Backup Folder Sync will display all the files in the right pane.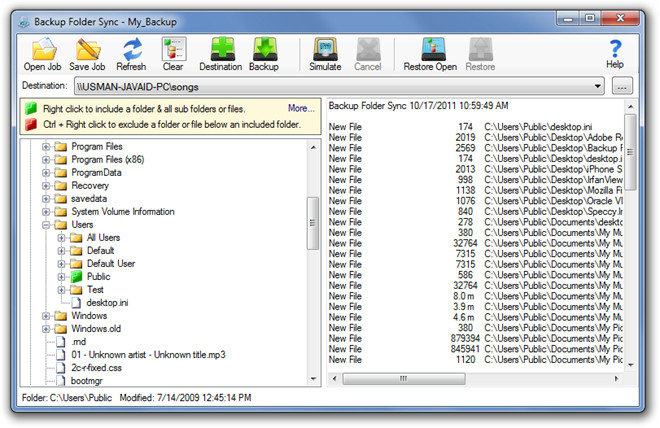 When you want to restore your data, just select the Destination where you saved your backups, click Restore Open and select the folders you want to restore by right-clicking on them. When all folders are selected, click Restore.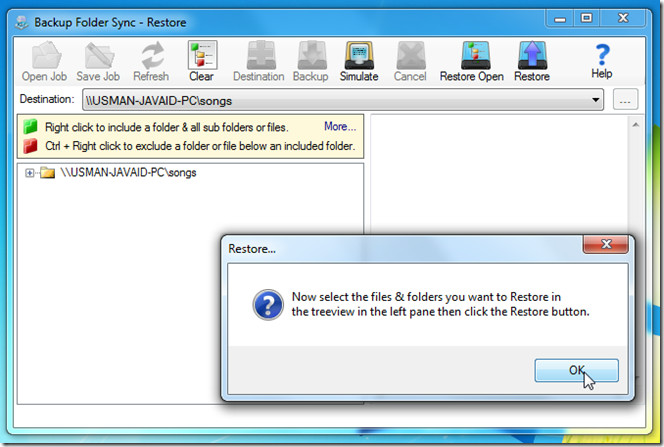 If you delete or modify a file or folder in source, and then overwrite the back up, it will also be deleted in the backup set to avoid cluttering of unwanted files and folders. A limitation of Backup Folder Sync is that you cannot schedule your backups to be performed automatically, but we hope the developer will include this in future releases. This application requires Microsoft .NET Framework 2.0 or higher and works on all versions of Windows.