Bandwidth Monitor NetWorx Updated With Quota Management, Speed Meter & Enhanced Reports
Nowadays, high speed internet with unlimited bandwidth is available almost everywhere. You can use as much internet as you like for browsing, online gaming, streaming videos, downloading etc., without worrying about a usage cap. However, if you're using an internet connection with limited bandwidth, then keeping a constant eye on usage becomes essential to avoid unnecessarily hefty bills at the end of the month. We have covered quite a few useful internet bandwidth usage monitoring apps, including NetSpeedMonitor, which monitors the current upload and download rates, and the total amount of total data transferred, by days and months. The dev team behind a similar app called NetWorx, reviewed way back in 2009, has added a lot of new features to their utility. Now, it offers a Speed Meter, an enhanced Usage Reports console, a Quota option to put a limit on internet usage and a Ping tool for checking active connections on the network.
The usage reports section has been enhanced to include more categories. You can view the internet usage Per Day, Per Week, Per Month, At a Glance (All traffic, On-peak, Off-peak), Custom (internet usage between selected dates), Dial-up sessions and Hourly Rates. Along with the statistics, a graph is created for both Upload and Download sessions for the selected category. You can view the overall usage, or select just a single user. The report can be exported in XLS, RTF, HTM, TXT and CSV formats and usage data can be easily backed up and restored.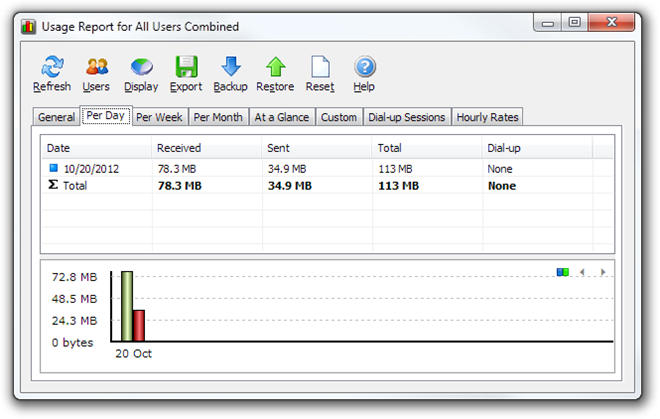 The new Speed Meter lets you perform a real time analysis of your internet connection. It shows the Current Transfer Rate, Average Transfer Rate and Maximum Transfer Rate for, both Incoming and Outgoing internet traffic for all connections.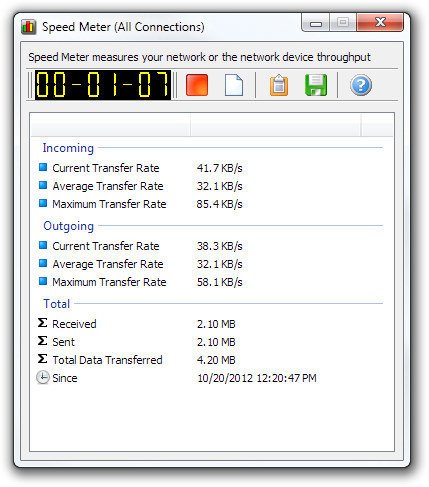 The Quota option lets you add a Daily, Weekly, or Monthly quota for All traffic, Downloads only, Uploads only, or dial-up duration. You can also set a flat Allowance for the whole day, or separately for On-peak and Off-peak hours. When the quota is consumed, the application shows users the Quota summary dialog.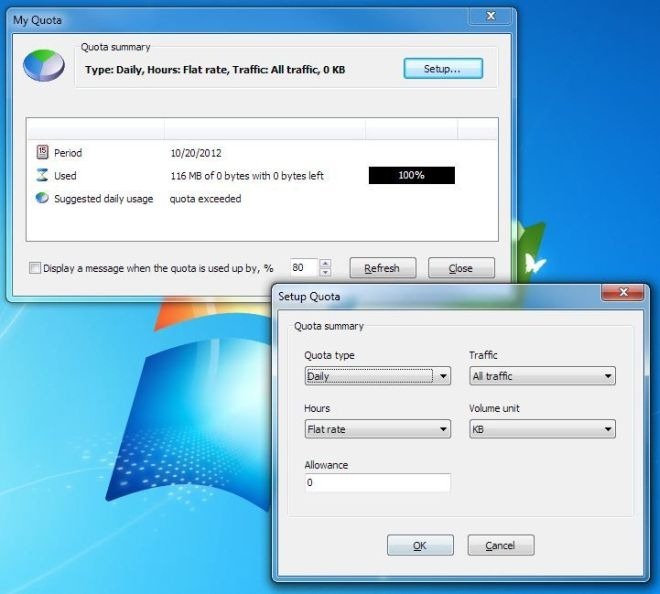 All the tools can be accessed from the right-click menu. You can choose to have a real-time graph of the upload and download speeds right on your taskbar, which lets you easily monitor the performance of your internet connection.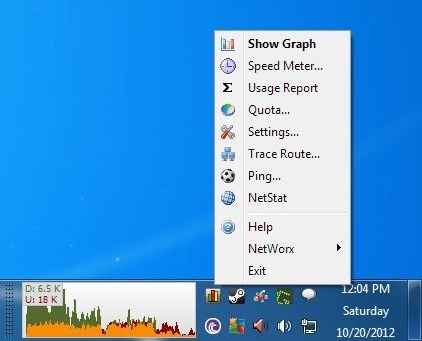 NetWorx works on both 32-bit and 64-bit versions of Windows XP, Windows Vista, Windows 7 and Windows 8. Testing was done on Windows 7 64-bit.