Barnes & Noble Releases Official NOOK App For Windows 8
When Microsoft struck a $300 million deal with Barnes & Noble early last month, it was speculated that the software giant was getting serious about making a mark in the eBook business. The launch of Surface tablets further cements this fact. Even though it was absent during the Windows 8 launch, Barnes & Noble has finally let out their NOOK app for Windows 8 and RT. No, it's not another eBook reader that lets you open your EPUB files. The purpose of the application is to let users manage their Nook account, purchase new books and read purchased content within the Modern UI environment. You can choose from 3 million titles, including all types of books, magazines, newspapers, and comics. What's more, it offers downloading of free book samples before purchasing full versions, and free, 14-day  trials for newspaper and magazine subscriptions.
The app makes a substantial improvement in reading books over a Nook device, particularly if you have a large display. The interface looks clean and simple (although plagued with occasional crashes) and lets you sync the purchased books with your Nook device. It even syncs the last page you read on either platforms, for seamless experience.
Downloading Nook is fairly easy. Just open Windows Store and hit Win+Q to display Search Charms. Type "Nook" and then press enter. After the results are filtered, access Nook's in-store page and click Install.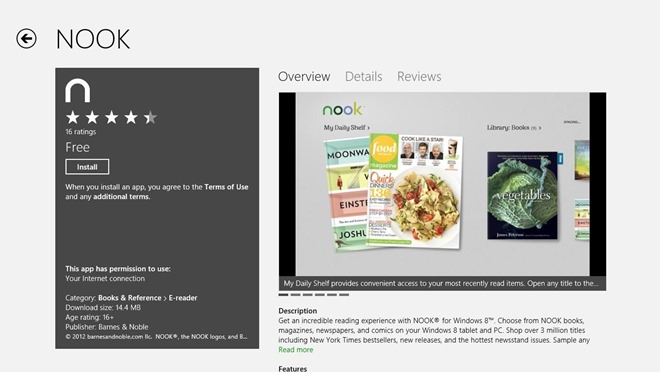 On launch, the app asks you to sign in to your Nook account. Simply enter the email and password associated with your account and click Sign In. It must be noted however, that you can create a new account within the app via the Sign up button.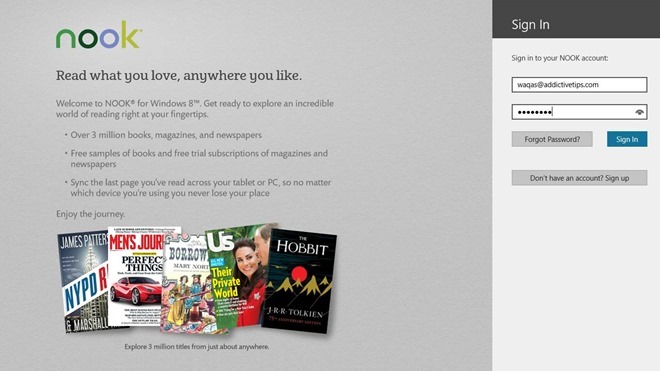 Similar to Amazon's Kindle app which is also available at Windows Store, Nook looks absolutely awesome. Thanks to Windows 8 snappy design, the app works without any lag whatsoever. The main screen lets you jump over to various sections of the application, for instance, My Daily Shelf, Just For You, Library, Comics, Shop, Popular list, Books, Nook Channel, Magazines, Newspapers and Kids. Hovering mouse pointer over books under My Daily Shelf gives that subtle flip animation.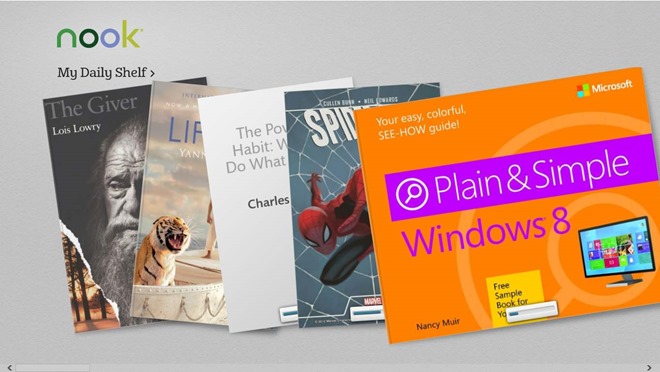 The details section of the selected book provides a mini description. It also lets you view user reviews, some related recommendations, and more books published by the same author. Almost all the books in the library can be sampled for free.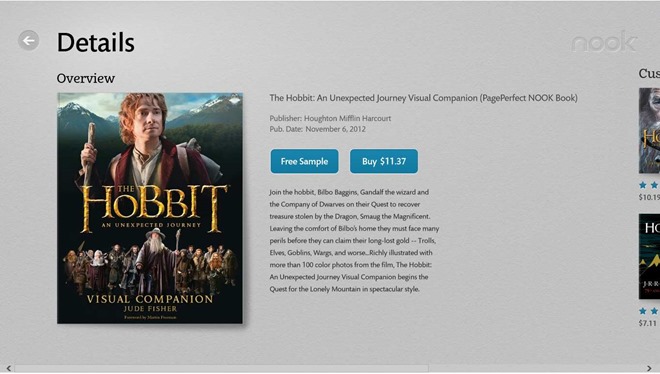 The app also allows you to read or view the purchased books. The text looks crisp and the images are rendered perfectly well. You can right-click within the reading interface to reveal additional controls, such as Bookmarks, Home, Shop, and Library. Moreover you can toggle Text, Add Bookmark, Go To Page, View Details and Pin, at the bottom. It also contains a seekbar, which makes it easier to quickly skip through the pages.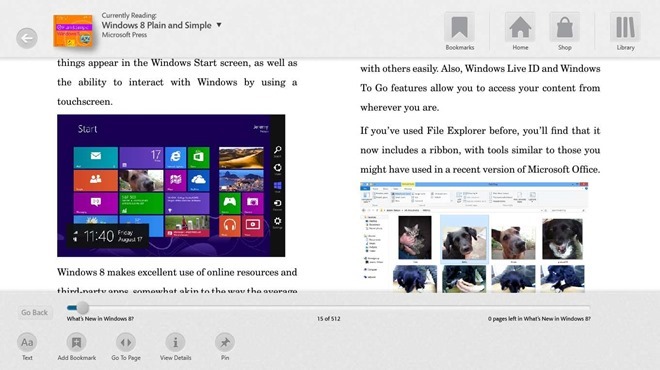 Purchased content and samples are moved to My Library. Right-clicking within this section presents navigation buttons to Filter, Sort and Sync at the bottom of the screen.
Nook can be download for free from Windows Store. It supports both Windows 8 and Windows 8 RT. Testing was carried out on Windows 8 Pro x64 system.