Swiftturn Free Sound Extractor: Batch Extraction Of Audio From Over 250 Videos Formats
There are various applications out there that enable you to extract music or other audio from video files. Swiftturn Free Sound Extractor is a prime example of such apps, which, at the same time, also lets you convert the extracted audio file into a number of popular formats, including MP3, AAC, WMA, OGG, WAV and FLAC etc. The wizard-based conversion process is very simple, and sports an easy-on-the-eyes UI design. Some of the key features of this tool include support for 250+ input formats (including MP4, MKV, AVI, MOV, DAT, DIVX, MPG, VOB, DV and FLV), numerous presets for audio conversion and batch conversion of files.
Upon launching the application, you're greeted with an eye-candy, dark-themed GUI. The conversion wizard comprises of three simple steps – selection of file(s), choosing output format and conversion process. In the first step of the wizard, you can add your video files by clicking Add Video button at the top right. As I mentioned earlier, you can add as many videos as you want. You can move the files up and down along the queue, delete or clear selection, and Play the file directly from within the app by using their corresponding buttons, all stacked on the right side of the window.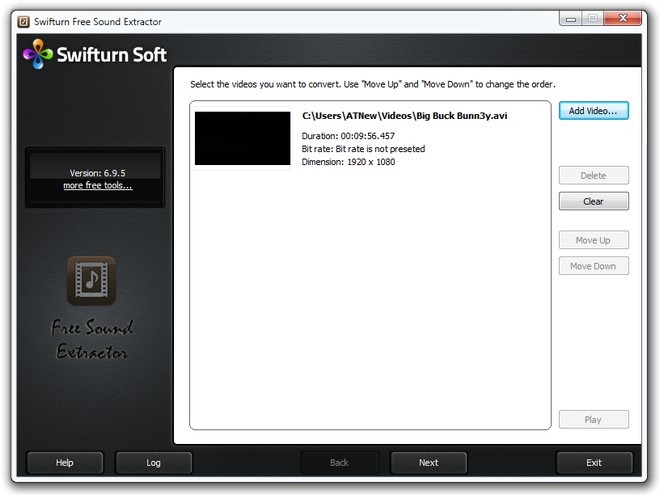 The second step consists of choosing the output directory, as well as the output audio format. All the major aforementioned audio formats can be selected by their beautifully designed buttons. You can configure further settings down the road by clicking the drop down menu at the bottom to select Presets. Presets appear according to the type of format you've selected above; for example, selecting To MP3 will give you settings for Quality, Rate (Hz), Channels and Bitrate of MP3 format. When all is set, click Convert to start the audio extraction process.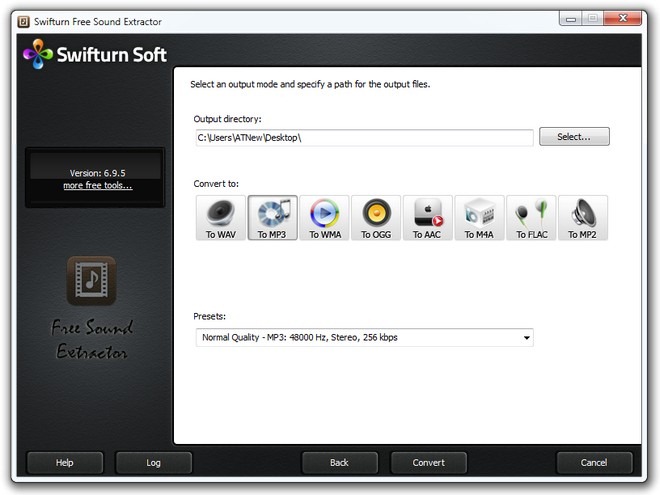 Extraction time depends on the type and amount of media files you have added, and the kind of computer hardware you're using, but usually, it's quite fast. You may mark Post-Progress Options during the third step, according to your preferences, like shutting down the computer when all the tasks are finished.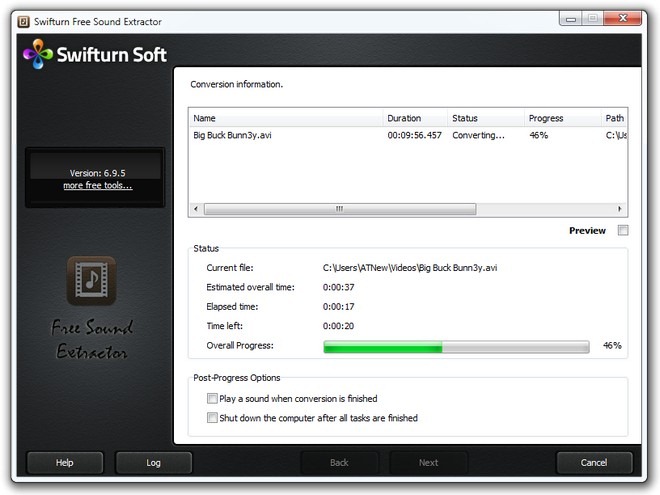 The application also lets you generate Log for any technical analysis, such as during instances of errors etc. You can delete the current log, or save it as a text file for future considerations.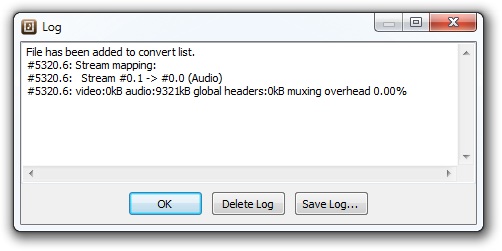 The utility works on Windows XP, Windows Vista, Windows 7 and Windows 8. It supports both 32-bit and 64-bit OS editions.
Download Swiftturn Free Sound Extractor