Batch Remove Metadata From Word, Excel And PowerPoint Files
Metadata provides detailed information about files that help users categorize them into different groups. This information is also used by system and third-party applications to assist in Search and quickly fetch information about required files. You can view the metadata information of a file from its Properties dialog box (accessible from the right-click context menu). Windows Explorer lists down all metadata of files in the Details view, but it doesn't provide a convenient way to remove it, especially not from the document. Microsoft Office has a built-in tool to remove the metadata from a document, but if you don't want to install Microsoft Office just to clean the metadata of documents, we have a tool that performs the job. Document Metadata Cleaner is a free app that allows you to strip all the metadata from a Word, Excel and PowerPoint document. Once the metadata is removed, you can distribute the files without worrying about any unwanted information getting out along with the files.
The previously covered method for cleaning the metadata from a document using the Microsoft Word feature is useful to some extent, it lets you clean only one file at a time. If you have a large number of files, it will become quiet a tedious and time taking task to perform the same process again and again for each file. Document Metadata Cleaner, however, allows you to strip documents in one go.
The main interface if the application has options to either just Analyze or completely Clean metadata from the saved documents. Click the Analyze button to scan the documents and view a report on the metadata information.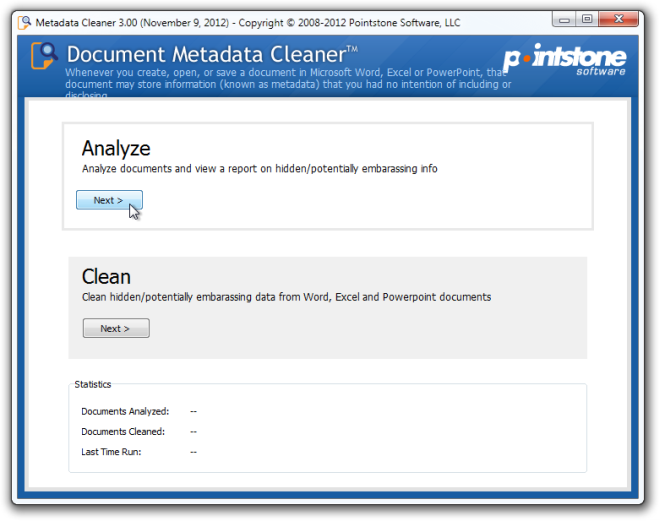 The Analyze menu lets you choose the type of files from Word, Excel and PowerPoint documents. You can scan a specific file, the whole My Documents folder, or the files available inside another folder. Click Next to Analyze the required files or folders.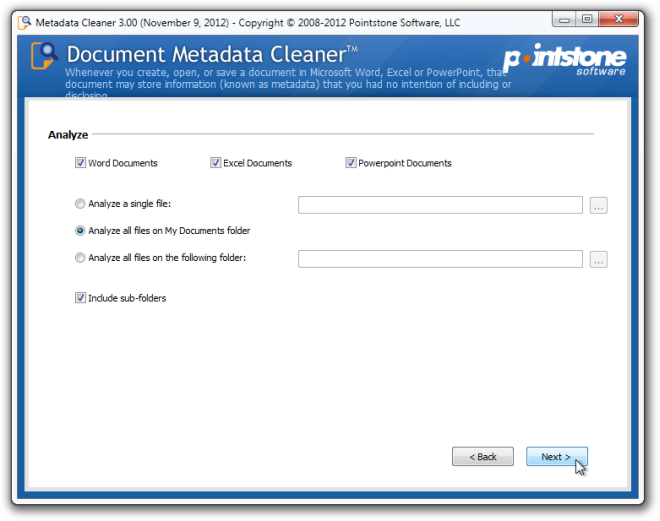 When the Analysis is complete, all the documents containing any type of metadata information are displayed. The data is displayed in different columns, such as Filename, Title, Author, Company, Keywords, Subject, Comments, etc. Click "Clean Files" button to strip the metadata.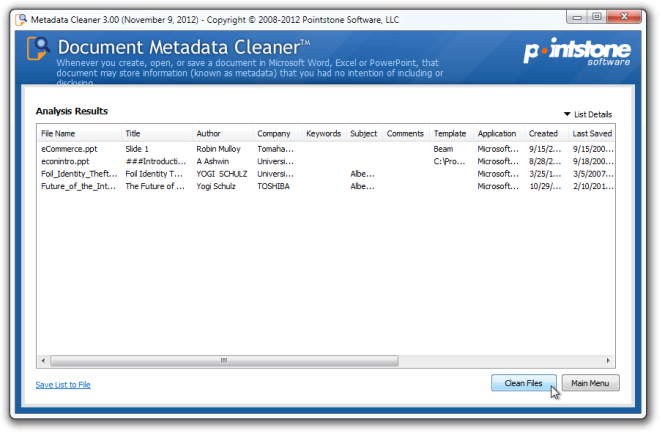 The Clean Settings menu lets you select custom metadata items to clean from the documents. Click "Select All" to strip everything. You can also change the author and company name using the txt fields available at the bottom. Click Next to perform all the selected operations.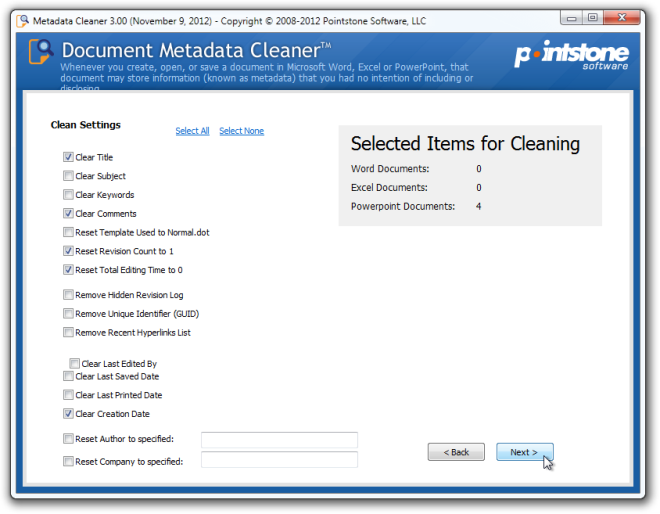 Document Metadata Cleaner works on both 32-bit and 64-bit versions of Windows XP, Windows Vista, Windows 7 and Windows 8.
Download Document Metadata Cleaner