Remove Hidden Metadata & Elements From Word Document
Almost every document includes information such as; Hidden text, Object info, Personal Information (identifying information: author name), and other invisible info stored as metadata. To get rid of it, Word 2010 includes a Document Inspector feature which lets user inspect for these concealed elements and to remove them at once. It primarily stands for inspecting & removing; Personnel Information, Comments, Annotations, Meta info, XML data, Hidden text, and more such informations.
To start out with, launch Word 2010 document which you want to thoroughly inspect for hidden elements. Click File to bring up Backstage View. Under Prepare for Sharing and from Check for Issues options, click Inspect Document.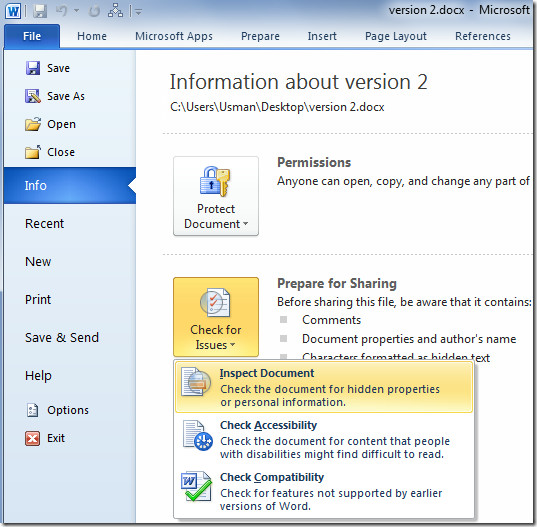 This will bring up Document Inspector dialog, listing multitude of options for inspecting; Comments, Revisions, Version, Document Properties, Personal Info, XML Data, Headers, Footers, Watermarks, Invisible Content, and Hidden Text, etc.
Enable desired options available in the list and click Inspect.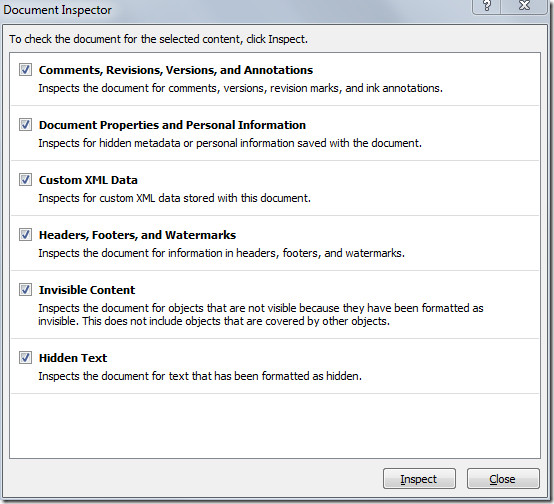 It will start inspecting for specified elements. Once inspection is completed , you can remove the inspected elements from the document by clicking Remove All with each option you've selected.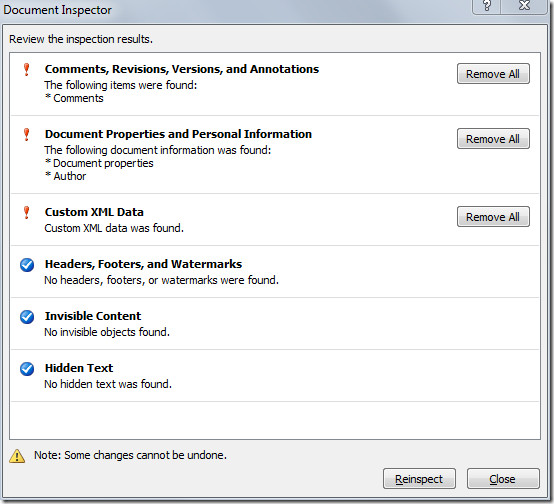 On clicking Remove All, it will instantly remove all the specified elements from the document.
Now your document is safe, and you can start preparing it for generic distribution.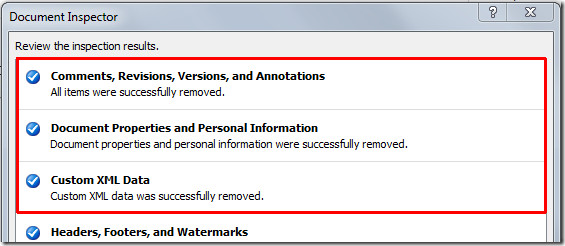 You may also be interested in previously reviewed guides on How to create User Entry Forms in Word 2010 and Using new Stylistic Font Sets & Ligatures in Word 2010.