Batch Schedule Files/Processes With Program Scheduler
Do you want a program to start and close at a specific date/time? Meet Program Scheduler. Not only can it start and close programs at a given date and time, but can also end a process at any given time. Most programs, such as Rocket Launcher only allows users to run a certain file/application on a given time but don't have the option to close it as well.
Upon running the app you will see a main interface with two tabs – Schedule and Processes. The former tab allows you to schedule start/end any program while the later allows users to kill a certain process at any given time.
The start/end time are given in 24 hr format,. Once the programs are added you can always choose to pause them, postpone them, or delete them manually using controls given above the list.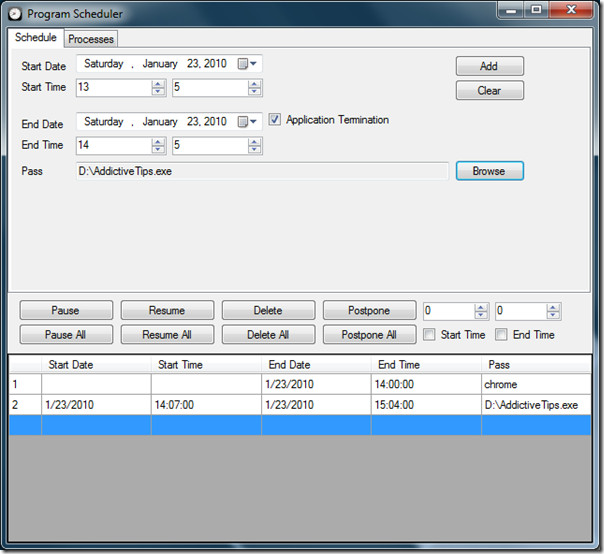 Apart from having to schedule kill a certain process, you can also kill the process manually. When a new process is added, it isn't shown instantly. You will have to hit Refresh Now button to view the new process or set any refresh interval time.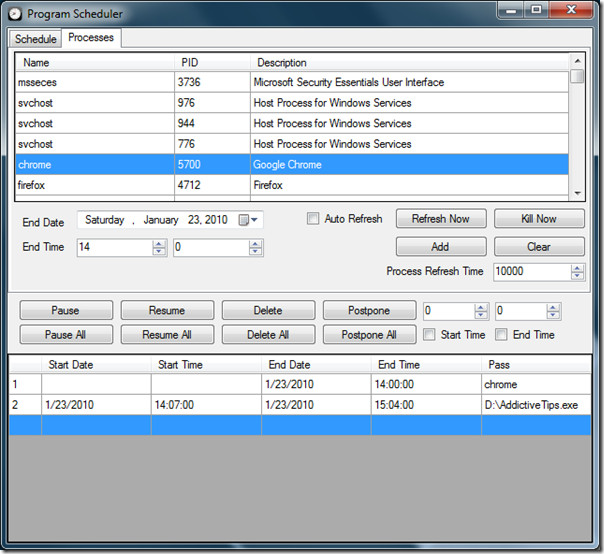 It is a portable opensource tool developed on C#. The app is still in early stage of development, if you need additional features don't hesitate to contact the developer.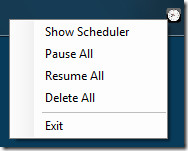 It works on all versions of Windows, including the latest Windows 7.