Batch Sort Multiple Files And Folders With FileSieve [Windows]
Copying or moving multiple files can be very difficult and time-consuming. FileSieve makes the task a great deal simpler by allowing you to instantly shift files from one location to the other. This application has two special features; (1) it is programmed to enable users to complete the copying task (no matter how large) in 5 simple steps, and (2) it offers up to 13 different methods (or options) in which you can move files.
Launch the portable application. A brief glance at the main interface will instantly guide you on how to use the application. The developer has simplified the whole task of shifting files by dividing it into 5 easy steps. In step 1, you choose the files that are to be copied or moved. You can also select multiple files or entire folders. In step 2, you designate the destination directory where the files are to be shifted. In step 3, you select from any of the 13 available options while shifting the files. This feature is probably the most interesting one, so I have touched it more deeply below. Step 4 requires you to decide if you wish to copy the selected files and folders, or move them completely. You can also select the Simulation mode in step 3 if you do not wish to copy or move any files. In Step 5, the Process mode, you must check/uncheck Files, Folders or Recurse Folders for Files. Hit the Start button and wait for the files to be shifted.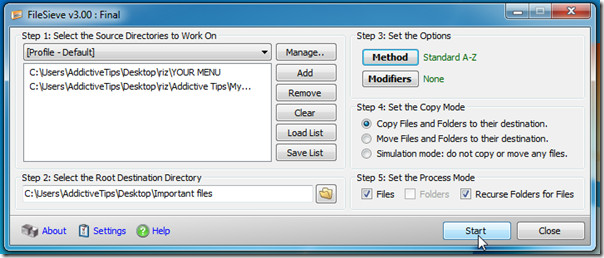 Coming back to the extensive sorting options that this tool offers, users can sort files in as many as thirteen different ways while shifting them from one directory to another. Each method generally comes with its own Settings that can be accessed by clicking the Method button. Some of the methods include: Attributes – sort items based on attribute flags, Biggest – shifts the biggest item from the source to destination directory, Consolidate – processes multiple files from multiple source locations to a single destination directory, Date Stamp – creates separate directories based on dates of selected items and shifts items into those directories, Extension – sorts items into directories on the basis of file extensions, and many more.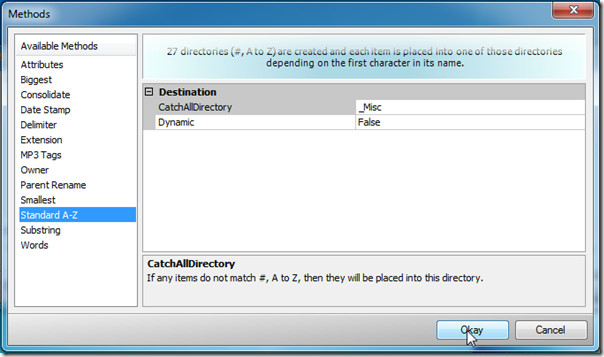 A handy, simple, yet advanced file sorting tool.