How To Block Shut Down And Restart On Windows 10
Windows 10 has an update problem; it releases problematic updates, and there is no way to opt-out of them. The only thing users can do is defer installing an update. The second Windows 10 sees its chance, it will install the update and restart your system in the process. Likewise, some Windows apps restart your system to finish installing. Some of these apps will let you choose when you restart your system, others will not.
The point is, your system can shut down or restart with or without your approval. When it happens without your approval, it is annoying, to say the least. Lost work is often a casualty of a random shut down or restart. ShutdownBlocker is a free app that can block shut down and restart on Windows. It doesn't matter if they shut down or restart is initiated by Windows or an app. This app will block it.
Block Shut Down
ShutdownBlocker is a portable app. You do not have to install it. Simply extract the zipped folder and run the EXE inside it. When you run the app, it will automatically block, shut down and restart. When the app blocks shut down, the 'Block' button appears greyed out.

You can minimize the app to the system tray after you block shut down and restart. It runs in the background to prevent Windows from shutting down. This app will also block user attempts to shut down a system.
Unblock Shut Down
To unblock shut down, open ShutdownBlocker. Click the 'Allow' button o unblock shut down. The 'Allow' button will be greyed out. To block shut down again, simply click the 'Block' button.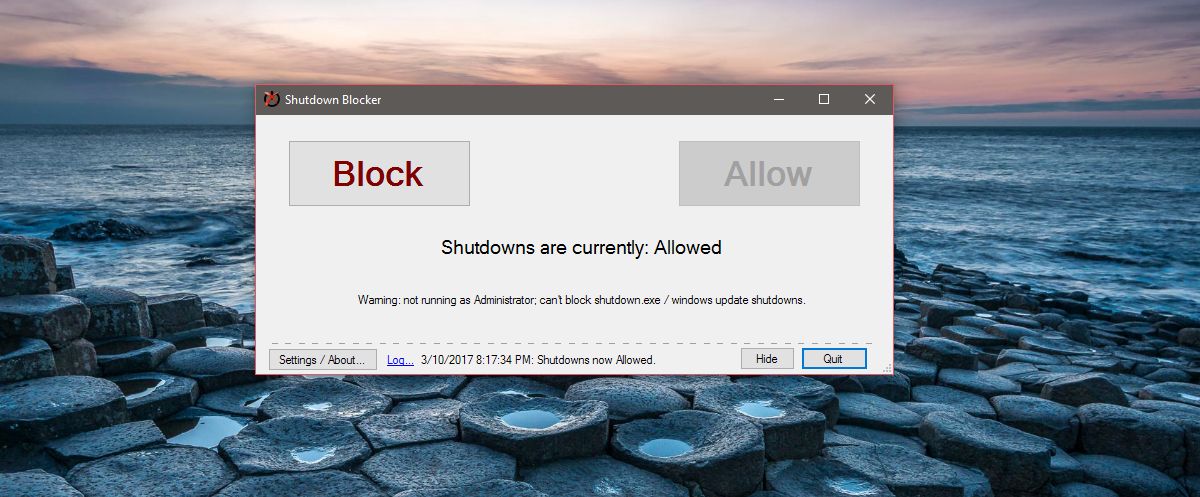 ShutdownBlocker adds an icon to the system tray. You can block and unblock shut down from the app's system tray icon. You can also force your system to shut down or restart.

ShutdownBlocker will block most shut down and restart attempts, including those by a user. The app is great if you have a download in progress and want to prevent Windows update from restarting your system. You can set ShutdownBlocker to run and block shut down when you boot into your system. To run ShutdownBlocker at start up, click the 'Settings/About' button at the bottom left of the app window.
Select the 'Start with Windows' option to run the app at startup. You can choose to hide the app's system tray icon and add it to the Start Menu.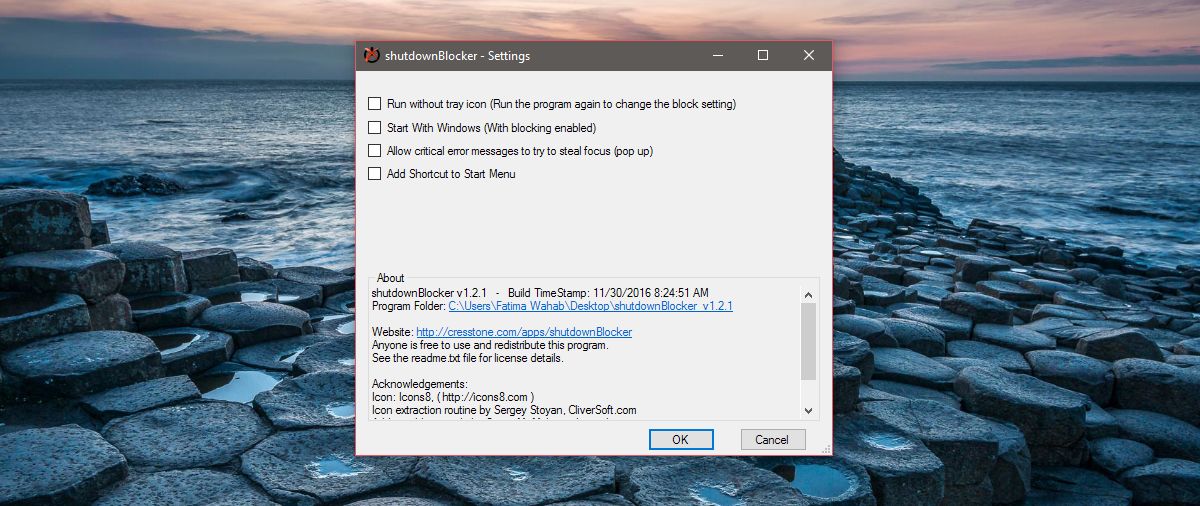 ShutdownBlocker can block most shut down attempts but not all of them. By the developer's own admission, there are some processes that might be able to shut Windows down or restart it despite this app blocking it. These processes however, are rare for the average user. If all you're trying to do is block Windows and apps from shutting your system down, ShutdownBlocker will do the trick.