Bring Web Applications To Your Desktop With Prism
Prism is a tool from Mozilla labs which is developed solely to bring your favorite web applications, such as, Gmail, Google Calender, Google Docs, Facebook, Twitter, Grooveshark, etc to your desktop. You can create a configurable application for most frequently visited websites to browse them fearlessly.
It creates a desktop application which is highly customizable with all the options configurable by the user. Prism comes in two flavors, being a product from Mozilla labs, you can also install an add-on for Firefox. Talking about the desktop application (a.k.a Standalone Prism), you will just need to configure various options for creating a desktop application of a website.
To begin, name the application and insert the URL of website, beneath this, you have options for including navigation bar, status messages & progress, navigation keys, and notification area. You can also create shortcuts on Desktop, Start Menu and Quick Lauchbar. It will automatically set the Favicon as an application's icon, however, there is an option to associate any image as an icon. Once all the settings are in place, click OK to create the application.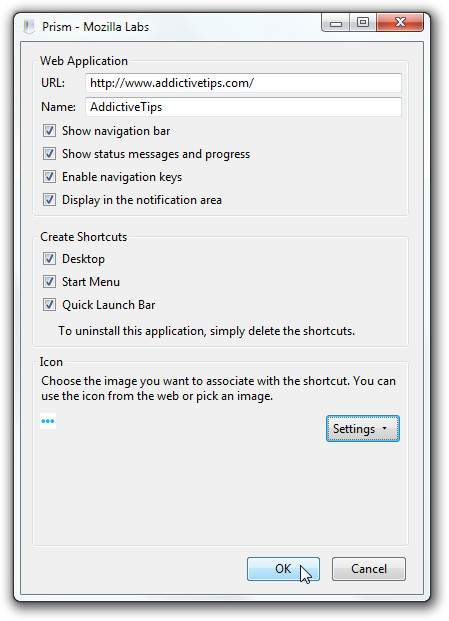 The application interface will be simple with all the specified elements (navigation bar, buttons, etc.)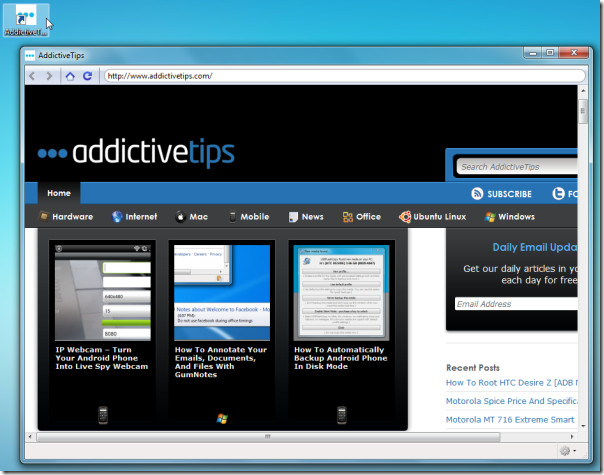 We have embedded the official video below showing the usage in detail.
What I like the most about Prism is its ability to send application into system tray. You can create application for any web application and add them right in the system tray. In my experience, it worked like a charm, without showing any apparent anomalies and lags. It runs on all versions of Windows, testing was done on Windows 7 x86 system.
Update: The Prism project is inactive according to Mozilla. The link now points to their official announcement page.