Burn BluRay, DVD, CD Disks With Hamster Free Burning Studio, Better Than NeroBurn Lite
If you've been hanging on to Nero Free Lite tool (a stripped-down version of Nero Suite) to write/burn CDs/DVDs, you should consider giving Hamster Free Burning Studio a try. It is a full-featured free application that hosts a great number of disk authoring tools with an ability to write/burn Blu-Ray discs. It also allows users to replicate the disc content while a long list of discs types are supported, including CD-R,CD-RW, DVD RW, and so on. Out of many useful features it bring, what intruded our attention is that it can automatically identify the type of disc inserted into tray, check its capacity and evaluate the most suitable burning speed to prevent any erratic disc writing/burning experience.
It offers an eye-candy and a very straightforward interface, with the main screen listing down all types of discs to burn. To begin, select Data CD/DVD to either add files/folder to the project or specify an ISO file which you wish to burn to disc. Alternatively, you can start off with copying CD/DVD content to inserted media.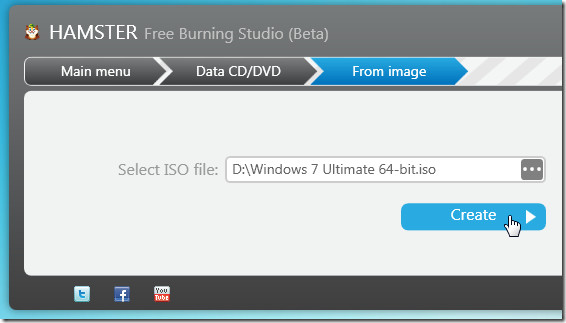 Once the project is created, you will see the main screen for adding more files/folders up to disc's capacity limit. At left side, it shows drive-related information with option to erase writable disc before start burning, you can also manually specify the disc writing speed and enter volume label. If you are using multiple drives, select one from the bottom the screen. Now click burning-imaged button to start writing data to disc.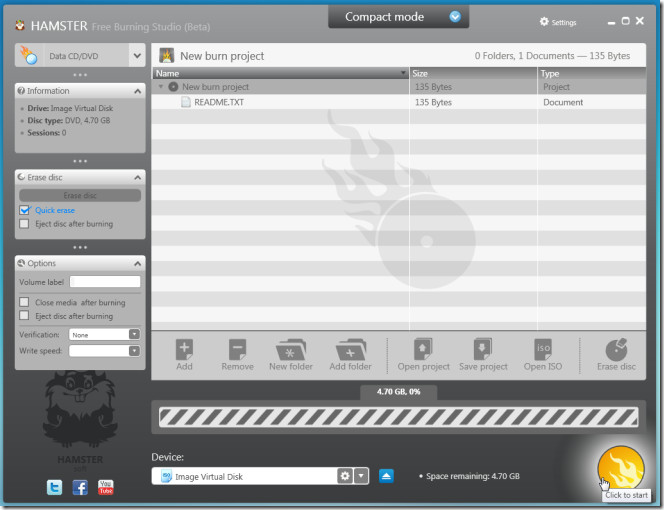 It will go into compact mode when data is being authored. However, you can switch to full-screen mode anytime to view the errors/writing problems.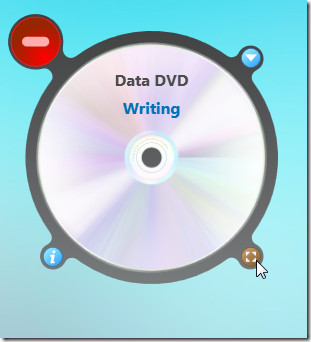 Similar to previously covered Hamster Video Converter, it offers multiple color schemes to overhaul the layout, just pick out one from Settings window to revamp the interface.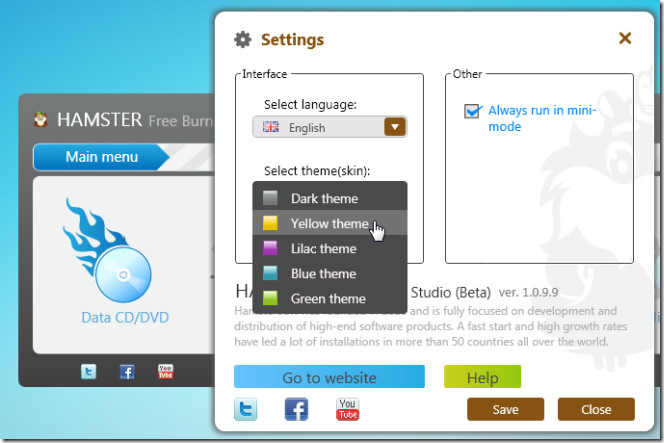 Going over its numerous features, we couldn't help but compare it with Nero's free disc burning tool, you have support for a slew of disc types in Hamster's product whereas Nero's burning tool offers a way less disc burning options with limited features. The most distinctive feature is that Hamster's product can write data to BluRay discs.
Since it is in beta phase, the Media Studio and Disc Backup features are not available. As far available writing options are concerned, we didn't find any bug or lag during testing. It runs on Windows XP, Windows Vista and Windows 7 (both 32-bit and 64-bit systems are supported), testing was carried on Windows 7 x64 system.
Download Hamster Free Burning Studio
You can also check out previously covered some free disc writing tools, Expore&Burn, BurnAware, and UsefulUtils.