Manage Multiple Cloud Services, WebDAV, IMAP & FTP Servers With CarotDAV
If you have been following AddictiveTips for a while, you may know that previously we covered an exquisite cloud manager, Joukuu – a handy application to manage and control multiple cloud accounts from a single interface. Even though it had an alluring design, the application would only allow users to manage Dropbox, Google Docs and Box.net services, which means users of, SkyDrive, for instance, were left in the dust. Thankfully, CarotDAV has come to the rescue. This simple looking application doesn't only support the aforementioned services, but also enables you to manage and synchronize SkyDrive and SugarSync, as well as WebDAV, IMAP and FTP servers. In addition, it's very easy to configure, and provides a simple file explorer to easily navigate between folders to sync with required cloud storage service.
CarotDAV offers a simple interface. It displays all the configured accounts and related information on the main screen, such as account Name, URL, State, Size, Last modified (date) and Creation (date). A new account can be linked with the application from New Connection sub-menu, accessible from the right click context menu.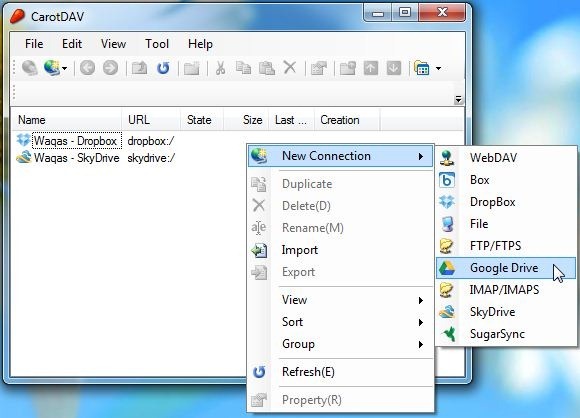 Clicking any account type opens the Connection Setting window. Here, you can specify the account name and URL (you may leave it at default path). To link the account, click Authorize button to follow a few simple steps for account authorization.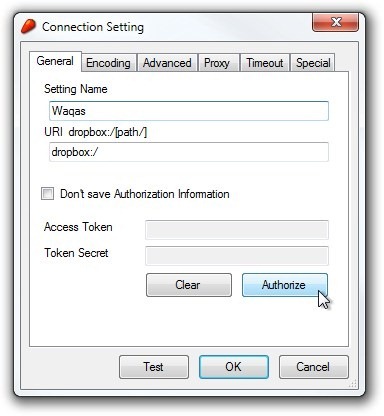 An authorized account can be easily tested via the Test button, which is quite useful to rectify any problem beforehand. The connection Setting window also houses some additional tabs to configure the account, such as Encoding, Advanced, Proxy, Timeout and Special (the tabs may vary according to connection type).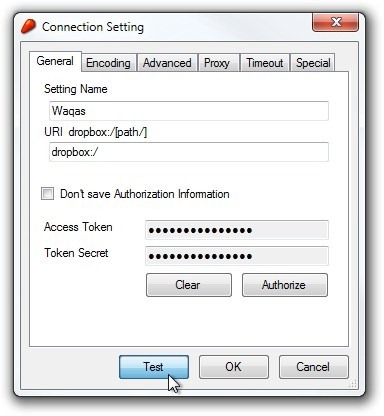 For instance, you can specify file Normalization type under Encoding (for advance users only). Timeout lets you select connection timeout and Stream Read Write timeout in seconds. If you have got any large size files and you want them to be auto split into small chunks, Special tab enables you to set the size in MB. When you've configured the settings, click OK to set up your new account.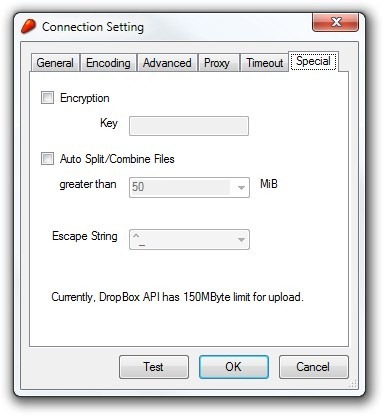 Now, you can easily manage and synchronize your files and folders without navigating between multiple directories. Clicking any account provides access to the stored files and folders, you can easily copy, paste and rename files as well as create additional folders. The application also lets you specify a master password to prevent any unauthorized access.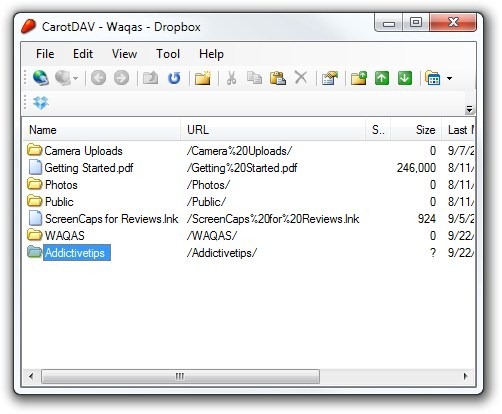 CarotDAV is available both as a portable program and installation package. It works on Windows XP, Windows Vista, Windows 7 and Windows 8.