Change MAC Address To Bypass Network Usage Restrictions With DynaMAC
MAC address, also known as Physical address of a system, assist network administrators to identify clients connected in LAN environment. Changing MAC address of (NIC) Network Interface Controller may come useful in situations where system admins filter out clients by their NICs MAC addresses instead of system IPs. For instance, if an extra security layer is added to the LAN network, system admins may easily identify unauthorized users by reading their MAC addresses even if they have already spoofed their IPs in order to gain access to one specific network group. To prevent this, you might need to change your physical address of NIC card. Moreover, some servers restrict their service usage by identifying periodic requests from same client, i.e same physical address of NIC card. In such a situation, DynaMAC can come useful to quickly bypass restrictions imposed by network admins and website owners to gain access to network and use online services.
It's an application for Windows which allows changing MAC address of your NIC card. Unlike other similar tools, it lets user enter the MAC address manually rather than replacing the default MAC address with auto-generated one.
First off, select the network adapter from the list whose MAC address is to be changed. Once specified, it will show the default Physical Address underneath the drop-down list.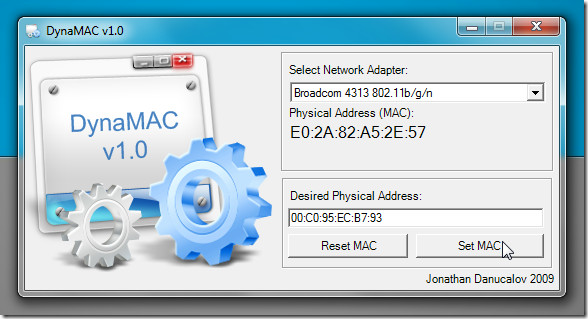 In Desired Physical Address section, enter the new MAC address and click Set MAC. Now either restart your system or reset selected adapter by disabling and then enabling it from Network Connection window. Once done, open Network Connection Details window to verify newly applied MAC address. To restore the default MAC address, hit Reset MAC on DynaMAC main screen. It is an open source application that works on Windows XP/Vista/7.