Change Windows 7 Aero Colors With Rotating Wallpapers
Windows 7 Color Changer is a simple application that allows creating a custom theme pack with your selected wallpapers, Aero color and its transparency level. With Windows 7 Color Changer you can allot separate Aero colors for any of the selected wallpapers in the custom theme pack. This is an option that is not present in Windows 7 by default. For example you can select rotating wallpaper images for your desktop but you do not get the option to set a separate Aero color for each of the rotating images. With this software you can add a custom list of wallpaper images, set a rotation time, add a separate Aero color for each image and set your own transparency levels for each of the the wallpaper borders. For a more advanced tool, have a look at AeroBlend.
After you launch this application, all the options can be managed from the system tray. Simply select the Setup Wallpaper option and add your custom images to create the theme pack. You can give a different Aero color to all of the added images. For example, the first image may have a blue border color whereas, the second image may have green color. You can also manage the transparency level from the given slider. This means that you can also set the Aero transparency level separately for each wallpaper. After you have added the the wallpaper images to the list and set your desired Aero color and transparency levels, click Set to apply changes.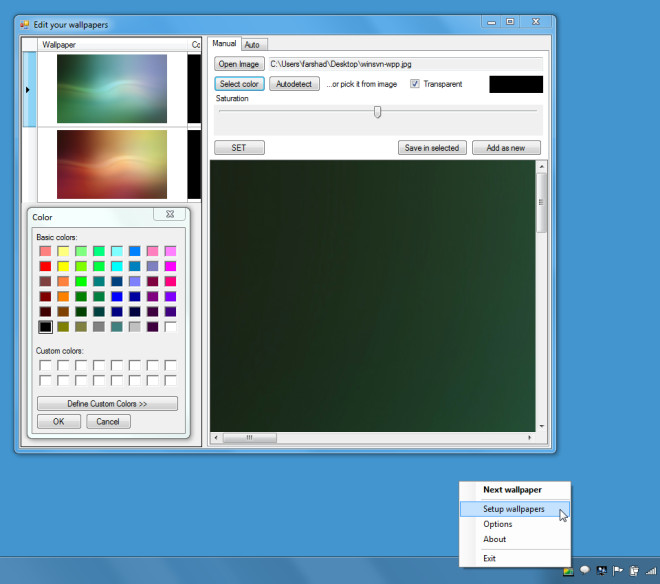 You can set a time frame for the rotation of wallpapers, enable auto start Windows 7 Color Changer at system startup,  and choose a random or sequential order for wallpaper rotation from Options menu (accessible from system tray).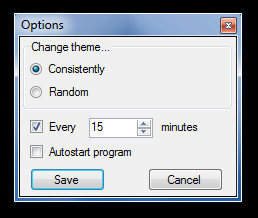 That's it. Your rotating wallpaper theme pack with your custom Aero colors will be up and running on your desktop. As shown in the screenshots below, you can clearly see the comparison of two rotating wallpapers which have different Aero colors.

Download Windows 7 Color Changer