CleanMyPC Brings CleanMyMac's System Cleaning Features To Windows [Giveaway]
CleanMyMac for Mac is what CCleaner is for Windows. Many users who've used CCleaner on Windows consider CleanMyMac as to be the best comparable junk cleaning tool for Mac. However, there are certainly a lot of differences one can point out when it comes to deeply clean Mac and Windows with CleanMyMac and CCleaner, respectively. Almost all the Windows based cleaning tools, including widely used, Glary Utilities and CCleaner, lack at certain areas. This compels users to consider other cleaning utilities to clean junk off the system and to find all superfluous safe-to-remove files.
Recently, the developers behind CleanMyMac have released its counterpart for Windows OS, called CleanMyPC, which brings almost all the essential cleaning options of CleanMyMac with other complementary features especially designed to find and remove junk from Windows system.
Note: CleanMyPC is a paid application, which costs $29.95. We are giving away 10 licenses to our readers. More information on taking part in this giveaway is provided at the end of this review.
Once you launch the application, it will ask you to scan whole PC for junk files and all those files which are consuming much space of disk drives. According to the developer, it uses natively written definition databases to ensure sensitive data protection, i.e, it will not attempt to harm your private data, such as, stored passwords, IM clients message history, emails and other important files. It's recommended to scan your PC for all such files which can be safely removed, nonetheless, you can customize cleaning options to scan only specified types of files and disk drives from main interface.
You can either scan whole computer by right-clicking My Computer option and selecting Start complete scan or selectively scan your PC for different elements present underneath My Computer option, such as, Caches & Logs, Help Files, Extra Languages, and Trash & Junk.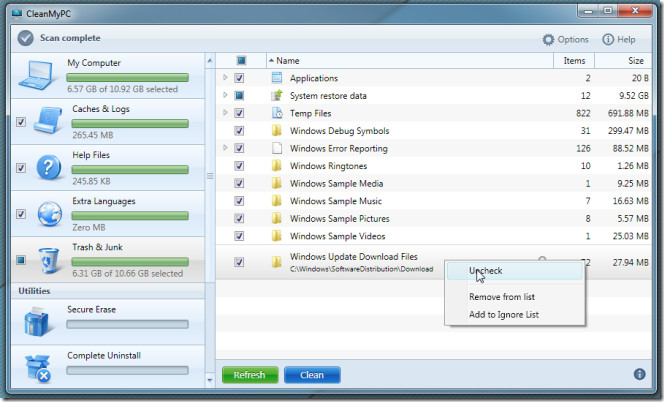 Once scanning is finished, you can view list for each element present in left sidebar. Before cleaning all the scanned items, you can uncheck any important file to prevent removal, add it to scan ignore list, or simply remove it from the list.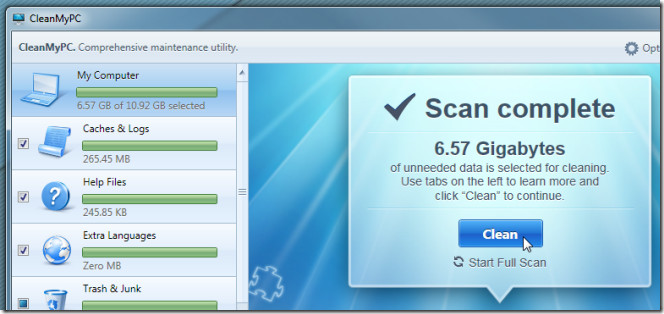 CleanMyPC, despite being very efficient in removing junk data, also allows you to maintain your system through different utilities. Under Utilities category, you can launch Secure Erase to shred files and folders, Complete Uninstall to remove installed application with left over data, Registry Maintenance to find and remove Windows registry in-discrepancies, Autorun to list down and disable auto-run programs, and Gadgets & Extensions Manager to clean useless plugins and add-ons.
Adding more, CleanMyPC is also programmed to intuitively check USB drives for junk files. When you plug-in a USB drive, it prompts you to scan the external storage medium for junk data.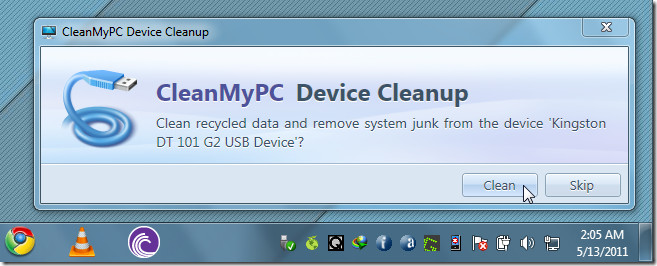 Apart from accessing all features from the main interface, you can use the Jumplist to launch an utility and run complete system scan.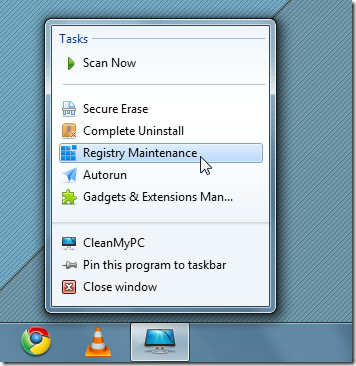 Instead of manually choosing files and folders to shred them from main interface, you can securely remove them from Windows context menu.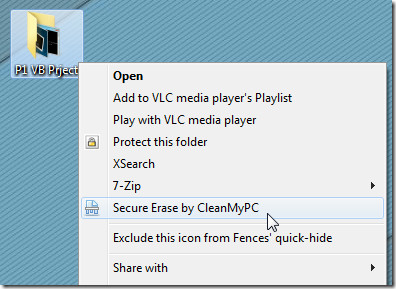 Going over CleanMyPC features, I couldn't help but compare it with CCleaner. In a nutshell, CleanMyPC takes more obnoxious approach to thoroughly find and remove useless junk files from the system, however, CCleaner supports a wide range of applications to remove their cache files and MRUs as well.
As per testing results, after performing cleanup operations, I've successfully removed approx. 6.5 GB of useless junk from the system.
Giveaway
This giveaway will only last for 48 24 hours. Participation in the giveaway is simple. You need to either follow us at @addtips and tweet the giveway (also leave the link of the tweet in the comments box below), or leave a comment on our Facebook page telling us why you need this app. We will pick out 10 winners randomly!
Update: The giveaway is closed. We will send out licenses to 10 winners within 24 hours.