ClipCube Is Small Portable Clipboard History Tool For Windows
ClipCube is a portable Windows application that copies and saves content from the clipboard to provide a history of the copied text. This helps in recopying the content easily from the ClipCube application later on. It works from the system tray and does not require any complex settings.
Options for ClipCube can be configured via the right-click context menu. It can be paused (so that it stops recording copied text from the clipboard), set to run at start up, and items can be saved for a week, month, until exit, or indefinitely. Saved text can also be erased from the Delete All menu.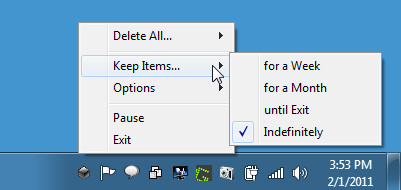 Any recent or previously copied text can be viewed and recopied by clicking on the ClickCube icon from the system tray. The length of the visible text sheet can be dragged to increase width up to a desired size in order to see the content more clearly.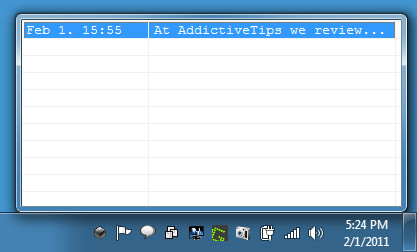 It is worth mentioning here that ClipCube is still under development, however, we did not find any problems during testing. It works with Windows XP, Windows Vista and Windows 7.